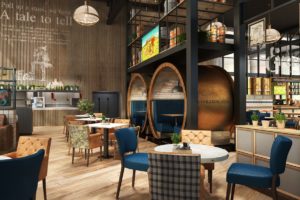 Everards new home at Everards Meadows will open in Spring 2021 creating 40 new jobs and today Everards have revealed visuals showing the inside of their new home. Customers will be able to eat, drink, shop and take a tour their new brewery, with more brewing experiences coming late in 2021 including the opportunity to brew your own beer. 
"This really is an exciting time for us and the beginning of a brand-new chapter in our 170-year history" shares Richard Everard OBE DL, Chairman. "We are still an independent family business with strong roots in Leicestershire and we are about to move into the sixth generation of the family leading the business as we commence this exciting next chapter.  We look forward to welcoming customers to our new home where they will be able to enjoy fantastic hospitality while overlooking both the wonderful meadows but also our state-of-the-art brewery.  We will be brewing a great range of beers and of course bringing our famous 'Tiger' back to Leicestershire!"
This warm and comfortable space provides a great place for people to meet, eat and drink, whilst taking in all the action of the brewery and great views across the meadows. The state-of-the-art brewery will be kept busy by the brewers creating many innovative new beers alongside favourites which have been enjoyed over the years. As well as enjoying the food and drink onsite, customers will be able to visit the shop and take home a selection of beers so they can enjoy their favourite beer or a limited-edition brew at home. There will be a wide range of merchandise and great gift ideas – perfect for any beer lover.
Everards have also confirmed that they will be hosting brewery tours, allowing customers to get a behind the scenes look and up-close tour of the brewery, as well as tasting sessions, brewing workshops and many other beer occasions. Everards Meadows is a great place to explore and Everards have opened up their site for the public to use by creating shared pedestrian and cycle pathways and even installing a new bridge over the River Soar to connect the site to the Great Central Way, meaning people can travel from locally and beyond following Route 6 of the National Cycle Network.
This private land was inaccessible for many years and Everards has carefully invested to protect the flora and fauna that lives there but also to create a great place for people to explore. Work on the site also revealed a rare historic find when the University of Leicester Archaeological Services (ULAS) uncovered a unique iron age bark shield now recorded as 'The Enderby Shield'. Dating from between 396 and 255 BC, the shield will be celebrated with an onsite replica crafted by locally based sculptor John Sydney Carter FRBS.