Brewers with Salsa plus Beer
What is SALSA plus Beer?
With nearly 1500 breweries now producing beer in the UK there is a bewildering choice for the retailer whether they are a supermarket, off license or pub group.
The SALSA plus Beer accreditation gives the buyer confidence about the product they are buying and is of significant commercial advantage to brewers who are able to use this certification as part of their sales presentation.
Benefits include:
One nationally recognised certification scheme for small-medium breweries, recognised by retailers. 

Focussed on small to medium sized breweries and tailor made for their requirements unlike the more widely known BRC scheme.
Auditors are highly qualified and fully understand the brewing process.
The scheme is under the SALSA umbrella which already has credibility in the retail sector.
Brewers with the certification have simpler access to market as they have proved their quality.
There are significant commercial benefits to those breweries with the certification as it is a recognised quality mark.
The scheme offers a mentoring service to support brewers in gaining the certification.
The SALSA Standards
The SALSA standard was written by experienced food safety experts to reflect both the legal requirements of producers and the enhanced expectations of 'best practice' of professional buyers. SALSA plus Beer is the main SALSA food safety audit plus an extensive module on brewing, created by SALSA and Cask Marque.
Additional criteria contained in the SALSA plus Beer Standard were developed to:
Encourage excellence in the brewing & bottling industry
Raise the profile of processors within the brewing industry
Provide a forum for exchange of ideas and
Give clear guidelines for approval to Brewers & Bottlers
The SALSA plus Beer Audit Standard also details a number of additional requirements to reflect specific aspects of the brewing industry. These are included in:
Section 1.2 Personal Hygiene, Section 1.3 Cleaning, Section 1.4 Contamination/Cross-Contamination Prevention, Section 1.6 Control of Raw Materials, Section 1.8 Waste Control, Section 5 Legal Requirements, Section 6 Quality Requirements
Approval certification is only granted to suppliers who are able to demonstrate to a SALSA auditor that they are able to produce safe and legal beer and are committed to continually meeting the requirements of the SALSA plus Beer standard.
"Quality is at the heart of what we want to achieve with our Tapster's Choice programme. We would like all of our brewers to hold Cask Marque's "SALSA plus Beer" certification scheme as a minimum standard."
"At Punch we encourage our supply base to be SALSA plus beer brewery certified, as it provides ourselves with the confidence that the product delivered into outlet and dispensed to the Consumer will be of the highest quality."
"The SALSA plus Beer audit demonstrates a brewery's commitment to quality and consistency in their brewing process and the beers they create. Retailers and 'on trade' are now able to provide their thirsty customers with the confidence that they are choosing a great beer every time."
View the SALSA plus Beer brewers on a map
Brewers with SALSA plus Beer certification
Below is a list of brewers who have gained the SALSA plus Beer certification. At the bottom we also list those brewers holding BRC and ISO certifications.
SALSA plus Beer – updated 21st July 2023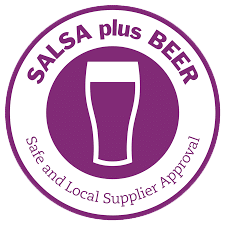 6DN Ltd
71Brewing
Allendale Brew Company
Anarchy Brew Co
Arbor Ales Ltd
Arran Brew
Asahi UK Ltd
Ashcombe Estates LLP t/a Gritchie Brewing Company
Attic Brew Co
Bank Top Brewery Limited
Bath Ales
Bays Brewery
Beavertown Brewery
Big Smoke Brew Co
Bishop Nick Limited
Bluestone Brewing Co. Ltd
Bowland Brewery
Brentwood Brewing Company Ltd
Brew By Numbers
Brew Toon
Brew York
Brewster's Brewing Co Ltd
Brixton Brewery
Burton Bridge Brewery
Butcombe Brewery Ltd
Cairngorm Brewery
Castle Eden Brewery Ltd
Chadlington Brewery
Chantry Brewery Ltd
Cold Black Label/ Brecon Brewing
Conwy Brewery
Cromarty Brewing Co
Curious Brewery Ltd
Dartmoor Brewery Ltd
Deya Brewing Company Limited
Donkeystone Brewing Co Ltd
Dorset Brewing Company
Drygate Brewing Company Ltd
East London Brewing Company Ltd
Edinburgh Beer Factory
Exeter Brewery
Exmoor Ales
Farm Yard Brew Co
Firebird Brewing Co. Ltd
Flack Manor Brewery
Forest Road Brewing Company
Fourpure Ltd
Freedom Brewery
Fyne Ales
George Bateman & Son Ltd
Glamorgan Brewing Company
Glasgow Beer Works and Phil MaCan Ltd
Glen Affric Brewery
Goddards Brewery Ltd
Gower Brewery Company Limited
Green Jack Brewing Company Limited
Hadrian & Border Brewery
Hambleton Brewery Ltd
Hanlons Brewery
Harvey & Son (Lewes) Ltd
Harviestoun Brewery Ltd
Heather Ale Ltd T/A Williams Brothers Brewing Company
Hepworth & Company Brewers Ltd
Hobsons Brewery & Co Ltd
Hogs Back Brewery Limited
Hop Back Brewery plc
Keltek Cornish Brewery
Kirkstall Brewery Company Ltd
Lacons Brewery
Laine Brewing Company Ltd
Lancaster Brewery Ltd
Lanchester Wine Cellars Ltd T/A Full Circle Brew Co
Lincoln Green Brewing Company Limited
Loch Lomond Brewery
Mad Squirrel Brewery
Magic Rock Brewing
Mondo Brewing Company
Monty's Brewery Ltd
Moor Beer Co
Moorhouses Brewery
Nethergate Brewery
Noah Beers Ltd
North Brewing Co
Northern Craft Brewers  t/a Pennine Brewing Co
Oakham Ales
Orkney Brewery
Ossett Brewing Company
Otter Brewery
Pheasantry Brewery
Portobello Brewing Company
Powderkeg Brewery Ltd
Purity Brewing Co
Ramsgate Brewery Ltd
Rebellion Beer Company Ltd
Red Rock Brewery Ltd
RedWillow Brewery Ltd
Reedley Hallows Brewery
Rooster's Brewery Ltd
Round Corner Brewing Ltd
Rudgate Brewery Ltd
S.A. Brain & Co. Ltd
Salcombe Brewery Co. Ltd
Salopian Brewery
Saltaire Brewery
Sambrook's Pub Company
ScotBrew Limited
Seven Bro7hers
Signal Brewery Ltd
Signature Brew
Siren Craft Brew Ltd
Small World Beers Ltd
South East Bottling Ltd
South Hams Brewery
Spadetown Brewery Ltd
St Andrews Brewing Co
St Ives Brewery
St Peters Brewery
St. Austell Brewery
Stancill Brewery
Stewart Brewing
Stonehenge Ales Ltd.
Stroud Brewery
T&R Theakston
Tempest Brewing Co Ltd
The Cotswold Brew Co
The Crafty Brewing Company Ltd
The First Chop Brewing Arm
The Five Points Brewing Co
The Great Newsome Brewery Ltd
The Great North Eastern Brewing Company Limited
The Hook Norton Brewery Ltd
The Hurns Brewing Co Ltd
The Innis & Gunn Brewing Company Limited
The Lerwick Brewery
The Liberation Brewery
The Park Brewery
The Teme Valley Brewery
The Wriggly Monkey Brewery
Thornbridge Brewery
Tiny Rebel Brewing Co
Titanic Brewery Co. Ltd
Tonbridge Brewery Limited
Twickenham Fine Ales
Tyne Bank Brewery Ltd
Tynemill Ltd t.a Castle Rock Brewery
Utopian Brewing
Vault City Brewing
Vocation Brewery
Wadworth & Co Ltd
WBC (Norfolk) Ltd  TA Wolf Brewery
Westerham Brewery
Wild Card Brewery
Windsor and Eton Brewery
Windswept Brewing Co Ltd
Wiper And True Limited
Wold Top Brewery
Woodforde's Norfolk Ales
Wrexham Lager Beer Co ltd
Wye Valley Brewery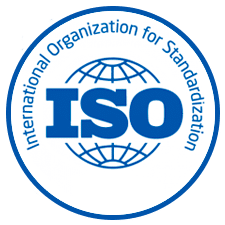 AB InBev
Caledonian
Carlsberg UK
Fullers
Heineken UK
J W Lees
BRC – British Retail Consortium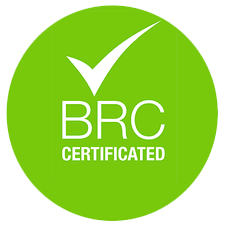 Adnams
Carlsberg UK
Charles Wells
Greene King
Marston's
Robinson's
Shepherd Neame
Timothy Taylor
"SALSA provides supportive auditors for the plus Beer standard who are there to facilitate improvement. Coming from the brewing industry, they don't blindly enforce a set of generic rules (some of which may be relevant to open food production but not brewing) but rather see production from a brewers perspective and can advise on elements specific to brewing (HMRC, micro control, specific due diligence etc).There is a wealth of information on the SALSA website which is always being added to and the auditors themselves are often on hand and happy to offer advice. Most importantly, the SALSA plus Beer accreditation is highly valued by customers and distributors, without whom we would not be able to get our beer to market."
FREQUENTLY ASKED QUESTIONS
What is SALSA plus Beer and why do I need it?
What is SALSA plus Beer audit certification?
Buyers and consumers expect their drink to be safe and for those who produce it to have robust andeffective controls in place to ensure this. The SALSA Scheme operates and oversees the SALSA plus Beer audit certification and its process. A successful SALSA plus Beer audit, the certificate confirming Approval and display of the SALSA-APPROVED stamp instantly tells all in the industry that your brewery/bottling plant is committed to ensuring product safety, legality and consistency, and to continuously meet therequirements of a nationally recognised standard. Approval is effectively your valid passport – your credentials – to access markets and buyers, letting them know your operation and products fully comply with all safety, legality and quality standards expected by the UK food industry.
What is the SALSA Scheme?
• SALSA is the UK's Food Safety Certification Scheme – not just an Audit Standard – for small and micro-sized food & drink businesses wishing to gain Approval to supply UK buyers. Membership-based, it is open to any small producer operating within the UK.
• SALSA is a 'not-for-profit' organisation, founded by the four main trade associations representing the UK food industry: The British Retail Consortium, The Food & Drink Federation, The National Farmers Union and The British Hospitality Association.
• Since its launch in 2007, membership has grown year on year. SALSA now has 1,150+ Approved members and 280+ working towards Approval. Since the launch of SALSA plus Beer in 2015, 112 have gained SALSA plus Beer Approval with over 40 working towards it.
Is SALSA plus Beer right for my business?
SALSA plus Beer certification has been developed to offer small and micro brewers & bottlers a certification standard tailored to scale and systems of their particular operation. It is suitabel for suppliers typically employing 5-50 full-time staff.
Who developed the SALSA plus Beer Standard?
The SALSA plus Beer Standard was developed in association with Cask Marque in 2015 to ensure a quality-assured beer from grain to glass. Key brewing bodies within the industry are consulted to ensure certification provides real commercial benefits to small suppliers.
How many UK buyers recognise SALSA plus Beer?
Approval is recognised by a growing list of important UK Buyers, both on and off trade. Buyers include Waitrose, Tesco, Lidl, Mitchells and Butlers, Carlsberg, Punch and The Co-op who all endorse the SALSA Scheme and actively use SALSA's 'live' online Buyers' Directory.
How long does it take to gain Approval?
Gaining Approval can take up to 3 months from date of payment through to Certification and is largely dependent on the current operating procedures of your business. To help members, the online Users' Guide offers a step-by-step guide through the audit process.
What does the Auditor and the Audit cover?
• The audit is an onsite inspection that typically lasts a full day. A SALSA Auditor will audit your operating procedures against the SALSA plus Beer Standard which covers Pre-requisite Controls, HACCP & Management Systems, Documentation, Premises, Legal and Quality requirements. At the end of the inspection, the SALSA Auditor will make a recommendation for Approval or advise on 'the next step to take' to SALSA Operations.
• A copy of the SALSA plus Beer Standard can be downloaded free of charge from the SALSA website, before joining, for you to assess its value to your business. All 16 SALSA plus Beer Auditors have proven experience, specific training and in-depth knowledge of the brewing sector. SALSA Auditors are very approachable and able to offer valuable guidance and advice on any issues that might arise during the audit process.
How much will it cost?
Certification is designed to be both achievable and affordable.
• Option 1: 'Package Deal': one year's Membership plus Audit for £685 + vat.
• Option 2: 'Package Deal Extra': One year's membership, audit and a full day's pre-audit Mentoring for £1055 + vat – of particular value to start-ups and micro breweries.
What advice and support is available to Members?
• The Scheme offers members a unique range of support services to make certification as straightforward as possible. Achievability, accessibility and affordability are key assurances we offer.
Resources include:
– Core guidance materials – specifically written for brewers and bottlers
– Onsite guidance and advice from locally-based mentors at guaranteed rates
– L1 & L2 HACCP courses & Food Labelling workshops – held regionally; practical & interactive
– Industry updates and a Telephone helpline for 'in person' advice on the process
What are the main benefits of gaining SALSA plus Beer Approval?
▪ Security that your business has demonstrated full legal, safety and quality compliance
▪ Confidence to approach new buyers promoting your approval status
▪ Commercial benefits for brewers/bottlers seeking new contracts
▪ Assurance your brewery/plant complies with HMRC regulations/meets industry standards
▪ 'Live' visibility via the SALSA Buyers Directory; your current products and status
Can I speak to someone at SALSA?
YES. The SALSA team are available Mon-Fri, 9.00-5.30 on 01295 724248, or email [email protected]. Alternatively you can speak to Cask Marque on 01206 752212 or email [email protected]
To sign up for SALSA plus Beer or to ask any questions:

  01295 724248