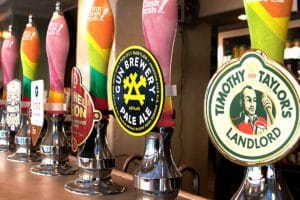 A cross-industry initiative to modernise the cask beer sector and attract younger drinkers to the product is well underway, with a pilot launch scheduled for 13 February 2023. 
The Drink Cask Fresh campaign is an opportunity for brewers, publicans, and industry bodies to come together to support the cask beer sector, which is in serious decline. It utilises a range of eye-catching point of sales materials to modernise the look of cask beer in pubs, such as handpull wraps, glassware, and promotional materials. This is accompanied by a digital experience to help customers learn about cask beer's USPs – such as the fact that it is artisan, fresh, handmade and usually locally produce.
The campaign successfully fundraised to launch the project in 30 pubs across the UK – all of which will be "twinned" with a control pub – for a 10-week research project to assess the impact of the new look of cask on sales data and consumer's perceptions about the freshness of cask. Organisers hope the pilot will encourage significant backing for the campaign across the industry, with a national launch planned in June 2023.
Drink Cask Fresh co-founder Neil Walker said: "When we undertook the initial research for this project, we were astounded to discover that most pub-goers believe bottled lager is the freshest beer in pubs – despite the reality that it was almost certainly brewed much longer ago than the cask beer. A major goal for this campaign will be to highlight to consumers that cask is the freshest, most hand-crafted, and naturally carbonated beverage on the bar."
Co-founder Katie Wiles adds: "We know from our research that the unique selling points of cask beer really resonate with young, discerning consumers – the challenge is getting them to try cask for themselves. We believe that by catching consumer's attention at the point of sales we have a real opportunity here to change cask's perception and help people discover a new love for fresh, cask beer."
To date, the campaign has received the support from CAMRA, SIBA, BBPA, IFBB, Lincoln Brewery, Robinsons Brewery, Asahi, Greene King, Hog's Back Brewery, Timothy Taylors, Arkells, Harvey's, Shepherd Neame and Wadworth.
Organisers are still seeking pubs to take part in the pilot study – please contact [email protected] if interested.