1. Alison Graham

4460 scans

2. John Graham

4460 scans

3. Simon Barton

4440 scans

4. Mick Allen

4373 scans

5. Glynn Hemingway

4284 scans

6. Keith Bunyan

3891 scans

7. Paul Carter

3878 scans

8. Paul Flint

3412 scans

9. Rob Hawkins

3334 scans

10. Carl Griffin

3201 scans

11. Sam Compton

3152 scans

12. Martin Harburn

3102 scans

13. Iaan Boyd

3030 scans

14. Alan Ash

2970 scans

15. Gary Timmins

2791 scans

16. J B

2754 scans

17. Ydna Clark

2616 scans

18. Matthew Chidgey

2596 scans

19. Jon Collyer

2566 scans

20. Andrew Baker

2520 scans

21. Adrian Barratt

2510 scans

22. Michael Lee

2470 scans

23. Zsolt Bencsik

2458 scans

24. Carl Brett

2391 scans

25. Irene Henderson

2365 scans

26. Mike Ventham

2246 scans

27. Peter Ventham

2154 scans

28. Paul Betteridge

2082 scans

29. Richard Griffiths

2056 scans

30. Paul Edwards

2034 scans

31. Ian Stanton

2031 scans

32. David Woods

1996 scans

33. Gary Adgie

1962 scans

34. Steven Booth

1941 scans

35. Nigel Stewart

1940 scans

36. Martyn Thorne

1936 scans

37. Jp Russek

1928 scans

38. Andrew Summerfield

1874 scans

39. Derek Reynolds

1840 scans

40. Chris Reynolds

1838 scans

41. Jason Dicks

1834 scans

42. L Hazell

1824 scans

43. Alan Bates

1815 scans

44. Glem Fry

1814 scans

45. Steve Wyche

1811 scans

46. Steven Hulse

1801 scans

47. Julian Robinson

1797 scans

48. Terry Dunsdon

1796 scans

49. Andy Koszary

1750 scans

50. Michael Horton

1698 scans

51. Kevin Barham

1684 scans

52. Guy Hartley

1657 scans

53. Richard Whiley

1637 scans

54. Andy Bunn

1626 scans

55. Richard Campbell

1569 scans

56. Paul Markham

1568 scans

57. Gordon Cleugh

1567 scans

58. John Wardle

1548 scans

59. Roger Elliott

1541 scans

60. David Newbury

1537 scans

61. Andy Bateson

1534 scans

62. Ashley Barras

1518 scans

63. Andrew Oakes

1515 scans

64. Heather Burgess

1491 scans

65. Tony Conway

1491 scans

66. Alan Kimber

1485 scans

67. Michael Jones

1476 scans

68. Andrew Brett

1470 scans

69. Peter Wilkinson

1461 scans

70. Glynn Evans

1451 scans

71. Habab Hababa

1449 scans

72. Lesley Sheppard

1447 scans

73. Steve Mason

1441 scans

74. Paul Robinson

1426 scans

75. Iain Dobson

1421 scans

76. Doug Robinson

1408 scans

77. Trev Noronha

1404 scans

78. Dean Sharp

1384 scans

79. Chris Mcfarlane

1383 scans

80. Claire Mcfarlane

1382 scans

81. Ray Arrowsmith

1382 scans

82. Jez Armitage

1380 scans

83. Nick Parrish

1379 scans

84. Ian Beadle

1349 scans

85. Craig Jenner

1335 scans

86. Atholl Beattie

1326 scans

87. Philip Turland

1314 scans

88. Hugh Burkinshaw

1303 scans

89. Keith Minchall

1301 scans

90. David Winterburn

1294 scans

91. Malcolm Bradbury

1292 scans

92. Dan Mcgrath

1290 scans

93. David Hume

1283 scans

94. Chris Bell

1275 scans

95. H Edgcombe

1275 scans

96. Paul Vincent

1269 scans

97. Michael Murray

1266 scans

98. Andy Moir

1258 scans

99. David Slater

1255 scans

100. Graham Coombs

1253 scans

101. Mark Davies

1241 scans

102. Sarah Heffernan

1227 scans

103. Ian Mandley

1219 scans

104. Andrew Dearnley

1216 scans

105. Louise Clark

1211 scans

106. Robert Jones

1201 scans

107. John Sharp

1194 scans

108. Simon Miller

1193 scans

109. Graham Hall

1189 scans

110. Bruce Muckelt

1182 scans

111. Mike Mason

1162 scans

112. Mark Payne

1162 scans

113. Paul Stow

1148 scans

114. Carl Rokas

1142 scans

115. Brian Watts

1142 scans

116. Clare Brown

1141 scans

117. Simon Marley

1137 scans

118. Peter Hunt

1135 scans

119. Mike Whitehead

1132 scans

120. Caroline Haywood

1126 scans

121. Ian Bond

1125 scans

122. Simon Madden

1122 scans

123. Tony Bradley

1122 scans

124. Nick Harrison

1121 scans

125. Geoffrey Bates

1119 scans

126. Adam Bell

1118 scans

127. Steve Pennington

1106 scans

128. Chris Whiley

1097 scans

129. M Brookes

1097 scans

130. Stephen Gummow

1096 scans

131. Chris Hird

1091 scans

132. Andrew Schofield

1079 scans

133. Stephen Knight

1076 scans

134. Mark Fletcher

1064 scans

135. Mike Dewar

1064 scans

136. David Johnson

1062 scans

137. David Mooney

1058 scans

138. Tony Judge

1050 scans

139. Roz Haines

1049 scans

140. Pete Spratt

1049 scans

141. Graeme Potter

1042 scans

142. Graham Billington

1041 scans

143. David Hained

1039 scans

144. Simon Hanson

1030 scans

145. Marco Sidoli

1027 scans

146. Toby Hawkins

1026 scans

147. Peter O'Sullivan

1024 scans

148. John Freeman

1021 scans

149. Roger Nelson

1019 scans

150. Bill Woolley

1013 scans

151. James Bell

1012 scans

152. Fraser Munro

1005 scans

153. John Scott

1004 scans

154. John Ward

1003 scans

155. Andy Sly

1002 scans

156. Andrew Evans

1001 scans

157. Craig Mckenzie

1000 scans

158. Stan Hartley

996 scans

159. Paul Finnimore

993 scans

160. Brendan Rise

992 scans

161. Andrew Evans

988 scans

162. Liz Garvey

984 scans

163. Paul Brett

983 scans

164. Tony Legat

981 scans

165. Gray Bags

980 scans

166. William Morris

979 scans

167. Andrew Evans

979 scans

168. Matt Fenech

978 scans

169. Simon Hall

975 scans

170. Wayne Butler

967 scans

171. Leigh Canterbury

954 scans

172. Joe Crawford

950 scans

173. Nick Parker

949 scans

174. Paul Richards

947 scans

175. Ian Riley

947 scans

176. Keith Turner

938 scans

177. Rab Hunter

922 scans

178. Bob Goold

920 scans

179. Ernest Hill

909 scans

180. Martyn Gorse

909 scans

181. Ray Adamson

906 scans

182. Kev Sly

894 scans

183. Tony Hutchins

894 scans

184. Andrew Evans

884 scans

185. John Hein

873 scans

186. Chris Parsons

872 scans

187. Donald Starr

868 scans

188. David Marsh

868 scans

189. Tony Gamblin

866 scans

190. Richie P.

863 scans

191. Liza Graham

857 scans

192. Tony Shea

855 scans

193. Tim Minion

855 scans

194. Tony Shea

854 scans

195. Pete Matthews

849 scans

196. Clare Pickin

841 scans

197. Keith White

837 scans

198. Dylwyn Gibson

834 scans

199. Jonathan Smith

833 scans

200. Richard Wall

821 scans

201. Stuart Moss

819 scans

202. Martin Gibson

818 scans

203. Andrew Evans

811 scans

204. Gareth Collinson

808 scans

205. Marcus Lewis

803 scans

206. Andy Mohun-Smith

801 scans

207. Mim Hancock

792 scans

208. Ron Hancock

792 scans

209. Mick Attwood

790 scans

210. Chris Spry

788 scans

211. Allan Macdonald

788 scans

212. John Smart

785 scans

213. Paul Dodds

784 scans

214. Mel Tosh

782 scans

215. Steve Grainger

781 scans

216. Will Van Der Byl

771 scans

217. Jack Shawcross

768 scans

218. Dave Birtles

767 scans

219. Alex Miller

767 scans

220. Richard Clark

767 scans

221. Chris Bedford

766 scans

222. Dick Moore

765 scans

223. Karl Freeman

763 scans

224. Raymond Miller

762 scans

225. David Thwaites

761 scans

226. Lee Rawlinson

761 scans

227. Damian Jones

761 scans

228. Philip Parkins

760 scans

229. William Evans

760 scans

230. Helen Graham

759 scans

231. Philip Blanksby

759 scans

232. Mark Dunham

758 scans

233. Trevor Hyde

757 scans

234. David Sharlot

756 scans

235. Michael Bird

756 scans

236. Daniel Evans

752 scans

237. Josh Nelson

751 scans

238. Darren Rostron

751 scans

239. Stephen Jackson

749 scans

240. Fiona Booth

749 scans

241. Robert Wells

743 scans

242. Gary Ellis

743 scans

243. Angela Brewer

741 scans

244. Daniel Marsden

739 scans

245. Wayne Wheeler

739 scans

246. Sean Blaney

738 scans

247. Andrew Moate

731 scans

248. Jeremy Mason

730 scans

249. Stephen Norton

729 scans

250. Tom Slater

729 scans

251. Matt Jackson

728 scans

252. Simon Thomas

728 scans

253. Andrew Rawlins

724 scans

254. Jim Lafferty

724 scans

255. David Lands

722 scans

256. Hazel Stilgoe

721 scans

257. Jon Healy

720 scans

258. Andrew Moss

719 scans

259. Ralph Lock

715 scans

260. Phil Martin

714 scans

261. Alan Foster

712 scans

262. John Seabourne

711 scans

263. Ali Fitton

711 scans

264. David Waddison

710 scans

265. Simon Atkinson

708 scans

266. Warren Waddington

701 scans

267. Stephen Bates

699 scans

268. James Welham

697 scans

269. Robin Chandler

693 scans

270. Peter Redman

692 scans

271. Richard Pinchbeck

691 scans

272. Brian Spurling

688 scans

273. Nicholas Leggett

687 scans

274. Karl Hammett

687 scans

275. Peter Rickwood

683 scans

276. John Adams

682 scans

277. Cy Day

682 scans

278. Simon Agate

680 scans

279. Richard Morton

677 scans

280. Kevin Travers

676 scans

281. Rita Vlahos

675 scans

282. Stuart Nicol

675 scans

283. Chris Hope

673 scans

284. Bob Meech

672 scans

285. Philip Cleverdon

669 scans

286. Jon Wainwright

667 scans

287. Anthony Tang

664 scans

288. Mark Payne

661 scans

289. Sarah Bellis

659 scans

290. Peter White

656 scans

291. Simon Patterson

656 scans

292. Liam Urtone

651 scans

293. Paul Griffiths-Davies

651 scans

294. Mark Nutter

650 scans

295. Ian Daly

649 scans

296. Graham Bolt

648 scans

297. Harvey Parsons

648 scans

298. Phil Graham

644 scans

299. Ursula Vasey

642 scans

300. Malc Holland

642 scans

301. David Harris

638 scans

302. Rodger Fox

636 scans

303. Elaine Meech

632 scans

304. Craigy Banks

630 scans

305. Steve Rogerson

629 scans

306. Mark Dunham

628 scans

307. Wayne Mettam

628 scans

308. Marie Purnell

627 scans

309. Wayne Pilkington

625 scans

310. Brian Spurling

622 scans

311. Lauren Kelly

622 scans

312. George Langlands

618 scans

313. Glenn Cremen

616 scans

314. Chris Blackburn

614 scans

315. Graham White

611 scans

316. Ian Gillespie

610 scans

317. Graham Sargeson

607 scans

318. Blake Robins

604 scans

319. Michelle Nicholson

604 scans

320. Donna Judge

602 scans

321. Rob Dickson

600 scans

322. Tracey Marshall

597 scans

323. Steve Orford

596 scans

324. Wayne Kavanagh

591 scans

325. Ann Miller

591 scans

326. Christopher Leno

591 scans

327. Phil Wignall

589 scans

328. John Lauder

587 scans

329. Colin Brown

584 scans

330. William Power

583 scans

331. Carl Muspratt

578 scans

332. Anthony Lea

578 scans

333. Tracy Hyslop

578 scans

334. Michael Rainbird

577 scans

335. Jeremy Chapter

573 scans

336. Andy Millard

573 scans

337. Mark Hughes

573 scans

338. Carl Beattie

573 scans

339. Richard Sawyer

573 scans

340. Robert Jones

572 scans

341. Kerry Sawyer

572 scans

342. Dave Ackrill

570 scans

343. Jeffrey Jones

570 scans

344. Michael Hird

568 scans

345. Cathy Bell

566 scans

346. Chris Spooner

566 scans

347. Jonny Morrus

566 scans

348. Michelle Sparwell

566 scans

349. Stephen Harris

565 scans

350. Karl Povey

565 scans

351. Campbell Smith

564 scans

352. Ricky Wainwright

563 scans

353. Derry Barnes

560 scans

354. Rich Roberts

558 scans

355. Stephen Howell

558 scans

356. David Ruddlesden

556 scans

357. Mirella Lukover

555 scans

358. Ron Boyd

553 scans

359. Jim Henderson

553 scans

360. Colin Mcgrath

551 scans

361. David Parry

550 scans

362. Paul Hajworonskyj

550 scans

363. Ron Cave-Ayland

547 scans

364. Clive Wilkinson

547 scans

365. Cossilah Grigg

545 scans

366. Steven Favell

543 scans

367. James Gamble

541 scans

368. Liam White

541 scans

369. Stephen Warburton

540 scans

370. Ian Hedgecock

539 scans

371. Peter Hose

537 scans

372. Hugh Johnstone

536 scans

373. Peter Hose

536 scans

374. Anne Lepiorz

534 scans

375. Abigail Massie

534 scans

376. Graham Renwick

534 scans

377. Tony Joyce

534 scans

378. Alan Hase

532 scans

379. Gill Warner

532 scans

380. Steve Rivers

531 scans

381. Mark Burton

531 scans

382. Sarahjane Careswell

529 scans

383. Victoria Martin

529 scans

384. Adam Walker

529 scans

385. George Kimber

528 scans

386. Stevie Firth

528 scans

387. Mark Sorrell

527 scans

388. Ian Swanson

527 scans

389. Barry Grigg

526 scans

390. Andrew Pearson

524 scans

391. David Austin

524 scans

392. Michael Jenkinson

523 scans

393. Phil Rowe

519 scans

394. James Ball

519 scans

395. Michael Matthews

518 scans

396. Ken Izzard

517 scans

397. Ian Davey

515 scans

398. Chris Draper

514 scans

399. Antoni Clarke

514 scans

400. Ian Carden

513 scans

401. Gary Mcdonald

512 scans

402. Ian Fisher

511 scans

403. Jason Potts

511 scans

404. Ian Priestly

510 scans

405. Jo Barnes

508 scans

406. Mandy Mills

507 scans

407. Philip Willinson

506 scans

408. John Mcgraw

505 scans

409. Alan Southgate

504 scans

410. Gina Milward

504 scans

411. Robert Smith

503 scans

412. Valerie Helliwell

503 scans

413. Tim Jordan

503 scans

414. Gareth Smith

503 scans

415. John Towse

503 scans

416. L B

503 scans

417. George Burnell

502 scans

418. Stephen Riddell

502 scans

419. Graham Ash

502 scans

420. Louise Clarke

500 scans

421. Rick Smith

500 scans

422. Lindsey Beattie

500 scans

423. Tony Martin

497 scans

424. Josh Bullock

496 scans

425. Nicola Jarvis

495 scans

426. Lynda Auty

495 scans

427. Garry Judge

495 scans

428. Philip Smith

495 scans

429. Evelyn Harrison

493 scans

430. Annabel Levy

491 scans

431. Michael Macneill

491 scans

432. Ken Bates

491 scans

433. Paul Hampton

491 scans

434. Philip Groves

490 scans

435. John Hyslop

488 scans

436. Tesha Flashman

487 scans

437. Martin Messias

487 scans

438. Tony Boughey

486 scans

439. Andrew Chilton

485 scans

440. Pam Gardner

484 scans

441. Andy Evans

483 scans

442. Dave Rees

482 scans

443. Dave Parkinson

482 scans

444. Dez Coley

481 scans

445. Robert Margrie

481 scans

446. Deilwen Rowe

480 scans

447. Neil Cooksley

478 scans

448. Tony Jones

476 scans

449. Ian Conley

475 scans

450. Philip Child

475 scans

451. Chris Excell

473 scans

452. Paul Mills

473 scans

453. Andy Cleverdon

473 scans

454. Brian Fare

472 scans

455. Jason Smith

472 scans

456. Ioannes Wilkes

472 scans

457. Greg Braund

471 scans

458. David Graham

471 scans

459. Sean Saxton

471 scans

460. Lucy Richman

470 scans

461. Neil Bentley

469 scans

462. Paul Stainer

467 scans

463. Peter Wilson

467 scans

464. Julian Millhouse

466 scans

465. Nicky Brookes

465 scans

466. Chris Sanders

460 scans

467. Paul Etherington

459 scans

468. Steven Pearson

456 scans

469. Simon Maggs

456 scans

470. Christopher Hodgson

455 scans

471. Michael Ball

453 scans

472. Matthew Beckett

453 scans

473. Jess Marsh

452 scans

474. Mick Griffiths

452 scans

475. P F

452 scans

476. David Cotton

451 scans

477. Hugh Money

450 scans

478. Carol Griffiths

450 scans

479. Gareth Morgan

449 scans

480. Sue Cotton

448 scans

481. David Morton

448 scans

482. Audrey Morton

447 scans

483. Andrew Blakelock

446 scans

484. Ben Page

445 scans

485. Richard Kerry

445 scans

486. Diana Bedford

444 scans

487. Dave Wright

443 scans

488. Mike Exley

443 scans

489. George Bates

443 scans

490. Tony Bayford

443 scans

491. Dean Jones

442 scans

492. Barbara Ruddlesden

440 scans

493. Tony Sheridan

439 scans

494. Colin Handley

439 scans

495. Phil Matkin

439 scans

496. Ruth Hiscott

438 scans

497. Richard Morrison

438 scans

498. Duncan Taylor

437 scans

499. James Button

437 scans

500. Steve Davies

437 scans
501. Johm Davies

435 scans

502. Michael Warden

435 scans

503. Michelle Munns

435 scans

504. Barry Morse

435 scans

505. Andy Jackson

434 scans

506. Steve Philpots

434 scans

507. Judi Handley

434 scans

508. Nicholas Foreman

434 scans

509. Darryl Marsh

433 scans

510. Lee Jones

433 scans

511. Dave Burton

432 scans

512. Dave Charles

432 scans

513. Nigel Taylor-Williams

431 scans

514. Simon Elliott

431 scans

515. Andrew Mckay

430 scans

516. Dave Luckett

430 scans

517. Richard Elliott

428 scans

518. Reg Newman

428 scans

519. Deb Holland

428 scans

520. Paul Tysoe

427 scans

521. John Wescombe

427 scans

522. Nick Boham

427 scans

523. Rich Milligan

427 scans

524. Michael Vaughan

426 scans

525. Jonathan Waller

421 scans

526. Ian Eggleton

420 scans

527. Karen Matkin

420 scans

528. Paul Byram

420 scans

529. Jo Richardson-Stow

419 scans

530. Mike Hampshire

418 scans

531. Michael Sargeant

418 scans

532. Peter Young

415 scans

533. Tim Bennett

415 scans

534. Chris Hurst

415 scans

535. Ken Potter

415 scans

536. Chris Cusack

414 scans

537. Nick Evers

414 scans

538. Peter Anderson

414 scans

539. Carl Rawson

413 scans

540. Carole Robins

413 scans

541. Sarah Horton

412 scans

542. Linda Matthews

412 scans

543. Paul Goddard

411 scans

544. Alan Brooks

410 scans

545. Michael Lennon

410 scans

546. Howard Foley

409 scans

547. Aisling Foley

408 scans

548. Rolf Jones

408 scans

549. Drew Batton

408 scans

550. Ian Curwen

408 scans

551. Ian Griffiths

408 scans

552. Julie Hillcoat

408 scans

553. John Vigurs

407 scans

554. Kim Matthews

407 scans

555. David Sanderson

406 scans

556. Jacqueline Riley

403 scans

557. Kevin Frost

403 scans

558. Phillip Eldridge

403 scans

559. Neill Roberts

401 scans

560. Ian Ferguson

400 scans

561. Heather Strothard

400 scans

562. Clive Stonebridge

400 scans

563. Dawn Harris

400 scans

564. Ken Longhurst

400 scans

565. Sarah Batty

400 scans

566. David Scott

400 scans

567. Jon Bradbury

400 scans

568. Kevin Bourne

399 scans

569. Alan Barnard

397 scans

570. Justin Morelli

395 scans

571. Tracie Cleverdon

395 scans

572. Martin Hamblin

394 scans

573. Ian Clarke

394 scans

574. Michael Alsworth

392 scans

575. Kev Pridgen

392 scans

576. Paul Cocks

392 scans

577. Jo Day

386 scans

578. Jim Crowe

385 scans

579. Paul Goddard

384 scans

580. Ange Smith

384 scans

581. Stephen Varvell

383 scans

582. Will Smith

383 scans

583. Dean Bailey

382 scans

584. Alan Fishwick

381 scans

585. Liz Johnson

381 scans

586. Lux Lluria

380 scans

587. Ray Wilson

380 scans

588. Guy Carpenter

378 scans

589. Carrie Smith

378 scans

590. Peter Long

378 scans

591. Sandra Pridgen

378 scans

592. Jayne Richardson

377 scans

593. Geoff Clarkson

377 scans

594. Sarah Chessman

377 scans

595. Lee Allen

377 scans

596. David Storey

376 scans

597. Vincent Lo

376 scans

598. Nicola Goddard

376 scans

599. Malcolm Barwick

376 scans

600. Christopher Murphy

376 scans

601. Emma Powell

376 scans

602. Gerard Lunn

376 scans

603. Mark Sheen

376 scans

604. Phliip Dee

376 scans

605. Robin Gandy

375 scans

606. Gordon Murray

375 scans

607. Dave Young

375 scans

608. Yvonne Matthews

375 scans

609. Stephen Peers

374 scans

610. Bob Pennyfather

374 scans

611. Dan Button

374 scans

612. Martin Kitteridge

374 scans

613. Andrew Mcminn

373 scans

614. Tim Gill

372 scans

615. Mat Roberts

372 scans

616. Tim Lawrie-Ashton

370 scans

617. James Lawrie-Ashton

370 scans

618. Amanda Fare

369 scans

619. Andrew Miller

369 scans

620. Wendydellicott- Smith

369 scans

621. John Patrick Heeley

368 scans

622. Karen Jarvis

368 scans

623. Paul Wilkinson

366 scans

624. Dave Arnold

365 scans

625. Mark Hennessy

365 scans

626. Dan Bar-Clarke

364 scans

627. Linda Milward

363 scans

628. Bob Lee

363 scans

629. Steve Leader

362 scans

630. Brian Lisgo

361 scans

631. Ian Price

361 scans

632. Mark Ainsworth

361 scans

633. Martin Cizek

360 scans

634. Chris Roberts

359 scans

635. Angela Goldsworthy

359 scans

636. Chris Foxall

359 scans

637. John Riddell

359 scans

638. John Newsom

358 scans

639. Peter Jones

357 scans

640. Ray Goldsworthy

357 scans

641. Douglas Deakin

357 scans

642. Robert Richardson

357 scans

643. Paul Richards

356 scans

644. Andrew Cross

355 scans

645. Charles Hargrave

354 scans

646. Phil Marten

353 scans

647. Andy Johnson

353 scans

648. Jackie Hampton

353 scans

649. Kevin Lyth

352 scans

650. Chris Stoneham

352 scans

651. Mike Broom

352 scans

652. Barry Hickles

352 scans

653. Heather Griffin

352 scans

654. Adrian Jefferies

349 scans

655. Colin Newma

349 scans

656. Niall Cooney

349 scans

657. Tim Cousins

348 scans

658. Andy Hardy

345 scans

659. David Thompson

345 scans

660. Adrian Plummer

344 scans

661. Andrew Garnett

344 scans

662. Paul Norris

344 scans

663. J Ghetherington

343 scans

664. Alistair Sutherland

342 scans

665. Graham Clements

341 scans

666. Paul King

341 scans

667. Bill Kilvington

340 scans

668. Liz Graham

340 scans

669. Daniel Sargeant

340 scans

670. Christopher Rudd

340 scans

671. David & Carla Skoof

339 scans

672. Pete Tarver

339 scans

673. David Crowe

339 scans

674. Steven Valentine

338 scans

675. Ed Loach

337 scans

676. Nigel Maycock

337 scans

677. Andy Steadman

337 scans

678. Tony Streams

337 scans

679. Barry Sellers

336 scans

680. Mervyn Robins

336 scans

681. Stuart Jeffrey

336 scans

682. Nigel Good

335 scans

683. James Beveridge

335 scans

684. Gethin Wilson

334 scans

685. Helen Lyth

334 scans

686. Nicky Marsh

334 scans

687. Mark Holland

333 scans

688. Ed Randviir

333 scans

689. Dennis Templeman

333 scans

690. Tony Fenech

332 scans

691. Stephen Bolton

331 scans

692. Pete Greatorex

331 scans

693. Mary Greatorex

331 scans

694. Jenny Woodward

331 scans

695. Nigel Summers

330 scans

696. Paul Redfern

330 scans

697. Dominic Stone

330 scans

698. Peter Morris

329 scans

699. Richard Tupholme

329 scans

700. Huw Jones

329 scans

701. Barry Clifford

328 scans

702. Emma Shepherd

328 scans

703. Chris Levett

327 scans

704. Sarah Cleary

326 scans

705. Lyndon Ryder

324 scans

706. Anastasia Pennington

324 scans

707. Rob Hall

323 scans

708. Paul Williams

323 scans

709. R Clive

322 scans

710. Carole Ann Johnson

321 scans

711. Scott Spencer

321 scans

712. Joanne Gilbey

321 scans

713. Nikki Ennis

320 scans

714. Brian Cuthbert

320 scans

715. Mike Pead

320 scans

716. Frank Macdougall

320 scans

717. Nicholas Morris

320 scans

718. Graham Darby

319 scans

719. Martin Ennis

319 scans

720. Gavin Chester

319 scans

721. Ted Fisher

319 scans

722. Paul Kemble

318 scans

723. Dominic Norton

317 scans

724. Graham Bishop

317 scans

725. Steven Griffiths

316 scans

726. James Ritter

316 scans

727. Simon Page

316 scans

728. Richard Hazeldine

314 scans

729. Michelle Jackson

314 scans

730. Jonathan Parker

314 scans

731. Russell Mcgrath

314 scans

732. David Mountford

314 scans

733. Robert Fitzmaurice

314 scans

734. Paul Greenhalgh

313 scans

735. Neil Easton

313 scans

736. David Carter

312 scans

737. Louise Mathias

312 scans

738. Chris Burnham

312 scans

739. Tris Bayliff

311 scans

740. Roger Heeley

311 scans

741. Adrian Hancox

311 scans

742. Nigel Parker

311 scans

743. Gary Humphry

310 scans

744. Tim Humpage

310 scans

745. Jonathan Connolly

310 scans

746. Brian Sullivan

309 scans

747. Michael Croxford

309 scans

748. Aaron Jones

308 scans

749. Danny Paris

308 scans

750. John Mccallum

308 scans

751. Jake Wilkes

307 scans

752. Lois Elliott

306 scans

753. Malcolm Linsley

306 scans

754. Justin Green

305 scans

755. Graham Churchill

305 scans

756. Ben Fake

305 scans

757. Elizabeth Jones

305 scans

758. Holly Ferrari

305 scans

759. Kay Farrell

305 scans

760. John Austin

304 scans

761. Phillip Dews

303 scans

762. Peter Lakin

303 scans

763. Keith Roberts

302 scans

764. Pete Skinner

302 scans

765. David Ballentyne

301 scans

766. Tim Pearson

301 scans

767. Vaughan Evans

301 scans

768. Sarah Wager

301 scans

769. Darren Watkins

301 scans

770. Robert Cutforth

300 scans

771. Chris Allman

300 scans

772. Roy Collett

300 scans

773. Peter Ramsden

299 scans

774. Chris Lambert

299 scans

775. Sean Farrell

299 scans

776. Ashley Rennie

299 scans

777. John Patterson

299 scans

778. Paul Johnstone

298 scans

779. Chris Harrison

298 scans

780. Joanna Vigus

298 scans

781. Ian Shepherd

298 scans

782. David Barnes

297 scans

783. Ian Read

297 scans

784. Helen Thomas

297 scans

785. Keith Rogers

297 scans

786. Tim Bradley

296 scans

787. Helen Casey

296 scans

788. Ian Sutton

296 scans

789. Keith Barraclough

296 scans

790. Gene Rowe

295 scans

791. John Kersey

295 scans

792. Ian Mccorriston

295 scans

793. Paul Aubrey

295 scans

794. Ben Jones

295 scans

795. John Milward

294 scans

796. Alan Smith

294 scans

797. David Munday

293 scans

798. Andrew Chapple

293 scans

799. Simon Wild

293 scans

800. John Walker

292 scans

801. Kate Seal

292 scans

802. Teresa Read

292 scans

803. Paul Thomas

292 scans

804. Tim Nicholls

292 scans

805. David Skoof

291 scans

806. Mark Snowden

291 scans

807. Barbara Riley

291 scans

808. Brian Terry

291 scans

809. Barrie Coker

290 scans

810. Craig Ambler

290 scans

811. Phil Carlton

290 scans

812. David Sheppard

289 scans

813. Angela Walker

289 scans

814. Graham Kolthammer

289 scans

815. Matt Wills

289 scans

816. Larry Saunders-Fern

288 scans

817. Roly Smith

288 scans

818. Andrew Edwards

288 scans

819. Rich Sperry

288 scans

820. Emma Smith

288 scans

821. John Raby

288 scans

822. Paul Absolon

287 scans

823. Mark Baines

287 scans

824. Philip Moorhouse

287 scans

825. Ed Laws

287 scans

826. Richard Alexander

286 scans

827. Richard Westcott

286 scans

828. Simon Hollis

286 scans

829. Peter Abrams

285 scans

830. Sarah Christie

285 scans

831. Gary Ok

285 scans

832. Peter Cole

285 scans

833. Matt Stone

285 scans

834. Dave Morgan

284 scans

835. Bryan Woods

284 scans

836. Paul Bray

283 scans

837. Jim Mclennan

282 scans

838. Chris Pilkington

282 scans

839. Steve Mckenna

281 scans

840. Graham Church

281 scans

841. Stephen Burns

280 scans

842. Faron Sanders

280 scans

843. Mark Charge

280 scans

844. Martin Walker

280 scans

845. Ryan Turner

280 scans

846. Gavin Jenkins

279 scans

847. Andrew Carey

279 scans

848. Mike Cartlidge

279 scans

849. Sam Bates

279 scans

850. Duncan Shaw

278 scans

851. Simon Orpen

278 scans

852. Tony Milner

278 scans

853. Martin Hartley

277 scans

854. Chris Cockburn

277 scans

855. Diane Povey

277 scans

856. James Quinney

276 scans

857. Matt Purvis

276 scans

858. Rachel Exley

275 scans

859. David Barnwell

275 scans

860. Duncan Marsh

275 scans

861. Jeff15 Wlld

275 scans

862. Jonathan Austen

275 scans

863. Steve Snowball

274 scans

864. Margaret Corlett

274 scans

865. Duncan Loveday

274 scans

866. Chris Brightwell

274 scans

867. Geoff Marsh

274 scans

868. Nicky Precious

274 scans

869. Peter Lord

274 scans

870. Susan Hunt

273 scans

871. Ian Bradley

273 scans

872. Allen Akers

273 scans

873. Chris Cale

273 scans

874. Helen Davies

273 scans

875. Geraint Jones

272 scans

876. Richard Rooker

272 scans

877. Mark Joyce

272 scans

878. Carl Blackham

272 scans

879. Gareth Armitage

272 scans

880. Stevan Eggleton

272 scans

881. Alexei Samarenko

271 scans

882. Jenny Bottley

270 scans

883. Ian Haywood

270 scans

884. Sue Harrison

269 scans

885. Ian Mathias

269 scans

886. Ken Wood

269 scans

887. David Brooks

269 scans

888. David Hodgson

269 scans

889. Andrew Griffin

268 scans

890. Robert Busby

268 scans

891. Martin Kean

268 scans

892. John Buckley

268 scans

893. Rob Stokes

268 scans

894. Alwyn Wood

267 scans

895. Alastair Moore

267 scans

896. Dave Best

267 scans

897. James Winton

267 scans

898. Adrian Mellow

266 scans

899. Martin Cole

266 scans

900. Steve Elliott

266 scans

901. Ramzi Shammas

265 scans

902. Andrew Stovell

264 scans

903. Paul Whitehall

264 scans

904. Kayla Schiller

264 scans

905. Patricia Brown

263 scans

906. Winson Wong

263 scans

907. Kim Lowry

263 scans

908. Darrel Hull

263 scans

909. Jon Hooper

263 scans

910. Martin Bush

263 scans

911. David Moore

262 scans

912. Steve Smith

262 scans

913. Dave Smith

262 scans

914. Benjamin Turnbull

262 scans

915. Alex Crowe

262 scans

916. Colin Johnstewart

262 scans

917. Lauren Howell

262 scans

918. Jacqui Snowball

261 scans

919. Anne Lepiorz

260 scans

920. Michael Greenhalgh

260 scans

921. Matthew Oates

260 scans

922. Andrew Fenwick

260 scans

923. Steven Barlow

260 scans

924. Paul Littlewood

260 scans

925. Stewart Snow

260 scans

926. Neil Whitehall

259 scans

927. Sean Smith

259 scans

928. Martin Stonebridge

259 scans

929. Thomas Hill

259 scans

930. Chris Knipe

259 scans

931. Gary Hartley

258 scans

932. Chris Fearnley

258 scans

933. Ian Hodge

257 scans

934. Matt Wills

257 scans

935. Tony Pike

257 scans

936. Ann Mintern

257 scans

937. Michael Hewitt

256 scans

938. Natali Sanderson

256 scans

939. Helen Breeds

256 scans

940. David Perkins

255 scans

941. Tom Bexter

255 scans

942. Graham Voller

255 scans

943. Dave Simmonds

254 scans

944. Henrietta Macdonald

254 scans

945. Andy Lucas

254 scans

946. David Kenneth

254 scans

947. Lee Sheppard

254 scans

948. Jennifer Osborne-Williams

253 scans

949. Amanda Hawkins

253 scans

950. Gordon Thomo

253 scans

951. Julie Large

253 scans

952. Leanne Rhodes

252 scans

953. Phil Boardman

252 scans

954. Carl Haywood

252 scans

955. Daniel Wetherill

252 scans

956. Ian Mapp

252 scans

957. Oliver Firth

252 scans

958. Bronwen Dunstan

251 scans

959. Peter Robinson

251 scans

960. Les Williams

251 scans

961. Martin Birch

251 scans

962. Andrew Smith

251 scans

963. P J

251 scans

964. Lauren Judge

250 scans

965. Tim Parsons

250 scans

966. Colin Matheson

250 scans

967. Kevin Feeney

250 scans

968. Simon Hallam

250 scans

969. Lizzy Sellers

249 scans

970. Shaun Yost

249 scans

971. Charmaine Sweeney

249 scans

972. Amy Steele

248 scans

973. Jayne Norris

248 scans

974. Keith Bartlett

246 scans

975. Rob Speke

246 scans

976. Peter Lyth

244 scans

977. Jeffrey Jones

244 scans

978. Ben Hanham

244 scans

979. Retha Swanepoel

244 scans

980. Lee Humphry

244 scans

981. E P

243 scans

982. Darren Jennings

243 scans

983. Paul Miller

243 scans

984. Ray Corlett

242 scans

985. Gary Malliband

242 scans

986. Chris Adams

241 scans

987. E Kenny

241 scans

988. Bill Kirkbride

240 scans

989. Roy Whitt

240 scans

990. Ron Smith

240 scans

991. Iain Rylands

240 scans

992. Jan Shea

240 scans

993. Gary Hardcastle

239 scans

994. Si Holborn

238 scans

995. Luke Blackstaffe

237 scans

996. Simon Parnaby

237 scans

997. Simon Cobham

237 scans

998. Stephen Joyce

237 scans

999. Andrew Wright

237 scans

1000. Steve Lym

236 scans
1001. James Webb

236 scans

1002. R. C.

236 scans

1003. Dan Britton

235 scans

1004. Colin Francis

235 scans

1005. Fraser Elliot

234 scans

1006. Jenny Anderton

234 scans

1007. Simon Rose

234 scans

1008. Ken Fraser

233 scans

1009. Rich Belbin

233 scans

1010. James Phillips

232 scans

1011. David Bellamy

232 scans

1012. Chris Mcleod

232 scans

1013. Mark Probert

232 scans

1014. Pete Sutcliffe

231 scans

1015. John Bartram

231 scans

1016. Steven Heaton

231 scans

1017. Ant Fiorillo

231 scans

1018. Mick Brady-Emery

231 scans

1019. Craig Newton

230 scans

1020. Paul Marshall

230 scans

1021. Jonathan Whitaker

230 scans

1022. Adrian Millican

230 scans

1023. Robert Davidadamson

230 scans

1024. Becky Peacock

229 scans

1025. Martin Wigley

229 scans

1026. Alison Steel

229 scans

1027. Tim Stevens

228 scans

1028. Graeme Addison

228 scans

1029. Joe Ruddock

227 scans

1030. Graham Whiting

227 scans

1031. Alan Shaw

227 scans

1032. Mark Ganellin

227 scans

1033. Russ Hyde

227 scans

1034. Tom Rafton

227 scans

1035. Paul Waterton

226 scans

1036. Matt Downs

226 scans

1037. Rob Anniss

226 scans

1038. Shirley Cook

226 scans

1039. Mike Taylor

226 scans

1040. Nick Bate

226 scans

1041. Paul Hathaway

225 scans

1042. Peter Edwards

225 scans

1043. Craig Johnson

224 scans

1044. Dennis Batty

224 scans

1045. Stewart Rose

224 scans

1046. Paul Newby

223 scans

1047. David Evans

223 scans

1048. Tim Scott

223 scans

1049. Amy Sanders

223 scans

1050. Philip Welton

223 scans

1051. Phillip Watson

222 scans

1052. Simon Gillingham

222 scans

1053. Graham Johnson

222 scans

1054. Jon Casserley

222 scans

1055. Therese Smith

221 scans

1056. Jonny Woods

221 scans

1057. Chris O'Nyan

221 scans

1058. Steve Wyllie

221 scans

1059. Tom Braund

221 scans

1060. Frances Tiplady

220 scans

1061. Adam Strand

220 scans

1062. Louise Fraser

220 scans

1063. David Polglase

219 scans

1064. Nigel Watts

219 scans

1065. Steve Haynes

219 scans

1066. Ken Tucker

219 scans

1067. Peter Bowles

219 scans

1068. Richard Hickey

219 scans

1069. David Souch

218 scans

1070. Chris Bagshaw

218 scans

1071. Gary Marchant

218 scans

1072. Alistair Wilsdon

218 scans

1073. Christopher Tunstall

218 scans

1074. Gemma Bradley

217 scans

1075. Brian Carr

217 scans

1076. Mike Yeadon

217 scans

1077. Sarah Gill

216 scans

1078. Andrew Clarke

216 scans

1079. Dave Tennant

216 scans

1080. Moira Brooks

216 scans

1081. Richard Beech

216 scans

1082. Daniel Doherty

215 scans

1083. Sarah Smith

215 scans

1084. Linda Ambler

215 scans

1085. Andy Vaughan

215 scans

1086. Gary Gensler

215 scans

1087. Amanda Anniss

214 scans

1088. Michael Patston

214 scans

1089. Andrew Story

213 scans

1090. Daniel Thundercliffe

213 scans

1091. Norman Leach

213 scans

1092. Gary Kelt

212 scans

1093. Mark Simpson

212 scans

1094. Leigh Bartlett

212 scans

1095. Louise Knight

212 scans

1096. Andy Jolly

211 scans

1097. John Kearney

211 scans

1098. Toby Kirby

211 scans

1099. Ian Macpherson

211 scans

1100. Paul Mann

211 scans

1101. Amanda Brookes

211 scans

1102. Richard Jones

211 scans

1103. William Kapela

211 scans

1104. Trevor Norman-Thorpe

210 scans

1105. Janet Tegg

210 scans

1106. Kev Finnegan

210 scans

1107. Mel Morgan

210 scans

1108. Jonathan Starr

210 scans

1109. Phil Chapman

209 scans

1110. James Ross

209 scans

1111. Adam Marston

209 scans

1112. Richard Derbidge

209 scans

1113. Edward Shanklyn

209 scans

1114. Robert Martin

209 scans

1115. Trev Hollingsbee

209 scans

1116. Mark Brown

208 scans

1117. Ged Meheran

208 scans

1118. Gareth Edwards

208 scans

1119. John Davies

208 scans

1120. Stuart Pagett

208 scans

1121. Stuart Wasmuth

207 scans

1122. Andrew Frith

207 scans

1123. John Ropke

207 scans

1124. Brian Johnson

207 scans

1125. Philip Slater

207 scans

1126. Clem Tegg

207 scans

1127. Alison Gent

207 scans

1128. Christopher Horner

207 scans

1129. John Cook

207 scans

1130. Mark Hansford

207 scans

1131. Teresa Juniper

207 scans

1132. Tony Chappell

206 scans

1133. Karen Sulley

206 scans

1134. Mick Moss

206 scans

1135. Steven Clough

206 scans

1136. Ashley Lord

206 scans

1137. Chris Osborn

206 scans

1138. David Osborne

206 scans

1139. Lee Ball

206 scans

1140. Chris Price

205 scans

1141. Ross Fullerton

205 scans

1142. Alastair Crane

205 scans

1143. John Hayman

204 scans

1144. Richard Russell

204 scans

1145. Gavin Hazell

204 scans

1146. Chas Hughes

204 scans

1147. Ken Obank

204 scans

1148. Michaela Obank

204 scans

1149. Richard Stant

204 scans

1150. Shaun Kemp

204 scans

1151. Nikki Carr

203 scans

1152. Chris Leighton

203 scans

1153. Andy Mitchell

203 scans

1154. Laura Evans

203 scans

1155. Andy Pratt

203 scans

1156. Matt Humpage

203 scans

1157. Chris Wilcock

203 scans

1158. Iain Swallow

203 scans

1159. Jordan Young

203 scans

1160. Lorraine Davis

203 scans

1161. Steve Ellis

203 scans

1162. Simon Fraser

202 scans

1163. Steve Wadey

202 scans

1164. Mark Appleton

202 scans

1165. Richard Phipps

202 scans

1166. Matty Dyer

202 scans

1167. Sean Canning

202 scans

1168. Tim Beeden

201 scans

1169. Fraser Barnes

201 scans

1170. Dave Nurse

201 scans

1171. James Jones

201 scans

1172. Paul Blackwell

200 scans

1173. Daniel Veal

200 scans

1174. Cf Morris

200 scans

1175. Simon Mcsorley

199 scans

1176. Hannah Clarke

199 scans

1177. Carl Boardman

199 scans

1178. Chris Frank

199 scans

1179. Matt Dinnery

198 scans

1180. Philip Hartup

198 scans

1181. Daniel Pendergast

198 scans

1182. Liam Connolly

198 scans

1183. Miles Bidgood

198 scans

1184. Jim Mosley

198 scans

1185. John Woodhead

198 scans

1186. Hazel Pattinson

198 scans

1187. David Knight

197 scans

1188. Lee Matthews

197 scans

1189. Rhys Brett-Bowen

197 scans

1190. David Chrisham

197 scans

1191. Paul Osborne

197 scans

1192. Stephen Warburton

196 scans

1193. Angela Paling

196 scans

1194. Bernie Haydon

196 scans

1195. Philip Wallace

195 scans

1196. Spencer Owen

195 scans

1197. Chris Ford

195 scans

1198. Evan Rowlands

195 scans

1199. Neil Phillips

195 scans

1200. Ian Fletcher

194 scans

1201. Martin Hargrave

194 scans

1202. Arran Macdonald

194 scans

1203. Alex Moloney

194 scans

1204. Christine Jaques

194 scans

1205. Ruth Mchale

194 scans

1206. Steve Thompson

194 scans

1207. Darren Miller

193 scans

1208. Helen Lunn

193 scans

1209. Andrew Backhouse

193 scans

1210. Steve Eynon

193 scans

1211. Ali Mac

193 scans

1212. Chris Daly

193 scans

1213. David Mills

192 scans

1214. Michael Dent

192 scans

1215. Chris Bell

192 scans

1216. Ed Greenwood

192 scans

1217. Zachary Burgess

192 scans

1218. Stephen Osborne

191 scans

1219. Tom Markwell

191 scans

1220. Helen Jones

191 scans

1221. Simon Chisholm

191 scans

1222. Dale Gennard

191 scans

1223. George Tobitt

191 scans

1224. Mark Howarth

190 scans

1225. Dez Leather

190 scans

1226. Alan Greenwood

190 scans

1227. Anthea Jackson

190 scans

1228. Steve Kelly

190 scans

1229. Simon Wells

189 scans

1230. Deborah Smith

189 scans

1231. Ian Warner

189 scans

1232. Tony Smith

188 scans

1233. Adele Millar

188 scans

1234. Mark Halliday

188 scans

1235. Patrick Bate

188 scans

1236. Simon Best

188 scans

1237. Garry Precious

187 scans

1238. Rhiannon Clement

187 scans

1239. David Pagett

187 scans

1240. Matt Callis

187 scans

1241. Anthony Mcgrath

187 scans

1242. Bryony Williams

187 scans

1243. Gary Payne

187 scans

1244. Howard Tompkins

187 scans

1245. Simon Harris

187 scans

1246. William George

187 scans

1247. Steve Reid

186 scans

1248. Chris Dalton

186 scans

1249. David Dale

186 scans

1250. Will Westbury

185 scans

1251. Simon Blain

185 scans

1252. Guy Makin

185 scans

1253. Grant Bacter

185 scans

1254. David Hart

185 scans

1255. Jamie Brown

185 scans

1256. Lee Kalmar

185 scans

1257. Lucas Janssen

185 scans

1258. Nigel Herriott

185 scans

1259. Tim Mcminn

185 scans

1260. Lynne Evans

184 scans

1261. Ian Cameron

184 scans

1262. Howard Hughes

184 scans

1263. Daniel Chalk

184 scans

1264. Gareth Hunter

184 scans

1265. Andrew Osborne

183 scans

1266. Clare Armitage

183 scans

1267. Simon Turner

183 scans

1268. Richard Pickering

183 scans

1269. Barnaby Whiteman

183 scans

1270. John Henfrey

183 scans

1271. Barry Evan'S

182 scans

1272. Chris Wright

182 scans

1273. Jamie Parker

182 scans

1274. Daniel Terry

182 scans

1275. Ian Hayward

182 scans

1276. John Stokes

182 scans

1277. Chris Williams

181 scans

1278. Elizabeth Rose

181 scans

1279. Dan Bromley

181 scans

1280. Carl Warren

181 scans

1281. Nik Hall

181 scans

1282. Richard Gledhill

181 scans

1283. Connor Snowden

180 scans

1284. Chris Staunton

180 scans

1285. Barrie Johnson

180 scans

1286. Mark Dwyer

180 scans

1287. Joanne Baxter

179 scans

1288. Thomas Canning

179 scans

1289. Cath Cardwell

179 scans

1290. David Cartlidge

179 scans

1291. Julie Atkinson

179 scans

1292. Rob Walsh

179 scans

1293. Tom Coombs

179 scans

1294. Allison Walker

178 scans

1295. Johnathan Mcgill

178 scans

1296. Ronald Caudy

178 scans

1297. Adam Morris

178 scans

1298. Adrian Burkinshaw

178 scans

1299. Colin Beck

178 scans

1300. Dean Allaway

178 scans

1301. Ian Pennock

178 scans

1302. Des Keegan

177 scans

1303. Martin Hirst

177 scans

1304. David Rowbotham

177 scans

1305. Brian Tack

177 scans

1306. Michael Hughes

177 scans

1307. Neil Mcloughlin

177 scans

1308. Iain Wilkinson

176 scans

1309. Paul Bowman

176 scans

1310. Ben Lloyd

176 scans

1311. Ian Stoddard

176 scans

1312. Tom Loader

176 scans

1313. Lucy Vogel

176 scans

1314. Inke Schierbecker

176 scans

1315. John Trimmer

176 scans

1316. John Desmond

176 scans

1317. Peter Kent

176 scans

1318. Steve Goddard

176 scans

1319. Carrie Martin

175 scans

1320. Andrew Burnley

175 scans

1321. Simon Judd

175 scans

1322. Michelle Porton

175 scans

1323. Andrew Southan

175 scans

1324. Sam Coggins

175 scans

1325. Adam Burns

175 scans

1326. Darren Read

174 scans

1327. Linda Isaacson

174 scans

1328. Andrew Ellis

174 scans

1329. John Kelly

173 scans

1330. Jeremy Burke

173 scans

1331. Alice Craven

173 scans

1332. Paul Arnold

173 scans

1333. Joe Mcverry

173 scans

1334. Peter Roberts

173 scans

1335. Steve Powney

173 scans

1336. Daniel Smith

173 scans

1337. Peter George

173 scans

1338. Glyn Spencer

172 scans

1339. Jacqueline Wiseman

172 scans

1340. Jon Tugwell

172 scans

1341. Ian Rose

171 scans

1342. Richard Perham

171 scans

1343. Dave Andrews

171 scans

1344. Eric Wiseman

171 scans

1345. Jennifer Herriott

171 scans

1346. Mike Flew

171 scans

1347. Bob Hewitt

170 scans

1348. Sean Plows

170 scans

1349. Aly Williams

170 scans

1350. Dave Skinner

170 scans

1351. Andy Crawford

170 scans

1352. Ben Jones

170 scans

1353. Ian Walker

170 scans

1354. Phil Mintern

170 scans

1355. Darron Mccarthy

169 scans

1356. Tony Fallon

169 scans

1357. Phil Artingstall

169 scans

1358. Andrew Carroll

169 scans

1359. Philip Allen

169 scans

1360. Chris Bradbury

168 scans

1361. Paul Spain

168 scans

1362. Tim Minshull

168 scans

1363. Stephen Hills

168 scans

1364. Nicholas Mason

168 scans

1365. Christopher Leverton

168 scans

1366. Kay Buckley

168 scans

1367. Susan Artingstall

167 scans

1368. David Griffiths

167 scans

1369. Robert Hasler

167 scans

1370. Phil Reakes

166 scans

1371. Dave Parsons

166 scans

1372. Tom Drady-Welsh

166 scans

1373. A A

166 scans

1374. Ian Jberry

166 scans

1375. Graham Wilson

165 scans

1376. Andy A

165 scans

1377. Richard Baker

165 scans

1378. Barry Scott

165 scans

1379. Steve Holt

164 scans

1380. Gareth Macdonald

164 scans

1381. Rob Lawrance

164 scans

1382. Larry Tarof

164 scans

1383. Karen Hill

164 scans

1384. Barbara Pitney

164 scans

1385. Nicholas Hooper

163 scans

1386. Alex Downham

163 scans

1387. Jonathan Fielding

163 scans

1388. Sarah Scarlett

163 scans

1389. Neil Carrington

163 scans

1390. Alistair Oliver

163 scans

1391. Graham Clements

163 scans

1392. Graham Preston

162 scans

1393. Charles Gill

162 scans

1394. Steve Hayes

162 scans

1395. Lin Sanderson

162 scans

1396. Stephen Curry

162 scans

1397. Wayne Chadwick

162 scans

1398. Mark Hirst

162 scans

1399. Brian Cleeton

161 scans

1400. Gordon Hendry

161 scans

1401. Anthony Williams

161 scans

1402. Jerry Knott

161 scans

1403. Adam Horsburgh

161 scans

1404. Dan Kane

161 scans

1405. Kenneth Harrison

161 scans

1406. Phil Nunnery

161 scans

1407. Steven Rhodes

161 scans

1408. Alan Gullick

160 scans

1409. Lee Mch

160 scans

1410. Nick Bradley

160 scans

1411. Alan Sergeant

160 scans

1412. Clive Burton

160 scans

1413. James Hartwell

160 scans

1414. Simon Schofield

159 scans

1415. Simon Orr

159 scans

1416. Graham Dews

159 scans

1417. Gary Paterson

159 scans

1418. Barry Fletcher

159 scans

1419. Peter Howarth

159 scans

1420. Robert Fenwick

159 scans

1421. John Galletly

158 scans

1422. Terry Shaw

158 scans

1423. Phil Hughes

158 scans

1424. Mark Wolstencroft

158 scans

1425. Richard Jones

158 scans

1426. Matthew Day

158 scans

1427. Robert Stratton

158 scans

1428. Alison Beveridge

158 scans

1429. Barry Moore

157 scans

1430. Gary Barley

157 scans

1431. Damian Sweeney

157 scans

1432. Don Berry

157 scans

1433. Ian Clark

157 scans

1434. Richard Parry

157 scans

1435. Daren Fullager

157 scans

1436. Elizabeth Mitchell

157 scans

1437. John Griffiths

157 scans

1438. John Tinkler

157 scans

1439. Charlotte Austin

156 scans

1440. Terry Bowyer

156 scans

1441. Mark Norton

156 scans

1442. Matthew Cox

156 scans

1443. Bob Taylor

156 scans

1444. Paul Lockwood

156 scans

1445. Ashley Woodforth

156 scans

1446. Colin Farey

156 scans

1447. Drew Bell

156 scans

1448. Gavin Richardson

156 scans

1449. James Whiles

155 scans

1450. Rob Tokolics

155 scans

1451. Hazel Bailey

155 scans

1452. Katie Boughey

155 scans

1453. Kevin Naylor

155 scans

1454. Rich Cuttle

155 scans

1455. Sooze D'Arcy

155 scans

1456. Bogdan Dinu

154 scans

1457. James Barham

154 scans

1458. Shyam Gorsia

154 scans

1459. Adrian Lee

154 scans

1460. Anthony Tyler

154 scans

1461. Carol Shaw

154 scans

1462. Grahame Gardiner

154 scans

1463. Mike Rea

154 scans

1464. Petko Mikov

154 scans

1465. Paul Sennett

153 scans

1466. J L

153 scans

1467. Phil Bugg

153 scans

1468. Anthony Meddings

153 scans

1469. Lauchie Mclean

153 scans

1470. Nicola Tresham

153 scans

1471. Brian Capel

152 scans

1472. Sarah Pearce

152 scans

1473. Arfur Daley

152 scans

1474. Toby Tennant

152 scans

1475. J Bach

152 scans

1476. Joan Walmsley

152 scans

1477. Robert Canning

152 scans

1478. David White

152 scans

1479. Karen Hetherington

152 scans

1480. Adam Draper

151 scans

1481. Suzanne Jarvis

151 scans

1482. James Picton

151 scans

1483. Stuart Day

151 scans

1484. Andy Day

151 scans

1485. Libby Henderson

151 scans

1486. Alun Price

151 scans

1487. Andrew Simpson

151 scans

1488. Ben Green

151 scans

1489. Graham Trevaskis

151 scans

1490. Ian Saville

151 scans

1491. James Kennedy

151 scans

1492. John Yeates

151 scans

1493. Martin Blake

151 scans

1494. Richard Harris

151 scans

1495. Mark Self

150 scans

1496. Michael Dickinson

150 scans

1497. Nick Laugher

150 scans

1498. Thomas Housby

150 scans

1499. Aleks Bennett

150 scans

1500. Grahame Flint

150 scans
1501. Mike Hall

150 scans

1502. Collette Povey

150 scans

1503. Tony Millington

149 scans

1504. Keith Hoult

149 scans

1505. Nicola Beattie

149 scans

1506. Daniel Reddington

149 scans

1507. Debbie Massey

149 scans

1508. Brendon Matthews

149 scans

1509. Geoff Bailey

149 scans

1510. John Muspratt

149 scans

1511. Steve Stow

149 scans

1512. Llew Williams

148 scans

1513. Simon Godfrey

148 scans

1514. Andrew Lind

148 scans

1515. Martin Massey

148 scans

1516. Matt Collinson

148 scans

1517. Jonathan Sanderson

148 scans

1518. Mark Gibbs

148 scans

1519. Rob Bain

148 scans

1520. Chris Wilkinson

147 scans

1521. Benny Snowdon

147 scans

1522. Bryan Robson

147 scans

1523. Jo Kenny

147 scans

1524. Richard Wilkinson

147 scans

1525. John Cuthbert

147 scans

1526. Iain Lamond

147 scans

1527. Matt Needham

147 scans

1528. Steve Jackson

147 scans

1529. Greg Simpson

146 scans

1530. Nigel Latimer

146 scans

1531. Paul Sanderson

146 scans

1532. Sue Phillips

146 scans

1533. Andy Kent

146 scans

1534. Richard Gill

146 scans

1535. Steve Bintley

146 scans

1536. Robert Fenwick

145 scans

1537. Sue Dickinson

145 scans

1538. Sarah Gabbatiss

145 scans

1539. Lawrence Gillians

145 scans

1540. Jim Roughton

145 scans

1541. Jim Hempseed

145 scans

1542. Mark Gittoes

145 scans

1543. Peter Neesam

144 scans

1544. Steve Cadd

144 scans

1545. William Blunden

144 scans

1546. Andrew Bracher

144 scans

1547. Terry Upton

144 scans

1548. Anne Smalley

144 scans

1549. David Amos

144 scans

1550. Rowan Haines

144 scans

1551. Stuart Holmes

144 scans

1552. Steve Dunn

143 scans

1553. Rob Taylor

143 scans

1554. Sandie Hunter

143 scans

1555. Tim Woodrow

143 scans

1556. Steve Barratt

143 scans

1557. Hayley Baron

143 scans

1558. Beth Ashelford

143 scans

1559. David Robson

143 scans

1560. Ian Melling

143 scans

1561. Darren Worrall

142 scans

1562. Hannah Pettifer

142 scans

1563. Emma Percival

142 scans

1564. Alex Holt

142 scans

1565. Daniel Roberts

142 scans

1566. Nick Taylor

142 scans

1567. Brian Penn

142 scans

1568. Lynn Holmes

142 scans

1569. Nick Hopkinson

142 scans

1570. Will Cornish

142 scans

1571. Neil Slattery

141 scans

1572. Jonathan O'Connell

141 scans

1573. Alan Mitchell

141 scans

1574. David Hyde

141 scans

1575. Peter Sackett

141 scans

1576. Sacha Elston

141 scans

1577. Steve Price

140 scans

1578. David J Hutton

140 scans

1579. Chris Slack

140 scans

1580. Andrew Mcgovern

140 scans

1581. Liam Brierley

140 scans

1582. Pete Fielder

140 scans

1583. Anthony Casey

140 scans

1584. Bill Pearce

140 scans

1585. Julie Griffiths

140 scans

1586. Nick Heaviside

140 scans

1587. Matt Crivelli

139 scans

1588. Eric Naylor

139 scans

1589. Russ Wyld

139 scans

1590. Chris Winstone

139 scans

1591. Mark Granados

139 scans

1592. Myles Lamoon

139 scans

1593. Kevin Burnley

139 scans

1594. Steve Smith

139 scans

1595. Malcolm Needham

139 scans

1596. David Ryder

139 scans

1597. Katherime Butler

139 scans

1598. Charles Krajewski

139 scans

1599. Dave Jones

139 scans

1600. John Davis

139 scans

1601. Tony Keane

139 scans

1602. Roger Victory

138 scans

1603. Rob Willey

138 scans

1604. Rob Badger

138 scans

1605. Philip Brown

138 scans

1606. Carol Talbot

138 scans

1607. Tracy Chatterton

138 scans

1608. David Jessop

138 scans

1609. David Wilson

138 scans

1610. Ellis Heaton

138 scans

1611. Lana Jefferys

138 scans

1612. Alistair Smith

137 scans

1613. Robert Richardson

137 scans

1614. Maria Layland

137 scans

1615. Claire Barber

137 scans

1616. Derek Wyllie

137 scans

1617. Ian Bowskill

137 scans

1618. Roger Nash

137 scans

1619. Maria Mazon

136 scans

1620. Philip Russell

136 scans

1621. Craig Dunnill

136 scans

1622. Carl Munday

136 scans

1623. Adele Hainsworth

136 scans

1624. John Artingstoll

136 scans

1625. Matthew Birkett

136 scans

1626. Michael Hajduk

136 scans

1627. Roger Nash

135 scans

1628. Graham Eaton

135 scans

1629. Tom Jagger

135 scans

1630. Simon Gibbons

135 scans

1631. Ed Lomas

135 scans

1632. Sam Scott

135 scans

1633. Martin Banks

135 scans

1634. Robert Jones

135 scans

1635. Charlotte Wiod

135 scans

1636. Sean Mcgill

135 scans

1637. Ben Mcandrew

135 scans

1638. Dave Healy

135 scans

1639. David Richards

135 scans

1640. Eric Haug

135 scans

1641. Jack Canning

135 scans

1642. Mark Whitehead

135 scans

1643. Owen Cooban

135 scans

1644. Simon Christmas

135 scans

1645. Paul Blackmore

134 scans

1646. John Oates

134 scans

1647. John Kaye

134 scans

1648. Craig Sibley

134 scans

1649. Tim Booth

134 scans

1650. Nicola Wood

134 scans

1651. Edward Kirwin

134 scans

1652. Anil Gomes

134 scans

1653. Graham Duncan

134 scans

1654. Mark Benefield

134 scans

1655. Mark Godwin

134 scans

1656. Pete Riggall

134 scans

1657. Russell Boyd

134 scans

1658. User 10561

134 scans

1659. Steve Holt

133 scans

1660. Lee Mcdonald

133 scans

1661. Mark Croxall

133 scans

1662. Edward Caudy

133 scans

1663. Mark Parry

133 scans

1664. Adam Smith

133 scans

1665. Scott Jones

133 scans

1666. Dave Matthews

133 scans

1667. Stuart Oakes

133 scans

1668. Tim Williams

132 scans

1669. Lee Weston

132 scans

1670. Gareth Sedgwick

132 scans

1671. Laurens Drost

132 scans

1672. Matt Thorne

132 scans

1673. Chris Britton

132 scans

1674. Tina Impey

132 scans

1675. Ally Kay

132 scans

1676. Douglas Owen

132 scans

1677. Mike Harrington

132 scans

1678. David Wynne-Jones

131 scans

1679. Emily Heywood

131 scans

1680. Bruce Mehew

131 scans

1681. Mike Jones

131 scans

1682. Karen Dance

131 scans

1683. Helen Ellins

131 scans

1684. John Sandford

131 scans

1685. Peter Laws

131 scans

1686. Siim Trumm

131 scans

1687. Alex Mcleish

131 scans

1688. Laurence Byrne

131 scans

1689. Rod King-Grant

131 scans

1690. Suzanne Nightingale

130 scans

1691. Ian Martin

130 scans

1692. Seb Burton

130 scans

1693. Michael Bee

130 scans

1694. Charles Wroe

130 scans

1695. Steve Foster

130 scans

1696. Craig Mcdonald

130 scans

1697. Paul Marshall

130 scans

1698. Graham Dadge

130 scans

1699. Matt Bladen

130 scans

1700. Toby Rowe

130 scans

1701. James Gore

129 scans

1702. Nick Walker

129 scans

1703. Tom Burton

129 scans

1704. John Rowling

129 scans

1705. Matthew Lenton

129 scans

1706. Carl Walker

129 scans

1707. Kieran Gardner

129 scans

1708. Nigel Woodhouse

129 scans

1709. John Dorothy

129 scans

1710. Duncan Robertson

129 scans

1711. Andy Francis

129 scans

1712. James Green

129 scans

1713. Gary Lloyd

128 scans

1714. Robin Warner

128 scans

1715. Robert Gilbert

128 scans

1716. Damien Chapman

128 scans

1717. Emily Kidgell

128 scans

1718. Stuart Rose

128 scans

1719. Mark Harrison

128 scans

1720. Dean Tugman

128 scans

1721. Adam Ball

128 scans

1722. David Cooling

128 scans

1723. David Harris

128 scans

1724. Dominic Mancini

128 scans

1725. Megan Morford

127 scans

1726. Andrew Dyson

127 scans

1727. Alan Young

127 scans

1728. Paul Whittingham

127 scans

1729. John Syers

127 scans

1730. Howard Ashworth

127 scans

1731. Carole Hoult

127 scans

1732. Lee Elliott

127 scans

1733. Louis Evams

127 scans

1734. Tom Gamble

126 scans

1735. Jason Botcherby

126 scans

1736. Jo Barker

126 scans

1737. Wayne Fenney

126 scans

1738. Joe Robson

126 scans

1739. Kevin Wright

126 scans

1740. David Wise

126 scans

1741. Samuel Stewart

126 scans

1742. Anthony Redgrift

126 scans

1743. Craig Guest

126 scans

1744. Dan Summerfield

126 scans

1745. Richard Warner

126 scans

1746. Tom Hathaway

125 scans

1747. Paul Williams

125 scans

1748. Danny Matthews

125 scans

1749. Michael Axford

125 scans

1750. Aiden Kalmar

125 scans

1751. Rob Waldron

125 scans

1752. Fiona Dando

125 scans

1753. Greg Hughes

125 scans

1754. David Camfield

125 scans

1755. Terry Yates

125 scans

1756. Chris Peakin

125 scans

1757. Dave Mulholland

125 scans

1758. David Blaikie

125 scans

1759. Glenn Fitzparick

125 scans

1760. Katy Hartland

125 scans

1761. Peter Godfrey

125 scans

1762. Gillian Mcnally

124 scans

1763. Jon Bister

124 scans

1764. Adrian Wood

124 scans

1765. Richard Hall

124 scans

1766. Will Wyllie

124 scans

1767. James M

124 scans

1768. Al Mcneil

124 scans

1769. Douglas Carson

124 scans

1770. Martin Evans

124 scans

1771. Rod Potts

124 scans

1772. Vincent Bartlett

123 scans

1773. James Harding

123 scans

1774. Andrew Cooper

123 scans

1775. Wayne Talbot

123 scans

1776. Andy Healy

123 scans

1777. Stephen Egerton

123 scans

1778. Mark Green

123 scans

1779. Tom Jagger

123 scans

1780. Jonathan Lee

123 scans

1781. Mark Westall

123 scans

1782. Brian Horton

123 scans

1783. Alun Regan

123 scans

1784. David Cross

123 scans

1785. David Hay

123 scans

1786. John Hornby

123 scans

1787. Rick Clark

123 scans

1788. Mark Reid

122 scans

1789. Gavin Cradle

122 scans

1790. Matthew Tullett

122 scans

1791. John Wells

122 scans

1792. Lester Ford

122 scans

1793. Leigh Wallis

122 scans

1794. Steph Blake

122 scans

1795. Geoff Browne

122 scans

1796. Brian Dorrington

122 scans

1797. Mark Lowe

122 scans

1798. Richard Davies

122 scans

1799. Julian Schirle

122 scans

1800. David Hamilton

122 scans

1801. Rob Major

122 scans

1802. Richard Cherrill

121 scans

1803. Dave Horton

121 scans

1804. Terry Phillips

121 scans

1805. Andi Bennett

121 scans

1806. Ian Marchant

121 scans

1807. Mark Beech

121 scans

1808. Catherine Jury

121 scans

1809. Liam Ledger

121 scans

1810. Ste Martin

121 scans

1811. David Stead

121 scans

1812. Howard Dyson

121 scans

1813. John Willett

121 scans

1814. Karen Hampson

121 scans

1815. Melissa Dee

121 scans

1816. Nick Smith

121 scans

1817. James Houlston

120 scans

1818. Leif Madsen

120 scans

1819. Paul Phipps

120 scans

1820. Barbara Harrison

120 scans

1821. Richard Russell

120 scans

1822. Mick Rhodes

120 scans

1823. Robert Raine

120 scans

1824. Frank Ward

120 scans

1825. James Houlston

120 scans

1826. Marcus Ridge

120 scans

1827. Paul Mead

120 scans

1828. Christian Markham

119 scans

1829. David Armitage

119 scans

1830. Anthony Reynolds

119 scans

1831. Brian Robert Stone

119 scans

1832. Ian Cox

119 scans

1833. Paul Evana

119 scans

1834. Craig Hadfield

119 scans

1835. David Tremain

119 scans

1836. Geraint Kingman

119 scans

1837. Ian Gadsby

119 scans

1838. John Ridler

119 scans

1839. Kathy Welch

119 scans

1840. Matthew Aitchison

119 scans

1841. Pete Wye

119 scans

1842. Ron Cartwright

119 scans

1843. Nigel Lark

118 scans

1844. Andrew Dodsworth

118 scans

1845. Wayne Feasby

118 scans

1846. Vincent Wolstencroft

118 scans

1847. Dave Briggs

118 scans

1848. Danny Banks

118 scans

1849. Alexander Grose

118 scans

1850. Dave Dando

118 scans

1851. Andrew Leech

118 scans

1852. John Nash

118 scans

1853. Johnnie Shipley

118 scans

1854. Keeley Holmes

118 scans

1855. Ross Cluett

118 scans

1856. Paul Elliott

117 scans

1857. Dean Parsons

117 scans

1858. Chris Godby

117 scans

1859. Kevin Yearley

117 scans

1860. Cliff Muspratt

117 scans

1861. Tomasz Ligas

117 scans

1862. Mark Naughton

117 scans

1863. Andy Hawkins

117 scans

1864. Barry Singleton

117 scans

1865. Kevin Falkiner

117 scans

1866. Nicholas Owen

117 scans

1867. Sean Courtney

117 scans

1868. Tim Crawford

117 scans

1869. Mark Collins

116 scans

1870. Peter Nibbs

116 scans

1871. Wayne Male

116 scans

1872. Matt Fearn

116 scans

1873. Nick Grainger-Allen

116 scans

1874. Jon O'Regan

116 scans

1875. Ryan Brodie

116 scans

1876. Steve Plant

116 scans

1877. Danny Myers

116 scans

1878. Graham Croft

116 scans

1879. Paul Taylor

116 scans

1880. Tom Read

116 scans

1881. John Bellinger

115 scans

1882. Andy Wells

115 scans

1883. Grant Chisholm

115 scans

1884. Terry Pilotille

115 scans

1885. Dan Farrell

115 scans

1886. Michelle Mustard

115 scans

1887. Paul Wenham

115 scans

1888. Paul Hughes

115 scans

1889. Rob Olliffe

115 scans

1890. Craig Hughes

115 scans

1891. Brian Bailey

115 scans

1892. Lindsay Robertson

114 scans

1893. Nicola Glazebrook

114 scans

1894. Lawrie Phipps

114 scans

1895. Andrew Lind

114 scans

1896. Angela Cross

114 scans

1897. Angie Bedford

114 scans

1898. Emma Mumby

114 scans

1899. Russ Avery

114 scans

1900. Gareth Lewis

114 scans

1901. John Coxsey

114 scans

1902. John Mcguire

114 scans

1903. Peter Butler

114 scans

1904. Tom Clayton

114 scans

1905. Tom Hughes

114 scans

1906. Luke Wakeling

113 scans

1907. Mark Hulston

113 scans

1908. Tom Savory

113 scans

1909. Richard Wallwork

113 scans

1910. Ian Tyler

113 scans

1911. David Stevenson

113 scans

1912. Aaron Wade

113 scans

1913. David Wallwork

113 scans

1914. Paul Taylor

113 scans

1915. Paul Mustard

113 scans

1916. Marc Godfrey

113 scans

1917. Phil Howard

113 scans

1918. Sharon Parsons

113 scans

1919. Dave Hudson

112 scans

1920. Neil Roberts

112 scans

1921. Sam Hooper

112 scans

1922. Marcus Lloyd

112 scans

1923. Dave Rollins

112 scans

1924. Gill Smith

112 scans

1925. Chris Foster

112 scans

1926. Vince Richardson

112 scans

1927. Alex Latham

112 scans

1928. Stuart Edwards

112 scans

1929. Stephen Jones

112 scans

1930. John Edwards

112 scans

1931. Sam Vincent

112 scans

1932. Mike Winder

111 scans

1933. Steve Gee

111 scans

1934. Gavin Monument

111 scans

1935. Tim Moody

111 scans

1936. Duncan Hill

111 scans

1937. Dafydd Hirst

111 scans

1938. Brian Alison

111 scans

1939. Sandra Schofield

111 scans

1940. Barry Maddison

111 scans

1941. Shirley Cunliffe

111 scans

1942. Colin Beardshaw

111 scans

1943. Chris Clayton

111 scans

1944. Debbie Weatherby

111 scans

1945. Jason Todd

111 scans

1946. Simon Seaton

111 scans

1947. Allan Mackie

110 scans

1948. David Eccleston

110 scans

1949. David Whittamore

110 scans

1950. David Wharton

110 scans

1951. Mike Harding

110 scans

1952. Stuart Shirley

110 scans

1953. Hayden Wheeler

110 scans

1954. Marcus Goodrem

110 scans

1955. David Francis

110 scans

1956. D B

110 scans

1957. Sheryl Higgs

110 scans

1958. Peter Morton

110 scans

1959. John Allwood

110 scans

1960. Paul Endley

110 scans

1961. Paul Burton

110 scans

1962. Chris Finney

110 scans

1963. Nev Oates

110 scans

1964. Phil Moloney

110 scans

1965. Greg Baddeley

109 scans

1966. Guy Pettigrew

109 scans

1967. David Beck

109 scans

1968. Kurt Russell

109 scans

1969. Luke Mirza

109 scans

1970. John Bellamy

109 scans

1971. Mathew Hough

109 scans

1972. Ryan Birch

109 scans

1973. Paul Dunn

109 scans

1974. David Thomson

109 scans

1975. Martin Bewley

109 scans

1976. Ian Hopwood

109 scans

1977. Adrian Short

109 scans

1978. Dave Lawrence

109 scans

1979. Laurence Young

109 scans

1980. Chris Cook

108 scans

1981. Darren Holland

108 scans

1982. Richard Ednay

108 scans

1983. Neil Goodman

108 scans

1984. Laurence Schenk

108 scans

1985. Sally Miller

108 scans

1986. Kevin Pike

108 scans

1987. Richard Foster

107 scans

1988. David Hamblin

107 scans

1989. Bob Tricker

107 scans

1990. Lob Skango

107 scans

1991. M Rose

107 scans

1992. Darren Goodsell

107 scans

1993. Emmanuel Deschamps

107 scans

1994. Grant Hamblin

107 scans

1995. John Chandler

107 scans

1996. Mike Hartland

107 scans

1997. Paul Cooper

107 scans

1998. Peter Gyngell

107 scans

1999. Richard Knightall

107 scans

2000. James Malone

106 scans
2001. Jo Godwin

106 scans

2002. Gary Ellis

106 scans

2003. Anna Hooper

106 scans

2004. Helen Hughes

106 scans

2005. Ruth Beardshaw

106 scans

2006. Dave Smith

106 scans

2007. Valerie Freestone

106 scans

2008. Peter Gyngell

106 scans

2009. Tyler Thorne

106 scans

2010. Alex Forsyth

106 scans

2011. David Patrick

106 scans

2012. Andrew Dunn

106 scans

2013. Eddie Freestone

106 scans

2014. Linda Hutchins

106 scans

2015. Matthew Cope

106 scans

2016. Nick Adamson

106 scans

2017. Robert Smith

106 scans

2018. Stephen Williams

105 scans

2019. Peter Lane

105 scans

2020. Terry Moore

105 scans

2021. Richard Lockett

105 scans

2022. Rob Cook

105 scans

2023. Adrian Riley

105 scans

2024. Tommy Reshagen

105 scans

2025. John Bradley

105 scans

2026. Thomas Owen

105 scans

2027. Janice Ryder

105 scans

2028. Antony Janner

105 scans

2029. Roger O'Brien

105 scans

2030. Tom Berry

105 scans

2031. David Carrington

105 scans

2032. David Orford

105 scans

2033. Iain Loe

105 scans

2034. Jack Ferris

105 scans

2035. Martin Wright

105 scans

2036. Matt Hardin

105 scans

2037. Mike Blakeman

105 scans

2038. Scott Gennard

105 scans

2039. Wilfred Foster

105 scans

2040. Tony Brown

104 scans

2041. Ian Davis

104 scans

2042. Russell Thompson

104 scans

2043. Craig Mitchell

104 scans

2044. Darren Goodsell

104 scans

2045. Brian Payne

104 scans

2046. Phil Reay

104 scans

2047. David Banks

104 scans

2048. Andy Parry

104 scans

2049. Sarah Kate Banham

104 scans

2050. Don Reid

104 scans

2051. Robert Earlam

104 scans

2052. Deborah Cox

104 scans

2053. Graham Lewis-James

104 scans

2054. Helen Feeney

104 scans

2055. Mick Blake

104 scans

2056. Phil Drewery

104 scans

2057. Simeon Jordan

104 scans

2058. Mark O'Dell

103 scans

2059. Matt Thomson

103 scans

2060. Alan Scott

103 scans

2061. Paul Stevenson

103 scans

2062. Werner Schã¼Tz

103 scans

2063. John Chandler

103 scans

2064. Mark Johnson

103 scans

2065. Peter Burgess

103 scans

2066. Frank Sweeney

103 scans

2067. Tom Addey

103 scans

2068. Simon Bond

103 scans

2069. Luke Woodward

103 scans

2070. Rich Wiseman

103 scans

2071. Geoff King

103 scans

2072. Graham Ballantyne

103 scans

2073. John Walker

103 scans

2074. Paul Hester

103 scans

2075. Martin Wright

102 scans

2076. Cedric Badan

102 scans

2077. Mark Lewindon

102 scans

2078. Roger Parkin

102 scans

2079. Luke Verrall

102 scans

2080. David Brazier

102 scans

2081. Chris Jackson

102 scans

2082. Damian Smeaton

102 scans

2083. Simon Taft

102 scans

2084. Sarah Pickavance

102 scans

2085. John Mahoney

102 scans

2086. Andy Benyon

102 scans

2087. James Bolton

102 scans

2088. Martyn Helm

102 scans

2089. Joanna Baroudi

102 scans

2090. Sam Hughes

101 scans

2091. Victoria Lattimer

101 scans

2092. Chris Allen

101 scans

2093. Ian Macdonald

101 scans

2094. Colin Evans

101 scans

2095. Neil Kane

101 scans

2096. Nigel Beaumont

101 scans

2097. Amanda Rose

101 scans

2098. Gary Barnes

101 scans

2099. Alan Robson

101 scans

2100. Nick Lloyd

101 scans

2101. John Brown

101 scans

2102. Chas Donnelly

101 scans

2103. Andrew Price

101 scans

2104. Olufemi Igbekele

101 scans

2105. John Harris

100 scans

2106. Ian Morgan

100 scans

2107. Diane Causey

100 scans

2108. Nolan Lambiel

100 scans

2109. David Millest

100 scans

2110. Raymond Smith

100 scans

2111. Barry Wright

100 scans

2112. Carl Ricketts

100 scans

2113. Andy Johnston

100 scans

2114. Sue Mcguinness

100 scans

2115. Peter Dodkin

100 scans

2116. Michael Bolton

100 scans

2117. Tony Powell

100 scans

2118. Danny Mulock

100 scans

2119. Brian Tytherleigh

100 scans

2120. Ian Gatfield

100 scans

2121. Andrew Gillespie

100 scans

2122. Andrewjohnston

100 scans

2123. Patrick Gunning

100 scans

2124. Russell Birch

100 scans

2125. Samuel Green

100 scans

2126. Shirley Drewery

100 scans

2127. Steve Bateson

100 scans

2128. Chris Reade

99 scans

2129. Christopher Killingbeck

99 scans

2130. Mark Hill

99 scans

2131. Jenny O'Grady

99 scans

2132. Mark Eades

99 scans

2133. Brian Bailey

99 scans

2134. G M

99 scans

2135. Meredith Lloyd

98 scans

2136. Frank Blackmore

98 scans

2137. Andrew Banks

98 scans

2138. Dave Teal

98 scans

2139. Russell Jinks

98 scans

2140. Derek Taylor

98 scans

2141. Jane Stuart

98 scans

2142. Chris Neale

98 scans

2143. Anthony Robinson

98 scans

2144. David Potter

98 scans

2145. Jerzy Zyla

98 scans

2146. Alan Moulton

97 scans

2147. Neil Armitage

97 scans

2148. Spencer Ellis

97 scans

2149. Michael Hibberd

97 scans

2150. Richard Thornton

97 scans

2151. Dave Hannigan

97 scans

2152. Stephen Fisher

97 scans

2153. Jess Farrell

97 scans

2154. Pete Wilkinson

97 scans

2155. Patricia Murphy

96 scans

2156. Dave Hattersley

96 scans

2157. David Chiplin

96 scans

2158. Gareth Kane

96 scans

2159. Lee Worton

96 scans

2160. Ian Clarkson

96 scans

2161. Christina Calderon

96 scans

2162. Phil Johnson

96 scans

2163. Sam Williams

95 scans

2164. Robert Foster

95 scans

2165. Christopher Hanson

95 scans

2166. John Gordon

95 scans

2167. Neil Davis

95 scans

2168. Rob Young

95 scans

2169. Ged Higgins

95 scans

2170. Steven Mason

95 scans

2171. Tom Danby

95 scans

2172. Simon Goldfinch

94 scans

2173. Paul Jarvis

94 scans

2174. Alan Chell

94 scans

2175. Sofia Quisbert-Davies

94 scans

2176. Allison Joyce

94 scans

2177. John Wescombe

94 scans

2178. Andy Wright

94 scans

2179. Gerald Warwick

93 scans

2180. Andrew Mckeon

93 scans

2181. David O'Keeffe

93 scans

2182. Kevin Pover

93 scans

2183. Paul Winterbottom

93 scans

2184. Mike Southby

93 scans

2185. John Dickinson

93 scans

2186. Antoine Rondeau

93 scans

2187. John Babb

93 scans

2188. Patrick Mcdaid

93 scans

2189. Michael Bond

92 scans

2190. G G

92 scans

2191. Sarah Rothwell

92 scans

2192. Paul Chinnery

92 scans

2193. David Wythe

92 scans

2194. Tim Halliday

92 scans

2195. Richard Mazurek

92 scans

2196. Colin Draycott

92 scans

2197. Ann Dodkin

92 scans

2198. Joel Prescott

92 scans

2199. John Fletcher

92 scans

2200. Paul Coates

92 scans

2201. Heather Linnell

91 scans

2202. Jamie Morgan

91 scans

2203. Christopher Hawke

91 scans

2204. Gordon Smith

91 scans

2205. Luke Marshall

91 scans

2206. Ben Glasby

91 scans

2207. Ernest Elsworth-Wilson

91 scans

2208. Stephen Harold

91 scans

2209. Toby Rackliff

91 scans

2210. Ged Shimokawa Kelly

90 scans

2211. Thomas Waller

90 scans

2212. Michael Weston

90 scans

2213. Jim Bob

90 scans

2214. Chris Littler

90 scans

2215. Adam Thompson

90 scans

2216. David Legg

90 scans

2217. Marius Carrick

90 scans

2218. Martin Bryant

90 scans

2219. Rick Waterman

90 scans

2220. Scott Woods

90 scans

2221. Wayne King

90 scans

2222. Jackie Barnsley

89 scans

2223. Adam Goodall

89 scans

2224. Niel Fewster

89 scans

2225. Trevor Fulcher

89 scans

2226. Ross Page

89 scans

2227. John Evans

89 scans

2228. Dylan Leonard

89 scans

2229. Scott Davison

89 scans

2230. Lez Evans

89 scans

2231. William Donger

89 scans

2232. Chris Ayre

89 scans

2233. Donna Harrington

89 scans

2234. Jim Strang

89 scans

2235. Julian Campbell

89 scans

2236. Mark Baller

89 scans

2237. Lynne Baldwin

88 scans

2238. Graham Crawford

88 scans

2239. Tom Beech

88 scans

2240. Pamela Pye

88 scans

2241. Jo Clark

88 scans

2242. David Bailey

88 scans

2243. Bernard Marshall

88 scans

2244. Mark Rowlands

88 scans

2245. Holly Dallman

88 scans

2246. Mark Atkinson

88 scans

2247. Simon Galley

88 scans

2248. Dave Wood

87 scans

2249. Gina Broderick

87 scans

2250. Michaela O'Shea

87 scans

2251. Jack Madden

87 scans

2252. Karl Forrester

87 scans

2253. Vanessa Karon

87 scans

2254. David Burton

87 scans

2255. Darren Pilkington

87 scans

2256. Becky Powell

87 scans

2257. Dale Lloyd

87 scans

2258. Andrew Greenhouse

87 scans

2259. Jennifer Crowe

87 scans

2260. Keith Roberts

87 scans

2261. Mark Doggett

87 scans

2262. Graeme Rutherford

86 scans

2263. Carl Gomersall

86 scans

2264. Maureen Wright

86 scans

2265. Paul Sweet

86 scans

2266. Beryl David

86 scans

2267. Lee Coulter

86 scans

2268. Claire Taplin

86 scans

2269. Scott Woods

86 scans

2270. Chard Ovitch

86 scans

2271. Oliver Winstone

86 scans

2272. Kieron Mortimer

86 scans

2273. Steven Pegler

86 scans

2274. Geoff Henderson

86 scans

2275. Ian Harvey

86 scans

2276. Jack Edwards

86 scans

2277. Jayne Davies

86 scans

2278. Phil Dumelow

86 scans

2279. Philip White

86 scans

2280. Rebecca Parker

85 scans

2281. John Smith

85 scans

2282. Gary Tugwell

85 scans

2283. Michael Richardson

85 scans

2284. Dave Sainsbury

85 scans

2285. Peter Ladley

85 scans

2286. Petra Bode

85 scans

2287. Allen Shaw

85 scans

2288. Harry Stottle

85 scans

2289. John Graham

84 scans

2290. Andy Gulliver

84 scans

2291. Luke Smith

84 scans

2292. Gareth Davies

84 scans

2293. Kev Mutch

84 scans

2294. Neil Butler

84 scans

2295. Paul Dingwell

84 scans

2296. Graeme Flack

83 scans

2297. Neil Hasprey

83 scans

2298. Matthew Richards

83 scans

2299. Jonathan Evans

83 scans

2300. Kathryn Ledger

83 scans

2301. Ray Vanner

83 scans

2302. David Matthews

83 scans

2303. Christopher Jolley

83 scans

2304. Darren Pilkington

83 scans

2305. Mark Wye

83 scans

2306. Adrian Roper

83 scans

2307. Dawn Crawley

83 scans

2308. Dave West

83 scans

2309. Carl Denton

83 scans

2310. Richard Powell

83 scans

2311. David Ellis

83 scans

2312. Gareth Davies

83 scans

2313. James Clegg

83 scans

2314. Lee Blake

83 scans

2315. Robert Dowson

83 scans

2316. Steve Edwards

83 scans

2317. Peter Mitchell

82 scans

2318. Andrew Moseley

82 scans

2319. Julie Eccleston

82 scans

2320. Andrew Baddley

82 scans

2321. Denis Greenhough

82 scans

2322. Joshua Garlick

82 scans

2323. Mark Quinn

82 scans

2324. Steven Vundum

82 scans

2325. Chris Harrison

82 scans

2326. Steve Taylor

82 scans

2327. Jason Upton

82 scans

2328. Gareth Hughes

82 scans

2329. Arthur Dunthorne

82 scans

2330. Tim Scott

82 scans

2331. Ian Sheppard

82 scans

2332. James Weeks

82 scans

2333. Lee Oxborough

82 scans

2334. Chris Howlett

81 scans

2335. Rebecca Staves

81 scans

2336. Pamela Smith

81 scans

2337. Jonathan Clark

81 scans

2338. Garry Dunn

81 scans

2339. Derek Holland

81 scans

2340. Jonny Phillips

81 scans

2341. Bob Greenham

81 scans

2342. Paul Saxby

81 scans

2343. Konstantin Korf

81 scans

2344. Derek Smith

81 scans

2345. Adam Milsom

81 scans

2346. Brian Mill

81 scans

2347. Gary Hixon-Broad

81 scans

2348. Mike Williams

81 scans

2349. Neil Limbert

81 scans

2350. Paul Cullinan

81 scans

2351. Peter Parsons

80 scans

2352. Dan Webb

80 scans

2353. Les Porter

80 scans

2354. Stuart Jenkins

80 scans

2355. Cherie Stanfield

80 scans

2356. Gary Owen

80 scans

2357. Marcus Fiddes

80 scans

2358. Darren Edwards

80 scans

2359. Tony Marchant

80 scans

2360. Robert Berry

80 scans

2361. Tom Beaumont

80 scans

2362. Katie Bairstow

80 scans

2363. Gary Robertshaw

80 scans

2364. James Mcgettrick

80 scans

2365. Matt Walker

80 scans

2366. Michael Goodman

80 scans

2367. Paul Buddin

79 scans

2368. James Roberts

79 scans

2369. Bob Dovey

79 scans

2370. Howell Gareth Thomas

79 scans

2371. Bentley Hiley

79 scans

2372. G Thorpe

79 scans

2373. Wendy Bown

79 scans

2374. Adam Holland

79 scans

2375. Rob Long

79 scans

2376. David Keys

79 scans

2377. Chris Jones

79 scans

2378. Hayley Hughes

79 scans

2379. Andrew Bromley

79 scans

2380. Tom Thornton-Jones

79 scans

2381. Sarah Groves

78 scans

2382. Mike Burns

78 scans

2383. James Chilvers

78 scans

2384. Mark Musselwhite

78 scans

2385. Graeme Robertson

78 scans

2386. Jason Briggs

78 scans

2387. Chris Fisher

78 scans

2388. Will Stansbury

78 scans

2389. Chris Haley

78 scans

2390. Eamonn Tague

78 scans

2391. Martin Stringer

78 scans

2392. Neil Lambert

78 scans

2393. Trevor Wanstall

78 scans

2394. Joe Troughton

77 scans

2395. Chris Beck

77 scans

2396. Will Chiswick

77 scans

2397. Neil Timmins

77 scans

2398. Andrew Gilham

77 scans

2399. George Khalil

77 scans

2400. Jenny Cockerham

77 scans

2401. Tom Carter

77 scans

2402. Laurie Kavanagh

77 scans

2403. Derek Anderson

77 scans

2404. Neil Cutting

77 scans

2405. Anthony Toole

77 scans

2406. Darren Rees

77 scans

2407. Dorothy Gilchrist

77 scans

2408. Laz Zindovic

77 scans

2409. L Thomo

77 scans

2410. Zoe Harris

77 scans

2411. Andrew Stonebanks

76 scans

2412. Allan Griffiths

76 scans

2413. Sarah Latham

76 scans

2414. Douglas Rudlin

76 scans

2415. Dean Wattam

76 scans

2416. David Sacco

76 scans

2417. Kerry Shillito

76 scans

2418. Clare Sawyer

76 scans

2419. Simon Anslow

76 scans

2420. Dawn Forsyth

76 scans

2421. Douglas Beecher

76 scans

2422. Jack Marcus

76 scans

2423. John Coulton

76 scans

2424. Michael Rogers

76 scans

2425. Rachael Rooker

76 scans

2426. Roy Stride

76 scans

2427. Stephen Mcnab

76 scans

2428. Viv Hartley

76 scans

2429. Adrian Macmichael

75 scans

2430. David Lloyd

75 scans

2431. Paul Cullen

75 scans

2432. Russell Broom

75 scans

2433. Philip Johnson

75 scans

2434. Paul Gibson

75 scans

2435. Mick Hickman

75 scans

2436. Paul Herrett

75 scans

2437. Nick Clayton

75 scans

2438. Clare Tasker

75 scans

2439. Mick Hampton

75 scans

2440. Emma Layden

75 scans

2441. Lesley Olney

75 scans

2442. Jeremy Pearson

75 scans

2443. Andrew Maw

75 scans

2444. Jon Clarke

75 scans

2445. Kelly Spencer

75 scans

2446. Melanie Benson

75 scans

2447. Alan Ricketts

75 scans

2448. Peter O'Brien

75 scans

2449. Bob Harvey

75 scans

2450. Faye Aspinall

75 scans

2451. Ken Pickles

75 scans

2452. Ronald Birkeett

75 scans

2453. Ryan Steele

75 scans

2454. Tomas Walsh

75 scans

2455. Trevor Powell

75 scans

2456. Dawn Bond

74 scans

2457. Jamie Welch

74 scans

2458. Jon Bick

74 scans

2459. James Payne

74 scans

2460. Nick Wyatt

74 scans

2461. Dickie Davies

74 scans

2462. Mike Millard

74 scans

2463. Katie Welch

74 scans

2464. Jacqui Wakelam

74 scans

2465. David Haynes

74 scans

2466. Carlton Bell

74 scans

2467. David Hartley

74 scans

2468. John Crawley

74 scans

2469. John Marriott

74 scans

2470. Garry Hume

73 scans

2471. Richard Sanders

73 scans

2472. Chris Mead

73 scans

2473. Nick Wilson

73 scans

2474. Ray Tongeman

73 scans

2475. James Bancroft

73 scans

2476. Malcolm Thomas

73 scans

2477. Bill Ferguson

73 scans

2478. Steve Bishop

73 scans

2479. Brad Fisher

73 scans

2480. Craig Pepper

73 scans

2481. Geoff Crossley

73 scans

2482. Heather Whittle

73 scans

2483. Jon Bilsborough

73 scans

2484. Roger Wardley

73 scans

2485. Mark Hayes

72 scans

2486. John Thompson

72 scans

2487. Andy Parry

72 scans

2488. Dave Stevenson

72 scans

2489. Simon Jones

72 scans

2490. Andrew Noble

72 scans

2491. Josh Green

72 scans

2492. George Massey

72 scans

2493. Viktoria Szabo

72 scans

2494. Mark Z

72 scans

2495. Natasha Gir

72 scans

2496. Pete Harris

72 scans

2497. Jordan Percival

72 scans

2498. Margaret Wilkins

72 scans

2499. Tom Westgate

72 scans

2500. Paul Ratnett

71 scans
2501. Mark Clements

71 scans

2502. Chris Firth

71 scans

2503. Derek Martin

71 scans

2504. Phil Speed

71 scans

2505. Ross Howes

71 scans

2506. Neil Restell

71 scans

2507. Peter Tumelty

71 scans

2508. Michael Read

71 scans

2509. Matt Ambler

71 scans

2510. Ron Baker

71 scans

2511. Danny Gazzi

71 scans

2512. Simon Ardron

71 scans

2513. John Ridsdale

71 scans

2514. Belinda Fowler

71 scans

2515. Fiona Wright

71 scans

2516. George Swanson

71 scans

2517. Jonathan Roberts

71 scans

2518. Konrad H

71 scans

2519. Louise Harrison

71 scans

2520. Ollie Clarke

71 scans

2521. Peter Sloan

71 scans

2522. Stephen Wain

71 scans

2523. Yvette Salthouse

70 scans

2524. Mark Eaton

70 scans

2525. Jonathan Burns

70 scans

2526. Simon Hulme

70 scans

2527. Catherine O'Toole

70 scans

2528. Sarah Hodgkinson

70 scans

2529. Ian Willoughby

70 scans

2530. Marie Betson

70 scans

2531. Richard Parker

70 scans

2532. Stuart Hayes

70 scans

2533. David Sumner

70 scans

2534. Bob Forrest

70 scans

2535. Kelly Higgott

70 scans

2536. Ian Walker

70 scans

2537. John Peach

70 scans

2538. Alan Giles

70 scans

2539. Andrew Davey

70 scans

2540. Andrew Harris

70 scans

2541. Duncan Elsey

70 scans

2542. Steven Mccann

70 scans

2543. Stewart Bishop

70 scans

2544. Mike Gotteri

69 scans

2545. Stuart Robbins

69 scans

2546. Ian Tomkinson

69 scans

2547. Pat Cannon

69 scans

2548. Tom Reddy

69 scans

2549. Chad Heitzenrater

69 scans

2550. Dermot Smith

69 scans

2551. Rick Mizuro

69 scans

2552. Keith Coomber

69 scans

2553. Jonathan Coates

69 scans

2554. Brian Godfrey

69 scans

2555. Caroline Hargreaves

69 scans

2556. Richard Croft

69 scans

2557. Sturt Jones

69 scans

2558. Myron Kraweckyj

68 scans

2559. Daniel Jennings

68 scans

2560. Luke Illingworth

68 scans

2561. Nicholas Cornish

68 scans

2562. Alan Blacklee

68 scans

2563. John Allen

68 scans

2564. Jon Heywood

68 scans

2565. Kelly White

68 scans

2566. David Brownsell

68 scans

2567. Anthony Fisher

68 scans

2568. Andrew Skillern

68 scans

2569. Alan Marshall

68 scans

2570. Stephen Berry

68 scans

2571. Steve Williams

68 scans

2572. Glyn Jones

68 scans

2573. Katy Evans

68 scans

2574. Andrew Peploe

68 scans

2575. Jason Squirrell

68 scans

2576. Kevin Taylor

68 scans

2577. Paul Redwood

68 scans

2578. Sam Weller

68 scans

2579. Simeon Grace

68 scans

2580. Kevin Brien

67 scans

2581. Mike Seymour

67 scans

2582. Adam Hughes

67 scans

2583. Adam Drake

67 scans

2584. Robbie Young

67 scans

2585. Andy Bissett

67 scans

2586. Liam Moth

67 scans

2587. Bill Middleton

67 scans

2588. Daniel Edmondson

67 scans

2589. Alun Camra

67 scans

2590. Bryan Jones

67 scans

2591. Bobby Smith

67 scans

2592. Chris Rudd

67 scans

2593. Keith Johnson

67 scans

2594. Lauren Westwell

67 scans

2595. Paul Whittaker

67 scans

2596. Rob Watkins

67 scans

2597. Keith Wootton

66 scans

2598. Gill Carrington

66 scans

2599. Matt Taylor

66 scans

2600. Chris Green

66 scans

2601. Bryan Hill

66 scans

2602. Chris Nadin

66 scans

2603. Owain Hellings

66 scans

2604. Sci Fi

66 scans

2605. Andrew Miller

66 scans

2606. Anna G

66 scans

2607. Eddie Barnes

66 scans

2608. Hannah Sparks

66 scans

2609. Tony Kalabalikis

66 scans

2610. Victoria Paton

66 scans

2611. Suzy Plows

66 scans

2612. Matt Ridsdale

66 scans

2613. Scott Willy

66 scans

2614. Jon Major

66 scans

2615. Karen Linton

66 scans

2616. Lee Davis

66 scans

2617. Paul Edwards

66 scans

2618. Stephen Wong

66 scans

2619. Matthew Boxall

65 scans

2620. Chris Prewett

65 scans

2621. Lee Holgate

65 scans

2622. Gavin Philip

65 scans

2623. Mike Brown

65 scans

2624. James Higgins

65 scans

2625. Tony Bray

65 scans

2626. Edward Sheehan

65 scans

2627. Paul Bulmer

65 scans

2628. Jill Jefferies

65 scans

2629. Malcolm Lochead

65 scans

2630. Becky Hogben

65 scans

2631. Simon Cameron

65 scans

2632. John Macglashan

65 scans

2633. Dawn Harris

65 scans

2634. Louise O'Connor

65 scans

2635. Kevin Denham

65 scans

2636. Martin Banks

65 scans

2637. Terry Wickenden

65 scans

2638. Wayne Holt

65 scans

2639. Leo Mader

64 scans

2640. Kem Billingham

64 scans

2641. Chris Clayden

64 scans

2642. Robert Richardson

64 scans

2643. Tristan Treagust

64 scans

2644. Leon Pascoe

64 scans

2645. Justin Doran

64 scans

2646. Ashley Rudd

64 scans

2647. Myles Wheeler

64 scans

2648. Iain Peat

64 scans

2649. Christopher Smith

64 scans

2650. Steve Roberts

64 scans

2651. Garrie Owens

64 scans

2652. Jim Andrews

64 scans

2653. Harry Jones

64 scans

2654. James Rawlings

64 scans

2655. Chris Maundrell

64 scans

2656. Janet Brown

64 scans

2657. Janet Kiddier

64 scans

2658. Steve Slater

64 scans

2659. Tim Caceres

64 scans

2660. Alistair Proudman

63 scans

2661. Gaz Durham

63 scans

2662. Ron Hudson

63 scans

2663. Paul Maley

63 scans

2664. Lauren Lynch

63 scans

2665. Ben Spencer

63 scans

2666. Marcus Steidl

63 scans

2667. Marc Ingram

63 scans

2668. Mark Fairbank

63 scans

2669. Irina Shalnova

63 scans

2670. Sarah White

63 scans

2671. Danny Doherty

63 scans

2672. Emily Watts

63 scans

2673. Laura Wilkins

63 scans

2674. Charlotte Jinks

63 scans

2675. Matt Holme

63 scans

2676. Darren Parker

63 scans

2677. Dave Cooper

63 scans

2678. Mark Gibbs

63 scans

2679. Matthew Rivers

63 scans

2680. Peter Whibley

63 scans

2681. Graeme Coates

62 scans

2682. Matt Williams

62 scans

2683. John Ross

62 scans

2684. David Peace

62 scans

2685. Richard Mccormack

62 scans

2686. Andrew Taylor

62 scans

2687. Neil Ferry

62 scans

2688. Adrian Askham

62 scans

2689. Amanda Sambrooks

62 scans

2690. Gary Peters

62 scans

2691. Nick Willmott

62 scans

2692. Richard Webber

62 scans

2693. Leon Rees

62 scans

2694. Jake Lawrie-Ashton

62 scans

2695. Clare Spence

62 scans

2696. Angela Siddall

62 scans

2697. Barry Caesar

62 scans

2698. Jolyon Travis

62 scans

2699. Stephen Laszcz

62 scans

2700. Karen Kennedy

62 scans

2701. Graeme Manning

62 scans

2702. Martin Pendlebury

62 scans

2703. Phil Davies

62 scans

2704. Richard Cowen

62 scans

2705. Rich Brewer

62 scans

2706. John Popham

62 scans

2707. John Ross

62 scans

2708. Peter Mennell

62 scans

2709. Rene Vigna

62 scans

2710. Rick Griffin

62 scans

2711. Steven Earl

62 scans

2712. Sue Casey

62 scans

2713. Kevin Hebenton

61 scans

2714. Darren Podmore

61 scans

2715. Leslie Clode

61 scans

2716. Roy Lamonby

61 scans

2717. Matt Sparks

61 scans

2718. Mark Jones

61 scans

2719. Stephen Burnley

61 scans

2720. Grant Leat

61 scans

2721. Mark Jones

61 scans

2722. Chris Hart

61 scans

2723. Joshua Penwill

61 scans

2724. Pan Georghiou

61 scans

2725. Peter Wood

61 scans

2726. Steve Holmes

61 scans

2727. Raine Briggs

61 scans

2728. Simon Betson

61 scans

2729. Miriam Baxter

61 scans

2730. Rob Brown

61 scans

2731. Amanda Scott

61 scans

2732. Antony Cartlidge

61 scans

2733. Jason Brown

61 scans

2734. Michael Brereton

61 scans

2735. Stephen Raine

61 scans

2736. Steve Wilkins

61 scans

2737. John Read

60 scans

2738. Jacob Robinson

60 scans

2739. Matthew Clark

60 scans

2740. Mark Davies

60 scans

2741. Paul Rigby

60 scans

2742. Chris Whitbread

60 scans

2743. Steven Charles

60 scans

2744. Martin Patey

60 scans

2745. David Walford

60 scans

2746. Rob Langley

60 scans

2747. Rhys Collins

60 scans

2748. Peter Manning

60 scans

2749. Heather Combs

60 scans

2750. David Harris

60 scans

2751. Norman Houghton

60 scans

2752. Howard Morgan

60 scans

2753. Gary Buckby

60 scans

2754. Jonathan Ford

60 scans

2755. Nick Grime

60 scans

2756. Nicki Magrath

60 scans

2757. Radley Craft

60 scans

2758. Tim Tancos

60 scans

2759. Sean Conway

59 scans

2760. Martin Vickers

59 scans

2761. Dan Bourdon

59 scans

2762. Bruce Robertson

59 scans

2763. Stuart Maccallum

59 scans

2764. Darren Mogridge

59 scans

2765. Jack Bagnall

59 scans

2766. Steve Cumbers

59 scans

2767. Jeffrey Hildreth

59 scans

2768. Mick Barratt

59 scans

2769. Daniel Bramhall

59 scans

2770. Ben Howsam

59 scans

2771. Michael Attwood

59 scans

2772. Sarah Parkinson

59 scans

2773. Mark Walters

59 scans

2774. Ed Ringrose

59 scans

2775. Andy Sutherland

59 scans

2776. Helen Price

59 scans

2777. Su Stafford

59 scans

2778. Rebecca Mccann

59 scans

2779. Andy Boardman

59 scans

2780. Andy Shane

59 scans

2781. Andy Sutherland

59 scans

2782. Bob Tame

59 scans

2783. Siobhan Dallaghan

59 scans

2784. Sj Casey

59 scans

2785. David Best

58 scans

2786. Mick Taylor

58 scans

2787. Gem Buckle

58 scans

2788. Kate Jones-Davies

58 scans

2789. Patrick Herlihy

58 scans

2790. Craig Clifton

58 scans

2791. Kathryn Mckeon

58 scans

2792. Philip Cartwright

58 scans

2793. Annette Hickman

58 scans

2794. Caroline Appleby

58 scans

2795. Karen Hart

58 scans

2796. David Slater

58 scans

2797. Juan Gonzalez

58 scans

2798. Andrew Robus

58 scans

2799. Paul Fitzsimons

58 scans

2800. Steve Elliott

58 scans

2801. Peter Williams

58 scans

2802. Peter Bowles

58 scans

2803. Ananda Wallis

58 scans

2804. Brian Hogg

58 scans

2805. Chris Duffy

58 scans

2806. Ianmc Cormack

58 scans

2807. John Mckenna

58 scans

2808. Marc Horton

58 scans

2809. Marco Bianchi

58 scans

2810. Phil Lehenbauer

58 scans

2811. Ray Bessant

58 scans

2812. Sean Wheatley

58 scans

2813. Stephen Brettle

58 scans

2814. Steve Fotd

58 scans

2815. Kurt Hitchen

57 scans

2816. Graeme Hall

57 scans

2817. Grant Bruce

57 scans

2818. John Wilson

57 scans

2819. Stuart Constable

57 scans

2820. Marie Slipszenko

57 scans

2821. Michael Thompson

57 scans

2822. Clare Heerey

57 scans

2823. Ian Mcalpine

57 scans

2824. Don Proctor

57 scans

2825. Alice Haley

57 scans

2826. Paul Spence

57 scans

2827. Phillip Burton-Johnson

57 scans

2828. Craig Hunter

57 scans

2829. Gaz Zippy

57 scans

2830. Malk Noon

57 scans

2831. Martin Hawley

57 scans

2832. Phil Blurton

57 scans

2833. Doug Barlow

56 scans

2834. Daniel Povey

56 scans

2835. John Goodsell

56 scans

2836. Jayne Dale

56 scans

2837. Ian Cotterrell

56 scans

2838. Adrian Fleming

56 scans

2839. Sam Buckby

56 scans

2840. Keith Chew

56 scans

2841. Martin Holroyd

56 scans

2842. Alex Golding

56 scans

2843. Glenn Johnson

56 scans

2844. Andrew Gleaves

56 scans

2845. Andrew Donnan

56 scans

2846. Richard Gale

56 scans

2847. Simon Barclay

56 scans

2848. Howard Grove-Jones

55 scans

2849. Richard Barrett

55 scans

2850. Steffan Packer

55 scans

2851. Darren Robb

55 scans

2852. Neil Jones

55 scans

2853. Mark Buckle

55 scans

2854. Mike Ashworth

55 scans

2855. Paul Mader

55 scans

2856. Daniel Laws

55 scans

2857. David Stephens

55 scans

2858. Claire Fenwick

55 scans

2859. Sam C.

55 scans

2860. Stephen Floyd

55 scans

2861. Tom Oshea

55 scans

2862. Dave Langley

55 scans

2863. Ian Grew

55 scans

2864. Steven Burnett

55 scans

2865. Tony Slater

55 scans

2866. David Fiander

55 scans

2867. Craig Fowler

55 scans

2868. Emily Tate

55 scans

2869. Glen Howatt

55 scans

2870. John Taylor

55 scans

2871. Lisa Maddox

55 scans

2872. Mark Preston

55 scans

2873. Pam Ford

55 scans

2874. Sarah Gadsby

55 scans

2875. Simon Barclay

55 scans

2876. Tony Sumner

55 scans

2877. Tony Wright

55 scans

2878. Paul Dale

54 scans

2879. Steve Cumberbatch

54 scans

2880. Dianne Arthur

54 scans

2881. Matt Shea

54 scans

2882. Dave Saycell

54 scans

2883. Tim Smith

54 scans

2884. Tom Harries

54 scans

2885. F Moh

54 scans

2886. Alan Cox

54 scans

2887. Scott Mcgill

54 scans

2888. Stuart Seraphin

54 scans

2889. David Carter

54 scans

2890. Chris Duffy

54 scans

2891. Helen Keenan

54 scans

2892. David Trevains

54 scans

2893. Sarah Devall

54 scans

2894. Adam Hick

54 scans

2895. Anthony Porter

54 scans

2896. Kevin Wright

54 scans

2897. Robert Barnes

54 scans

2898. Chris Chapman

54 scans

2899. Alan Ford

54 scans

2900. Alison Percival

54 scans

2901. Andrew Harper

54 scans

2902. Anthony Tregenza

54 scans

2903. Darren Scully

54 scans

2904. Doug Smith

54 scans

2905. Rick Wylie

53 scans

2906. Richard Sadler

53 scans

2907. Nathan Follows

53 scans

2908. Peter Bowley

53 scans

2909. Richard Speechley

53 scans

2910. D Scott

53 scans

2911. Tom Barraclough

53 scans

2912. Dave White

53 scans

2913. Colin Lowe

53 scans

2914. Megan Price

53 scans

2915. Sue Hurst

53 scans

2916. Darren Richardso

53 scans

2917. Richard Lonsdale

53 scans

2918. Linton Van Zyl

53 scans

2919. Catherine Betts

53 scans

2920. Dawn Kearney

53 scans

2921. Tina Ambury

53 scans

2922. Mark Fleetwood

53 scans

2923. Greg Davis

53 scans

2924. Alan Songster

53 scans

2925. David Avery

53 scans

2926. Marty Oldroyd

53 scans

2927. Paul Anderson

53 scans

2928. Paul Garnett

53 scans

2929. Peter Burrows

53 scans

2930. Sean Fowle

53 scans

2931. Stephen Moreton

53 scans

2932. Daryl Ling

52 scans

2933. John Henderson

52 scans

2934. Eddie Tott

52 scans

2935. Jason Smedley

52 scans

2936. Jonathan Wenb

52 scans

2937. Gary Piatek

52 scans

2938. Rob Higgins

52 scans

2939. Heath Tennant

52 scans

2940. Anthony Tregenza

52 scans

2941. Ciarã¡N Ansdell

52 scans

2942. Jon Ferguson

52 scans

2943. Keith Walker

52 scans

2944. Lewis Williams

52 scans

2945. Gareth Jones

52 scans

2946. Wayne Davies

52 scans

2947. Ad Durnin

52 scans

2948. Liza-Anne Graham

52 scans

2949. Jason Beer

52 scans

2950. Adam Hartley

52 scans

2951. Stuart Parkhouse

52 scans

2952. Neil Mcdonough

52 scans

2953. Bex Rogers

52 scans

2954. Dave Harrison

52 scans

2955. David Avery

52 scans

2956. Michael Dixon

52 scans

2957. Oliver Westgate

52 scans

2958. John Blaylock

51 scans

2959. Debra Murray

51 scans

2960. Iain Gillies

51 scans

2961. David Bulford

51 scans

2962. Dominic Carroll

51 scans

2963. Kay Cumberbatch

51 scans

2964. Dave Youp

51 scans

2965. Kimberley Brennen

51 scans

2966. Richard Bateson

51 scans

2967. Paul Bollard

51 scans

2968. Johnny Hansen

51 scans

2969. Neil Hawkswood

51 scans

2970. Stefano Grezza

51 scans

2971. Tony Curtis

51 scans

2972. Arek Bukowiec

51 scans

2973. John Campbell

51 scans

2974. Darrell Lawton

51 scans

2975. Clare Emerson

51 scans

2976. Tom Saunders

51 scans

2977. Matt Senior

51 scans

2978. Adrian Tucker

51 scans

2979. Matthew Collard

51 scans

2980. Cedric Duchamp

51 scans

2981. Inez Dale

51 scans

2982. Graham Hanson

51 scans

2983. Hayley Shillito

51 scans

2984. Gary Fincher

51 scans

2985. Christine Fraser

51 scans

2986. Bertie Garbutt

51 scans

2987. John Lee

51 scans

2988. Stephen Grainger

51 scans

2989. Chris Deegan

50 scans

2990. Derrick James

50 scans

2991. Roger Bedford

50 scans

2992. Phil Graham

50 scans

2993. Robert White

50 scans

2994. Liam Magee

50 scans

2995. Andrew Dickinson

50 scans

2996. Andy Blair

50 scans

2997. Kath Atkinson

50 scans

2998. Dave Meakin

50 scans

2999. Thomas Stuart

50 scans

3000. Kevin O'Donoggue

50 scans
3001. Simon St John-Green

50 scans

3002. Richard Smith

50 scans

3003. John English

50 scans

3004. Margaret English

50 scans

3005. Craig White

50 scans

3006. Dianne Bell

50 scans

3007. Angus Forshaw

50 scans

3008. Nigel Blain

50 scans

3009. Andy Briwn

50 scans

3010. Annie Freestone

50 scans

3011. Chris Dixon

50 scans

3012. Colin Farey

50 scans

3013. John Grenham

50 scans

3014. Kevin Mcatee

50 scans

3015. Richard Hebden

50 scans

3016. Simon Lane

50 scans

3017. Danny Wong

49 scans

3018. Steve Tompkins

49 scans

3019. Rob Dickson

49 scans

3020. Richard Sutlieff

49 scans

3021. Paul Cope

49 scans

3022. Joseph May

49 scans

3023. Thom Fitzpatrick

49 scans

3024. Stephen Taylor

49 scans

3025. Chris Falconer

49 scans

3026. Ed Hoy

49 scans

3027. Craig Oldfield

49 scans

3028. David Young

49 scans

3029. Philip Gill

49 scans

3030. Robert Bennett

49 scans

3031. Jeff Buck

49 scans

3032. Ian Roberts

49 scans

3033. Matt Whiteman

49 scans

3034. Chris Evans

49 scans

3035. Lee Turner

49 scans

3036. Matt Bennetts

49 scans

3037. Richard Foster

49 scans

3038. Robert George

49 scans

3039. Ross Harris

49 scans

3040. Andrew Broadhurst

48 scans

3041. Paul Allum

48 scans

3042. Kate Penny

48 scans

3043. Lorna Pritchard

48 scans

3044. Trevor Newton

48 scans

3045. Richard Jefferey

48 scans

3046. James Littlejohns

48 scans

3047. Shane Smith

48 scans

3048. Martyn Jones

48 scans

3049. Paul Penna

48 scans

3050. Alison Barlow

48 scans

3051. Eric Brookes

48 scans

3052. Gabriele Accialino

48 scans

3053. Lucy Hartley

48 scans

3054. Nick Burke

48 scans

3055. Robert Smith

48 scans

3056. Sandra Drew

48 scans

3057. Tony Claxton

48 scans

3058. Wendy Hadfield

48 scans

3059. Edward Webster

47 scans

3060. Rachel Thomas

47 scans

3061. Darren Parker

47 scans

3062. Richard Lacy

47 scans

3063. Kelly Tatz

47 scans

3064. Neil Darbyshire

47 scans

3065. Keren Harrison

47 scans

3066. Alison Graham

47 scans

3067. Luke Butcher

47 scans

3068. Steph Palin

47 scans

3069. Lynn Baxter

47 scans

3070. Claire Thurston

47 scans

3071. Jonathan Kemp

47 scans

3072. Darren Harvey

47 scans

3073. Tom Lamerton-Reece

47 scans

3074. Ruth Reakes

47 scans

3075. Malcolm H

47 scans

3076. Josh Clifford

47 scans

3077. Carl Whitehouse

47 scans

3078. Colin Coyne

47 scans

3079. Dave Scattergood

47 scans

3080. Dom Pinto

47 scans

3081. Gavin Horton

47 scans

3082. Itor James

47 scans

3083. James Taylor

47 scans

3084. John Slater

47 scans

3085. Mikey Shendry

47 scans

3086. Simon Pope

47 scans

3087. Jenny O'Grady

46 scans

3088. Philip Griffiths

46 scans

3089. Mark Beardsley

46 scans

3090. Jennifer Allen

46 scans

3091. Simon Howe

46 scans

3092. Aaron Currington

46 scans

3093. Dave Bryan

46 scans

3094. Pete Grist

46 scans

3095. Lesley Clarke

46 scans

3096. Oliver Blaiklock

46 scans

3097. Chris Beckett

46 scans

3098. Patrick Kirk

46 scans

3099. Melanie Brien

46 scans

3100. Derek Whitehead

46 scans

3101. Lynz Rich

46 scans

3102. Dave Ninnis

46 scans

3103. Dan Wren

46 scans

3104. Mandy Burgess

46 scans

3105. Richard Midgley

46 scans

3106. Andrew Sluman

46 scans

3107. John English

46 scans

3108. Ali Macnaught

46 scans

3109. Andy Kpearson

46 scans

3110. Craig Moffitt

46 scans

3111. Craig Watson

46 scans

3112. Di Beste

46 scans

3113. John Pearson

46 scans

3114. Myles Hamilton

46 scans

3115. Nick Bagley

46 scans

3116. Ricky Charles

46 scans

3117. Greg Wight

45 scans

3118. Mick Sleigh

45 scans

3119. Dave Rees

45 scans

3120. Joseph Pakenham

45 scans

3121. Paul Elliott

45 scans

3122. Rachael Buxey

45 scans

3123. Don Jones

45 scans

3124. Tony Pugh

45 scans

3125. David Bourton

45 scans

3126. Kev Bailey

45 scans

3127. Ralph Naden

45 scans

3128. Alan Drakeley

45 scans

3129. Rachel Evans

45 scans

3130. Dickon Love

45 scans

3131. Roger Chadburn

45 scans

3132. Garry Wallace

45 scans

3133. Michael Stevenson

45 scans

3134. Adam Rigby

45 scans

3135. David Purnell

45 scans

3136. Helen Day

45 scans

3137. Jason Austin

45 scans

3138. Mark Hebden

45 scans

3139. Victoris Donnan

45 scans

3140. Paul Read

44 scans

3141. George Prout

44 scans

3142. Trevor Griffiths

44 scans

3143. Jill Stubbs

44 scans

3144. Rory Wallace

44 scans

3145. Alan Powell

44 scans

3146. Robin Phillips

44 scans

3147. Ryan Holland

44 scans

3148. Angus Harper

44 scans

3149. Russell Ashmore

44 scans

3150. John Graham

44 scans

3151. Graham Preston

44 scans

3152. Stephanie Carter

44 scans

3153. John Smith

44 scans

3154. Gary Jones

44 scans

3155. Peter Crudge

44 scans

3156. Jyotika Thaker

44 scans

3157. Graham Rooke

44 scans

3158. Carol Burton

44 scans

3159. Bridget Harmsworth

44 scans

3160. Stuart Godfrey

44 scans

3161. Alexander Barrett

44 scans

3162. Bryan Jones

44 scans

3163. Dave Reeve

44 scans

3164. Neil Drummond

44 scans

3165. Peter Scattergood

44 scans

3166. Ian Sweet

43 scans

3167. Dave Scorgie

43 scans

3168. Elaine Hickman

43 scans

3169. Benjamin Murray

43 scans

3170. Colin Smith

43 scans

3171. David Pendlebury

43 scans

3172. Mark Dwyer

43 scans

3173. Gavyn Franks

43 scans

3174. Philip Readhead

43 scans

3175. Russell Murfitt

43 scans

3176. Anthony Ainscough

43 scans

3177. Paul Holdsworth

43 scans

3178. David Foster

43 scans

3179. Nigel Sampson

43 scans

3180. Jeffrey Booth

43 scans

3181. Roisin Brien

43 scans

3182. Brian Helliwell

43 scans

3183. Andrew Slattery

43 scans

3184. Robert Hunt

43 scans

3185. Paul Haddon

43 scans

3186. Jens Nielsen

43 scans

3187. Adam Smith

43 scans

3188. Chris Hartley

43 scans

3189. Henry Platts-Martin

43 scans

3190. Ian Burgess

43 scans

3191. John Alderson

43 scans

3192. Pete Ferraro

43 scans

3193. Steve Mccartan

43 scans

3194. Steve Pincher

42 scans

3195. John Olijnyk

42 scans

3196. Robert Layzell

42 scans

3197. Nog Clark

42 scans

3198. Mark Balding

42 scans

3199. Ewan Hamilton

42 scans

3200. Nia Jones

42 scans

3201. Robert Howe

42 scans

3202. Keith Morris

42 scans

3203. Kevin Davies

42 scans

3204. Samuel Guy

42 scans

3205. Sue Readhead

42 scans

3206. Christopher Young

42 scans

3207. Stephen Prescott

42 scans

3208. Tim Clough

42 scans

3209. David Kenworthy

42 scans

3210. Lee Manion

42 scans

3211. Andrew Donnan

42 scans

3212. Karl Johnson

42 scans

3213. Karl Watson

42 scans

3214. Rob Iles

42 scans

3215. Nicholas Cooper

42 scans

3216. Richard Haines

42 scans

3217. Derek Foley

42 scans

3218. Darren Moore

42 scans

3219. Alan Holland

42 scans

3220. Allen Moss

42 scans

3221. Delia Gallagher

42 scans

3222. James Sedgwick

42 scans

3223. Mick Hirst

42 scans

3224. Richard Brown

42 scans

3225. Barry Jones

41 scans

3226. Keith Distin

41 scans

3227. Tim Gill

41 scans

3228. Chris Boden

41 scans

3229. Matthew Spurling

41 scans

3230. Steve Green

41 scans

3231. John Blower

41 scans

3232. Glenn Robinson

41 scans

3233. Ryan Lack

41 scans

3234. Sean Parker

41 scans

3235. Bill Ekers

41 scans

3236. Gwyn Wake

41 scans

3237. Florian M�Ͽ½Ller

41 scans

3238. Francesca Shearcroft

41 scans

3239. Steve Percival

41 scans

3240. Peter Hill

41 scans

3241. Simon Appleton

41 scans

3242. Tracey White

41 scans

3243. Jason Clipston

41 scans

3244. James Craig

41 scans

3245. Marc Lane

41 scans

3246. Steve Saul

41 scans

3247. Sue Meyrick

41 scans

3248. Martin Potter

41 scans

3249. Ben Harwood

41 scans

3250. Paul Smith

41 scans

3251. Nigel Hayward

41 scans

3252. Oliver Elliott

41 scans

3253. Dave Miller

41 scans

3254. James Carter

41 scans

3255. Stephen Johnson

41 scans

3256. Andrew Stratton

41 scans

3257. Captain Arn Court

41 scans

3258. Clare Tooley

41 scans

3259. David Martin

41 scans

3260. Ed Chubb

41 scans

3261. Fudge Farrar

41 scans

3262. Kaz Hassan

41 scans

3263. Lee Allsopp

41 scans

3264. Marc Townell

41 scans

3265. Nick Clegg

41 scans

3266. Paul Leonard

41 scans

3267. Peter Swann

41 scans

3268. Scott Clark

41 scans

3269. Sharon Madden

41 scans

3270. Ben Burns

40 scans

3271. Timothy Murray

40 scans

3272. Andrew Large

40 scans

3273. Andy Acraman

40 scans

3274. Joyce Sawford

40 scans

3275. Ian Watson

40 scans

3276. Sophie Wye

40 scans

3277. Rich Martin

40 scans

3278. Anthony Day

40 scans

3279. Dave Fell

40 scans

3280. Will Cooper

40 scans

3281. Beverley Dale

40 scans

3282. Ian Colhoun

40 scans

3283. Darren Williams

40 scans

3284. Fudge Farrar

40 scans

3285. Jim Chandler

40 scans

3286. Mark Gunning

40 scans

3287. Mark Wadsworth

40 scans

3288. Paul Mcconkey

40 scans

3289. Tim Chapman

40 scans

3290. William Wilson

40 scans

3291. Sam Walker

39 scans

3292. Katy Williams

39 scans

3293. Ian Reeve

39 scans

3294. Keith Newquist

39 scans

3295. Martin Stride

39 scans

3296. Jonathan King

39 scans

3297. Stewart Langford

39 scans

3298. Chris Pickett

39 scans

3299. Emma Burton

39 scans

3300. Aaron Williams

39 scans

3301. Paul Gregory

39 scans

3302. Ross Mould

39 scans

3303. Dave Stiles

39 scans

3304. Colin Barnes

39 scans

3305. Steven Hellier

39 scans

3306. Terry Greener

39 scans

3307. James Kearns

39 scans

3308. Kevin Liversuch

39 scans

3309. Barry De Boise

39 scans

3310. Daniel Barley

39 scans

3311. Callum Butler

39 scans

3312. Karen Watson

39 scans

3313. Keith Keenan

39 scans

3314. Steve Wells

39 scans

3315. Lee Precious

39 scans

3316. Tony Hunter

39 scans

3317. Andy Corbett

39 scans

3318. Christopher Starr

39 scans

3319. Gary Whiley

39 scans

3320. Graham Broadfield

39 scans

3321. Hardev Badesha

39 scans

3322. Khriz Hawkes

39 scans

3323. Kurt Dettman

39 scans

3324. Lisa Reid

39 scans

3325. Lloyd Pool

39 scans

3326. Nathan Merrison-Fielder

39 scans

3327. Jeremy Kidd

38 scans

3328. Richard Smith

38 scans

3329. Simon Landsbury

38 scans

3330. Alan Gullick

38 scans

3331. Roger Ferrari

38 scans

3332. Paul Ganuszko

38 scans

3333. Robin Felton

38 scans

3334. Richard Crook

38 scans

3335. Clive Bushen

38 scans

3336. Dave Rea

38 scans

3337. Kieran Roberts

38 scans

3338. Simon Nunnery

38 scans

3339. Aleksandar Stojiljkovic

38 scans

3340. Mike Pickering

38 scans

3341. Steve White

38 scans

3342. Ben Collins

38 scans

3343. Zoe Humpage

38 scans

3344. Mark Sewell

38 scans

3345. Paul Locke

38 scans

3346. Simon Walmsley

38 scans

3347. Elaine Burton-Johnson

38 scans

3348. Andy Imrie

38 scans

3349. Murray Peebles

38 scans

3350. Stefan Brown

38 scans

3351. Jessie Fung

38 scans

3352. Shelley Hollis

38 scans

3353. Julie Patterson

38 scans

3354. Keith Beckett

38 scans

3355. Stephen Parkin

38 scans

3356. Fred Odell

38 scans

3357. Charlie Davey

38 scans

3358. David Baty

38 scans

3359. Deneeta Fernandez

38 scans

3360. George Kemp

38 scans

3361. James Smith

38 scans

3362. Janet Scattergood

38 scans

3363. Simon Reid

38 scans

3364. Stephen Higgins

38 scans

3365. Simon Blackman

37 scans

3366. Russ Hartman

37 scans

3367. Lee Rowley

37 scans

3368. Chris Hurst

37 scans

3369. Philip Morrison

37 scans

3370. Amy Seamark

37 scans

3371. Matt Griffin

37 scans

3372. Nigel Woodmason

37 scans

3373. James Goodband

37 scans

3374. Ron Kitching

37 scans

3375. Andrew Cook

37 scans

3376. Andrew Campbell

37 scans

3377. Nicholas Edwards

37 scans

3378. Marcus Hufton

37 scans

3379. Mark Seaborn

37 scans

3380. James Broome

37 scans

3381. Wesley Corbett

37 scans

3382. Ian Wake

37 scans

3383. Sue James-Davies

37 scans

3384. Jonathan Saunders

37 scans

3385. Ben Dillon

37 scans

3386. Alan Imber

37 scans

3387. Darren Mcdonagh

37 scans

3388. Diog Guerra

37 scans

3389. Len Wynn

37 scans

3390. Mark Bamford

37 scans

3391. Mike Wardell

37 scans

3392. Myke Aldridge

37 scans

3393. Roy Edwards

37 scans

3394. Shaun Pomfrey

37 scans

3395. Louise King

36 scans

3396. Andrew Hockin

36 scans

3397. Karl Scott

36 scans

3398. Harriet Rowling

36 scans

3399. Joe Steel

36 scans

3400. Ryan Woods

36 scans

3401. John Rees

36 scans

3402. Josh Mitchell

36 scans

3403. Rod Morris

36 scans

3404. Andre Ferreira

36 scans

3405. John Crowhurst

36 scans

3406. Dave Biddulph

36 scans

3407. Elena Foster

36 scans

3408. Michael Abbott

36 scans

3409. Andrew Mckinstry

36 scans

3410. Sam Naylor

36 scans

3411. Daz Lord

36 scans

3412. Dominic Lord

36 scans

3413. Mike Green

36 scans

3414. Martyn Garrett

36 scans

3415. Chris Abbott

36 scans

3416. Niels Arnth-Jensen

36 scans

3417. Marijke Denton

36 scans

3418. Tracey Troughton

36 scans

3419. Sallyann Smith

36 scans

3420. Allan Ridgwell

36 scans

3421. Paul Lucas

36 scans

3422. Rebecca Williams

36 scans

3423. Edwin Amos

36 scans

3424. Chris Jones

36 scans

3425. Jeff Floyd

36 scans

3426. Kevin Bourne

36 scans

3427. Lesley Ward

36 scans

3428. Rebecca Smith

36 scans

3429. Timothy Wignall

36 scans

3430. Tobyfisher

36 scans

3431. Tom Mcphillips

36 scans

3432. Peter Mallon

35 scans

3433. Steve Tandy

35 scans

3434. Jonathan Barnes

35 scans

3435. Katie Marriott

35 scans

3436. Chris Stock

35 scans

3437. Simon White

35 scans

3438. Mark Wilding

35 scans

3439. Colin Rees

35 scans

3440. Scott Williams

35 scans

3441. Paul Rhoods

35 scans

3442. Warren Kencroft

35 scans

3443. Andrew Worrall

35 scans

3444. Les Hawketts

35 scans

3445. Brian Mccarthy

35 scans

3446. Chris Bowden

35 scans

3447. Brian Maskall

35 scans

3448. Sam Booty

35 scans

3449. Al Lester

35 scans

3450. Neil Armitage

35 scans

3451. Gary Bridgewater

35 scans

3452. Michael Bates

35 scans

3453. Lee Metcalfe

35 scans

3454. Rachel Macleod

35 scans

3455. Alicia Griffiths

35 scans

3456. Cat Berry

35 scans

3457. Dean Blackwood

35 scans

3458. Graham Taylor

35 scans

3459. Ben Sargent

35 scans

3460. Paul Crawford

35 scans

3461. Peter Wells

35 scans

3462. Timothy Trenning

35 scans

3463. Philip Archbold

35 scans

3464. Gary Thorpe

35 scans

3465. Adam Fletcher

35 scans

3466. Edward Theakston

35 scans

3467. Jardine Appleton

35 scans

3468. Lee Betts

35 scans

3469. Neville Johns

35 scans

3470. Owen Lindsay

35 scans

3471. Peter Mallon

35 scans

3472. William Jackson

35 scans

3473. Philip Rowe

34 scans

3474. Marc Coton

34 scans

3475. Stuart Mcmahon

34 scans

3476. Glenn Bailey

34 scans

3477. Lukasz Lawicki

34 scans

3478. Andrew Payne

34 scans

3479. Paul Adams

34 scans

3480. Sian Presley

34 scans

3481. Rich Owen

34 scans

3482. Adam Hope

34 scans

3483. Sharon Mellor

34 scans

3484. Pam Cross

34 scans

3485. Martin Cannon

34 scans

3486. Lee Trayford

34 scans

3487. Freddie Hunt

34 scans

3488. Chris Wheeler

34 scans

3489. Gary Abrams

34 scans

3490. Anthony Szymanski

34 scans

3491. Roger Stokes

34 scans

3492. Richard Turner

34 scans

3493. Dunc Stokes

34 scans

3494. Maureen Thomas

34 scans

3495. Soraya Irani

34 scans

3496. Deiniol Carter

34 scans

3497. Andrew Richardson

34 scans

3498. James Martin

34 scans

3499. Agnes Salt

34 scans

3500. Alan Clark

34 scans
3501. Amy Dunn

34 scans

3502. Anthony Mcmullen

34 scans

3503. Brian Day

34 scans

3504. David Restall

34 scans

3505. Karl Davies

34 scans

3506. Mike Hughes

34 scans

3507. Wendy Sharples

34 scans

3508. Neil Hogg

33 scans

3509. Rob Marston

33 scans

3510. Matt Allen

33 scans

3511. Andrew Gray

33 scans

3512. K Maidment

33 scans

3513. Jason Robinson

33 scans

3514. Chris Banks

33 scans

3515. John Mcdonald

33 scans

3516. Ashley Mccarthy

33 scans

3517. Andy Richardson

33 scans

3518. James Chadwick

33 scans

3519. Tom Botham

33 scans

3520. Brian Welham

33 scans

3521. Andrew Mcrobbie

33 scans

3522. Anthony Lane

33 scans

3523. Jim Filby

33 scans

3524. Matt Gelder

33 scans

3525. William Keen

33 scans

3526. Howard Snaith

33 scans

3527. Ben Flatt

33 scans

3528. Terry Todd

33 scans

3529. John Linley

33 scans

3530. Roy Stringer

33 scans

3531. Adam Watts

33 scans

3532. Claire Smith

33 scans

3533. David Obrien

33 scans

3534. Steve Stanton

33 scans

3535. Glenn Nattrass

33 scans

3536. Joanne Tew

33 scans

3537. Mark Curtis

33 scans

3538. Gavin Mardell

33 scans

3539. Jay Jones

33 scans

3540. Tyler Harlow

33 scans

3541. Scott Preece

33 scans

3542. Alex Harris

33 scans

3543. Alun Primmer

33 scans

3544. Barry Butcher

33 scans

3545. Colin Kinsella

33 scans

3546. Mark Horrocks

33 scans

3547. Mike Brackley

33 scans

3548. Mike Skinner

33 scans

3549. Paul Coleman

33 scans

3550. Paul Godden

33 scans

3551. Philip Williams

33 scans

3552. Tim Exell

33 scans

3553. Chris Stormont

32 scans

3554. Anthony Johnson

32 scans

3555. Steve Rolfe

32 scans

3556. Trevor Fulcher

32 scans

3557. Derek Lunn

32 scans

3558. Martin Queen

32 scans

3559. Katherine Smedley

32 scans

3560. Heinz Sieh

32 scans

3561. Claire Dolan

32 scans

3562. Rob Gibson

32 scans

3563. Tim Adams-Hoyle

32 scans

3564. Sam Williams

32 scans

3565. Sophie Court

32 scans

3566. Anne Crawford

32 scans

3567. Stephen Murray

32 scans

3568. Tom Reynolds

32 scans

3569. Fran Daniels

32 scans

3570. Tony Ryan

32 scans

3571. Greg Flashman

32 scans

3572. Scott Daw

32 scans

3573. Katie Sweeney

32 scans

3574. Janet Kidd

32 scans

3575. Mike Woodcock

32 scans

3576. Martin Horbury

32 scans

3577. Steve Law

32 scans

3578. Sammy-Jo Hall

32 scans

3579. Heather Johnson

32 scans

3580. Andy Fletcher

32 scans

3581. Matthew Breakwell

32 scans

3582. Tony Smith

32 scans

3583. Shelli Young

32 scans

3584. Tom Long

32 scans

3585. Glenn Rann

32 scans

3586. Altti Talsio

32 scans

3587. Benjamin Crook

32 scans

3588. Jack Warner

32 scans

3589. Nog Clark

32 scans

3590. Bob Turton

32 scans

3591. Carl Rogers

32 scans

3592. Darren Thompson

32 scans

3593. Don Hildreth

32 scans

3594. Heather Crow

32 scans

3595. Jasonhale

32 scans

3596. Luke Ansley

32 scans

3597. Paul Nunny

32 scans

3598. Paul Nunny

32 scans

3599. Robert Norvill

32 scans

3600. Shelley Hunt

32 scans

3601. Bill Trotter

31 scans

3602. Nigel Allatt

31 scans

3603. Terry Odell

31 scans

3604. Ally Robins

31 scans

3605. Andrew Richards

31 scans

3606. Colin Walker

31 scans

3607. Ron Murray

31 scans

3608. Reuben Bruce

31 scans

3609. Chris Manning

31 scans

3610. Stephen Knott

31 scans

3611. Nichola Symes

31 scans

3612. Nathan Girard

31 scans

3613. John Pascoe

31 scans

3614. Matt Norman

31 scans

3615. Jamie Smith

31 scans

3616. Jonathan Reddy

31 scans

3617. Tom Gailey

31 scans

3618. Scott Burrows

31 scans

3619. Harry Cooke

31 scans

3620. Claire Knights

31 scans

3621. Karen Irving

31 scans

3622. Les Elston

31 scans

3623. Berwyn Pollard

31 scans

3624. Mark Plumpton

31 scans

3625. Martin Jones

31 scans

3626. Naeman Symonds-Baig

31 scans

3627. Ace Myatt

31 scans

3628. Jake Mc Colgan

31 scans

3629. Barry Cushing

31 scans

3630. Tom Plant

31 scans

3631. Nikki Paul

31 scans

3632. Brent Shurn

31 scans

3633. David Lane

31 scans

3634. Geoff Parr

31 scans

3635. Paul Beverley

31 scans

3636. Ruth Fancett

31 scans

3637. Simon Pollard

31 scans

3638. Stefanie Gerber

31 scans

3639. Tom Beech

31 scans

3640. Oliver Gray

30 scans

3641. Alice Carrington

30 scans

3642. Robert Fraser

30 scans

3643. Stephen Clark

30 scans

3644. Stephen Edkins

30 scans

3645. Ben King

30 scans

3646. John Bullock

30 scans

3647. Lisa Lowe

30 scans

3648. Shaun Walton

30 scans

3649. Gary White

30 scans

3650. Aly Mcleish

30 scans

3651. Stephen Turner

30 scans

3652. Dave Marshall

30 scans

3653. Glyn Dudley

30 scans

3654. Ian Baker

30 scans

3655. Jamie Edmundson

30 scans

3656. Steve Carter

30 scans

3657. Simon Richardson

30 scans

3658. Rees Gidley

30 scans

3659. Charlie Wolfenden

30 scans

3660. Nick Eager

30 scans

3661. Brian Wilson

30 scans

3662. Chris Quinn

30 scans

3663. Rachel Wilson

30 scans

3664. Andy Christmas

30 scans

3665. Mark Cave

30 scans

3666. Neil Cornforth

30 scans

3667. Alex Joseph

30 scans

3668. Aly Mcleish

30 scans

3669. Andrew Stephenson

30 scans

3670. Chris Baker

30 scans

3671. Gary Mcdonald

30 scans

3672. James Hutchinson

30 scans

3673. James King

30 scans

3674. Jamie Oliver

30 scans

3675. Jane Bisgrove

30 scans

3676. Joanne Hargrave

30 scans

3677. John Bullock

30 scans

3678. Jon Vogel

30 scans

3679. Krzysztof Tchorzewski

30 scans

3680. Paul Underwood

30 scans

3681. Steve Wynn

30 scans

3682. Mark Gallier

29 scans

3683. Adrian Phillips

29 scans

3684. Paul Jervis

29 scans

3685. Simon Lincoln

29 scans

3686. Tim Tomlinson

29 scans

3687. Vikki Baines

29 scans

3688. Charles Walczak

29 scans

3689. Paul Mann

29 scans

3690. Rob Curtis

29 scans

3691. Martin Bland

29 scans

3692. Brian Hodlin

29 scans

3693. John Mercer

29 scans

3694. Kate Derwent

29 scans

3695. Storm Rogers

29 scans

3696. Dave King

29 scans

3697. Joe Harrison

29 scans

3698. Paul Lane

29 scans

3699. Tim West

29 scans

3700. Adrian Lush

29 scans

3701. Steve Heathcote

29 scans

3702. Tom Pollock

29 scans

3703. Thomas Button

29 scans

3704. Lee Madden

29 scans

3705. Arran Johnson

29 scans

3706. Katie Smal

29 scans

3707. Lee Houston

29 scans

3708. Vikesh Doshi

29 scans

3709. Timothy Williams

29 scans

3710. Bryan Jones

29 scans

3711. Roger Papworth

29 scans

3712. Keith Ronald

29 scans

3713. David Stockwell

29 scans

3714. Shaun Mason

29 scans

3715. Andy Brook

29 scans

3716. Daryl Milford

29 scans

3717. Gary Timmins

29 scans

3718. Chris Archibald

29 scans

3719. Huw John

29 scans

3720. Paul Rynne

29 scans

3721. Scott Cater

29 scans

3722. Tom Chittock

29 scans

3723. Zoe Young

29 scans

3724. Sarah Mckeown

28 scans

3725. Neil Jarvis

28 scans

3726. Michael Ward

28 scans

3727. Grant Newman

28 scans

3728. Wayne Jameson

28 scans

3729. Nick Reeder

28 scans

3730. Cheryl Coveney

28 scans

3731. Sarah Balmforth

28 scans

3732. David Hackwell

28 scans

3733. Peter Ellis

28 scans

3734. David Airey

28 scans

3735. Christopher Goodden

28 scans

3736. David Hillis

28 scans

3737. Stewart Heighway

28 scans

3738. Tony Jerome

28 scans

3739. Rachel Collier

28 scans

3740. Robert Westbury

28 scans

3741. Sc Webb

28 scans

3742. Philip Mortimer

28 scans

3743. Liam O'Sullivan

28 scans

3744. Paul Rynne

28 scans

3745. Stuart Collins

28 scans

3746. Scott Manders

28 scans

3747. Keith Pentecost

28 scans

3748. Matt Carter

28 scans

3749. Stephen Hastings

28 scans

3750. Simon Reid

28 scans

3751. D Brown

28 scans

3752. Gillian Warwick

28 scans

3753. Adrian Greenhalgh

28 scans

3754. Graham Cook

28 scans

3755. Mark Bird

28 scans

3756. Danielle Carson

28 scans

3757. Ana Holland

28 scans

3758. Christian Markham

28 scans

3759. Lisa Flowers

28 scans

3760. Richard Thorpe

28 scans

3761. Adam Moles

28 scans

3762. Andrew Barrowcliffe

28 scans

3763. Bruno Zago

28 scans

3764. Carol Bates

28 scans

3765. Ian Smith

28 scans

3766. Kevin Keaveny

28 scans

3767. Lucy Hennessy

28 scans

3768. Michael Cockram

28 scans

3769. Paul Boardman

28 scans

3770. Paul Deighton

28 scans

3771. Robert Mcgrath

28 scans

3772. Robin Hays

28 scans

3773. Sarah Slater

28 scans

3774. Steve Rush

28 scans

3775. Philip Tiplady

27 scans

3776. Dave Lapper

27 scans

3777. Jeremy Burke

27 scans

3778. Mark Booth

27 scans

3779. Flump Jones

27 scans

3780. Andy Webb

27 scans

3781. Kevin Gilbert

27 scans

3782. Mark Macwilliam

27 scans

3783. Alan Baker

27 scans

3784. James Bloom

27 scans

3785. Bob Mooney

27 scans

3786. James Burmingham

27 scans

3787. Gary Frost

27 scans

3788. Craig Swalwell

27 scans

3789. Christopher Bailey

27 scans

3790. Rich Hewitt

27 scans

3791. Ian Finlay

27 scans

3792. Ken Bedgood

27 scans

3793. Dave Carney

27 scans

3794. Rosie Munday

27 scans

3795. John Bartliff

27 scans

3796. Simon Evans

27 scans

3797. Craig Nelson

27 scans

3798. Paul Cox

27 scans

3799. Stephen Turley

27 scans

3800. Richard Barnes

27 scans

3801. John Cusworth

27 scans

3802. Tom Latham

27 scans

3803. Sid Launchbury

27 scans

3804. Richard Critchlow

27 scans

3805. Glen Wiltshire

27 scans

3806. Adrian Dawson

27 scans

3807. Robert Chapman

27 scans

3808. Mark Shepherd

27 scans

3809. Allan Ridgwell

27 scans

3810. Steve Dale

27 scans

3811. Corn�Ͽ½ Wheeler

27 scans

3812. Arian Nijmeijer

27 scans

3813. Dennis Mills

27 scans

3814. Glenn Williams

27 scans

3815. James Studman

27 scans

3816. Michael Whicker

27 scans

3817. Per Narum

27 scans

3818. Peter Ford

27 scans

3819. Russell Newman

27 scans

3820. Wayne Addenbrooke

26 scans

3821. Russell Shellam

26 scans

3822. Russ Prior

26 scans

3823. Simon Eason

26 scans

3824. Adrian Badham

26 scans

3825. Andrew Thomas

26 scans

3826. Kevin Marchant

26 scans

3827. Andy Harvey

26 scans

3828. Carl Bramley

26 scans

3829. Neil Seaholme

26 scans

3830. Tony Green

26 scans

3831. Vicki O'Brien

26 scans

3832. Zakk Hutton

26 scans

3833. Russell Pell

26 scans

3834. John Buchanan

26 scans

3835. Dennis Nann

26 scans

3836. Stephen Beaumont

26 scans

3837. Garry Smith

26 scans

3838. Andrew Willmott

26 scans

3839. Carol Dodd

26 scans

3840. Anna Prothero

26 scans

3841. Karl Longhurst

26 scans

3842. Philip Abbott

26 scans

3843. Jason Rogers

26 scans

3844. Michael Brown

26 scans

3845. Lyndon Harper

26 scans

3846. David Loader

26 scans

3847. Shaun Diamond

26 scans

3848. Kathy Johnson

26 scans

3849. Lee Perry

26 scans

3850. Ian Bennett

26 scans

3851. Y Selcuk

26 scans

3852. Ryan Peakin

26 scans

3853. Andrew Thomas

26 scans

3854. Adam Butler

26 scans

3855. Dean Blackhurst

26 scans

3856. Gareth Matthews

26 scans

3857. Gary Bates

26 scans

3858. Gary James

26 scans

3859. Julie Railton

26 scans

3860. Lisa Corbett

26 scans

3861. Paul Stafford

26 scans

3862. Rod Sprigg

26 scans

3863. Roger Edwards

26 scans

3864. Simon Randall

26 scans

3865. Simon Hirst

25 scans

3866. Sarah Trimnell

25 scans

3867. Brett Booth

25 scans

3868. Michael James Colegate

25 scans

3869. Julian Brooks

25 scans

3870. Toby Stevens

25 scans

3871. Graham Peacock

25 scans

3872. Gavin Argyle

25 scans

3873. Carl Whitehead

25 scans

3874. Darren Stimpson

25 scans

3875. Daniel Aspley

25 scans

3876. Christine Benbow

25 scans

3877. Sam Pillow

25 scans

3878. Ben Smith

25 scans

3879. Darren Ward

25 scans

3880. Michael Probert

25 scans

3881. Simon Ridgeon

25 scans

3882. Dave Hallett

25 scans

3883. Michelle Martin-Ross

25 scans

3884. Tim Hunt

25 scans

3885. Mark Rodwell

25 scans

3886. Helen Gough

25 scans

3887. Rochelle Settle

25 scans

3888. Mark Finch

25 scans

3889. Kayla Macke

25 scans

3890. Andrew Morton

25 scans

3891. Tommy Cooling

25 scans

3892. Carl Clipston

25 scans

3893. Ryan Kuleszka

25 scans

3894. Marc Ellix

25 scans

3895. Andrew Renshaw

25 scans

3896. Craig Elston

25 scans

3897. Neil Jepson

25 scans

3898. Therese Rush

25 scans

3899. Ade Turner

25 scans

3900. James Tuck

25 scans

3901. Ewan Hughes Mcinnes

25 scans

3902. Rhodri Broome

25 scans

3903. Jonathan Wilks

25 scans

3904. Sara Pye

25 scans

3905. James Martin

25 scans

3906. Richard Heaton

25 scans

3907. Kieron F

25 scans

3908. Victoria Clarke

25 scans

3909. Joe Farthing Henderson

25 scans

3910. Dave Osborne

25 scans

3911. Renata Dauncey

25 scans

3912. Barrie Poulter

25 scans

3913. Barry Moffatt

25 scans

3914. Bruce Bignell

25 scans

3915. Christian Beckett

25 scans

3916. Darren May

25 scans

3917. David Foster

25 scans

3918. David Simmons

25 scans

3919. Gart Donnelly

25 scans

3920. Gill Warner

25 scans

3921. Nigel Dodge

25 scans

3922. Robin Brookd

25 scans

3923. Sue Butler

25 scans

3924. Tim Towler

25 scans

3925. Paul Jordan

24 scans

3926. Pete Durrant

24 scans

3927. Ann Packwood

24 scans

3928. Paul Griffiths-Davies

24 scans

3929. Tony Dixon

24 scans

3930. Ian Pinder

24 scans

3931. Peter Benbow

24 scans

3932. Andy Bullock

24 scans

3933. Dave Heap

24 scans

3934. Mark Griffiths

24 scans

3935. David Hannan

24 scans

3936. Patricia Gough

24 scans

3937. Darren Cheffings

24 scans

3938. Brian Camm

24 scans

3939. Terry Owen

24 scans

3940. Roy Speakman

24 scans

3941. Dave Smith

24 scans

3942. James Robinson

24 scans

3943. Liam Parradine

24 scans

3944. Eva Beate Holm

24 scans

3945. Garon Watkins

24 scans

3946. Tim Bradley

24 scans

3947. Steve Pearman

24 scans

3948. Claire Baldock

24 scans

3949. Peter Elliott

24 scans

3950. Simon Ridley

24 scans

3951. Mike Kavaney

24 scans

3952. Tony Pike

24 scans

3953. Matt Lindsay

24 scans

3954. James Jenkins

24 scans

3955. Sam Perry

24 scans

3956. Glenn Hazell

24 scans

3957. Catherine Broome

24 scans

3958. Richard Clayton

24 scans

3959. Stephen Roberts

24 scans

3960. Stuart Cairney

24 scans

3961. Ali Androidmacnaught

24 scans

3962. Anita Fenoughty

24 scans

3963. Chris Priest

24 scans

3964. Colin Dart

24 scans

3965. Gary

24 scans

3966. Jessica Pendlebury

24 scans

3967. Samantha Hoyle

24 scans

3968. Wayne Matsell

24 scans

3969. Ian Lisle

23 scans

3970. David Stevenson

23 scans

3971. Chris Johnson

23 scans

3972. Stuart Basten

23 scans

3973. Sally Williams

23 scans

3974. John Silvester

23 scans

3975. David Haynes

23 scans

3976. Colin West

23 scans

3977. Lee Yeomans

23 scans

3978. Joe Kisiala

23 scans

3979. Sue Bolton

23 scans

3980. Andrew Marshall

23 scans

3981. J B

23 scans

3982. Jonathan Bryant

23 scans

3983. Mark Osborne

23 scans

3984. Brian Mattock

23 scans

3985. Steph Rueff

23 scans

3986. Rob Pearson

23 scans

3987. James Stephenson

23 scans

3988. Shane Wollaston

23 scans

3989. Martin Rochford

23 scans

3990. Richard Burgess

23 scans

3991. Anthony Petrie

23 scans

3992. Woody Mallen

23 scans

3993. Simon Heanue

23 scans

3994. Mark Butler

23 scans

3995. Toni Smith

23 scans

3996. Paul Taylor

23 scans

3997. Lawrence Paton

23 scans

3998. Fran Humphry

23 scans

3999. Stephen Setford

23 scans

4000. Tom Plant

23 scans
4001. Lee Billinghurst

23 scans

4002. Dave Renwick

23 scans

4003. Anthony Mulligan

23 scans

4004. Andy Wright

23 scans

4005. William Gardner

23 scans

4006. James Champ

23 scans

4007. Andrew Ringham

23 scans

4008. David Cassidy

23 scans

4009. Daryl Freeman

23 scans

4010. Jonathan Jack Parker

23 scans

4011. Valerie Wells

23 scans

4012. B B

23 scans

4013. Hannah Escott

23 scans

4014. Domenico Serratore

23 scans

4015. Alison Wallington

23 scans

4016. Chris Bartlett

23 scans

4017. Kevin Gregory

23 scans

4018. Robert Granville

23 scans

4019. Roy Pemberton

23 scans

4020. Victoria Salminyte

23 scans

4021. Alex Beebee

22 scans

4022. Edward Davies

22 scans

4023. Chris Wastell

22 scans

4024. Richard Cowlishaw

22 scans

4025. Ian Bradley

22 scans

4026. Paul Bury

22 scans

4027. Anthony Aston

22 scans

4028. Jackie Fox

22 scans

4029. Jez Boakes

22 scans

4030. Andy Whilton

22 scans

4031. Louise Acraman

22 scans

4032. Martin Cate

22 scans

4033. Andy Briston

22 scans

4034. Malcolm Buxton

22 scans

4035. Matt Harrison

22 scans

4036. Charlie Dickinson

22 scans

4037. Bruce Burden

22 scans

4038. Joanne Winter

22 scans

4039. Jack Brett

22 scans

4040. Ted Richards

22 scans

4041. Ian Stuart Ross-Rogers

22 scans

4042. Kenneth Shabby

22 scans

4043. Mike Gosney

22 scans

4044. Daniel Sweeting

22 scans

4045. Steve Speakman

22 scans

4046. Jonny Coulson

22 scans

4047. Ian Mcmichael

22 scans

4048. Mark Hamer

22 scans

4049. Chris Wheelhouse

22 scans

4050. Stephen Taylor

22 scans

4051. Ian Thomas

22 scans

4052. Stuart Allen

22 scans

4053. Anja Newman

22 scans

4054. Rob Dyson

22 scans

4055. Stan Kerswell

22 scans

4056. Abbie Lindsay

22 scans

4057. Michael Greenhalgh

22 scans

4058. Michael Ashford

22 scans

4059. Samantha Pegler

22 scans

4060. Steph Gordon

22 scans

4061. Conrad Pickering

22 scans

4062. Murray Grainger

22 scans

4063. James Welsh

22 scans

4064. Tim Smith

22 scans

4065. Adrian Crowther

22 scans

4066. Andy Perrott-Johnson

22 scans

4067. Ben Donga

22 scans

4068. Dean Bunn

22 scans

4069. James Flower

22 scans

4070. James Harvey

22 scans

4071. Neal Leonard

22 scans

4072. Rachel Hebden

22 scans

4073. Steven Reeve

22 scans

4074. Tom Blackmore

22 scans

4075. David Creeton

21 scans

4076. Paul Smith

21 scans

4077. Tony Carss

21 scans

4078. Michael Roberts

21 scans

4079. Grischa Zeller

21 scans

4080. Geoff Dean

21 scans

4081. Brian Mahoney

21 scans

4082. Paul Owers

21 scans

4083. Darren Earnshaw

21 scans

4084. David Wilson

21 scans

4085. Peter Isaacson

21 scans

4086. Tony Young

21 scans

4087. Andrew Canfield

21 scans

4088. Craig Pomfrey

21 scans

4089. Chris Hill

21 scans

4090. Ross Davis

21 scans

4091. Tanya Annetts

21 scans

4092. Philip Chisholm

21 scans

4093. Aaron Gonzalez

21 scans

4094. Tom Tierney

21 scans

4095. Aaron Preston

21 scans

4096. Thomas Mccoy

21 scans

4097. Vicky Hallett

21 scans

4098. Sean Langford

21 scans

4099. Martin Baxter

21 scans

4100. Jonathan Cope

21 scans

4101. Lewis Thompson

21 scans

4102. Anne Waggett

21 scans

4103. Ross Boardman

21 scans

4104. Mark Reynolds

21 scans

4105. Megan Cox

21 scans

4106. Chris Booth

21 scans

4107. Pete Nelson

21 scans

4108. Katie Ramsden

21 scans

4109. Rob Driver

21 scans

4110. Peter Ellin

21 scans

4111. Matthew Blair

21 scans

4112. Andy Moore

21 scans

4113. Lisa Jarvis

21 scans

4114. Daniel Cooke

21 scans

4115. Matt Harrison

21 scans

4116. Matthew Stott

21 scans

4117. Rob Welch

21 scans

4118. J Stover

21 scans

4119. Ollie Banks

21 scans

4120. Ian Stopford

21 scans

4121. Tom Taylor

21 scans

4122. Becky Lenaghan

21 scans

4123. Kevan Goodall

21 scans

4124. Lea Reid

21 scans

4125. Mark Walsingham

21 scans

4126. Neil Butcher

21 scans

4127. Nigel Hayward

21 scans

4128. Tim Bevan

21 scans

4129. Chris Derrick

20 scans

4130. Bill Tarvet

20 scans

4131. Chris Dunford

20 scans

4132. Mark Edwards

20 scans

4133. Julia Monument

20 scans

4134. M Marx

20 scans

4135. Lawrence Alcazar

20 scans

4136. Steve Wood

20 scans

4137. John Carter

20 scans

4138. Michael Phillips

20 scans

4139. Michael Potter

20 scans

4140. Vicky Fields

20 scans

4141. Gerald Ian Hey

20 scans

4142. Cath Wright

20 scans

4143. Peter Mahoney

20 scans

4144. Ian Wilson

20 scans

4145. Edward Hardy

20 scans

4146. Alexander Coombs

20 scans

4147. Andy Atamaniuk

20 scans

4148. Paul Barnard

20 scans

4149. Amber Aitken

20 scans

4150. Karl Swarbrick

20 scans

4151. Dave Mcnamara

20 scans

4152. Adam Case

20 scans

4153. Lisa Lancashire

20 scans

4154. Martin Waters

20 scans

4155. Manuel Gawlick

20 scans

4156. Sarah Cursons

20 scans

4157. Patricia Brown

20 scans

4158. Garry Zuk

20 scans

4159. Garry Box

20 scans

4160. Peter Kilvington

20 scans

4161. Alison Moore

20 scans

4162. Matt Carney

20 scans

4163. Craig Kerr

20 scans

4164. John Mills

20 scans

4165. Philip Dunkley

20 scans

4166. Rosemary Egbe

20 scans

4167. Louis Fields

20 scans

4168. Anthony Pike

20 scans

4169. Elliott Hulburd

20 scans

4170. Peter Blackaller

20 scans

4171. Alan Alderson

20 scans

4172. Daniel Sutcliffe

20 scans

4173. David Garner

20 scans

4174. David Wilson

20 scans

4175. Helaina Garnett

20 scans

4176. Joe Lloyd

20 scans

4177. Julian Rickman

20 scans

4178. Laura Baker

20 scans

4179. Laura-Jayne Harrison

20 scans

4180. Luke Callaghan

20 scans

4181. Peter Lomax

20 scans

4182. Gareth Shields

19 scans

4183. Tony Turpin

19 scans

4184. D Cove

19 scans

4185. John Boyle

19 scans

4186. Anthony Abbs

19 scans

4187. Meena Reid

19 scans

4188. Kevin Blabey

19 scans

4189. Geoff Newton

19 scans

4190. Geraint Ashley

19 scans

4191. Peter Wood

19 scans

4192. Joel Mcgruddy

19 scans

4193. Susan Greenwood

19 scans

4194. Danny Tudor

19 scans

4195. Ben Davis

19 scans

4196. Neil Howell

19 scans

4197. Dave Gay

19 scans

4198. Jeremy Hughes

19 scans

4199. Les Young

19 scans

4200. Mike Langley

19 scans

4201. Linda Bold

19 scans

4202. Matt Surgeon

19 scans

4203. Neil Hawkins

19 scans

4204. John Ladley

19 scans

4205. Glenn Bowley

19 scans

4206. David Pettifer

19 scans

4207. Mark Cooper

19 scans

4208. Allen Morris

19 scans

4209. Darci Sinclair

19 scans

4210. Steven Laws

19 scans

4211. John Reynolds

19 scans

4212. Christian Thwaites

19 scans

4213. Colin Parker

19 scans

4214. Kevin Lodge

19 scans

4215. Richard Springall

19 scans

4216. James Clayton

19 scans

4217. Mike Williams

19 scans

4218. Peter Ward

19 scans

4219. Richard Boyden

19 scans

4220. Robin Gardner

19 scans

4221. John Whitton

19 scans

4222. Chris Abercrombie-Smith

19 scans

4223. Janice Mcgrath

19 scans

4224. Philip Edwards

19 scans

4225. Alex Whitter

19 scans

4226. Damian Tranter

19 scans

4227. Ever Alonzo

19 scans

4228. Frank Dowling

19 scans

4229. James Auction

19 scans

4230. Michael Beardsmore

19 scans

4231. Robin Jamieson

19 scans

4232. Neil Samuels

19 scans

4233. Brandon Gourlay-Herring

19 scans

4234. Clair Turner

19 scans

4235. John Brodribb

19 scans

4236. Kathryn Abate

19 scans

4237. Zoe Matsell

19 scans

4238. Clive Stonebridge

18 scans

4239. Matthew Mcdonald

18 scans

4240. Peter Jones

18 scans

4241. Chris Brown

18 scans

4242. Roy Dally

18 scans

4243. Antony Blunt

18 scans

4244. Sean Mcdermott

18 scans

4245. Martin Farrimond

18 scans

4246. Steven West

18 scans

4247. Andrew Johnson

18 scans

4248. Steve Robinson

18 scans

4249. Karen Hill

18 scans

4250. Luke Topping

18 scans

4251. Daag Whitfield

18 scans

4252. Alan Bamber

18 scans

4253. Nathan Swain

18 scans

4254. Brian Coulton

18 scans

4255. Kevin Moore

18 scans

4256. Phil Humpage

18 scans

4257. Anthony Davison

18 scans

4258. Craig Hall

18 scans

4259. Jovana Macakanja

18 scans

4260. Stuart Counsell

18 scans

4261. Joshua Byrne

18 scans

4262. David Buckle

18 scans

4263. Ian Depledge

18 scans

4264. Fred Flint

18 scans

4265. Wayne Gaskell

18 scans

4266. Sam Westcott

18 scans

4267. Ben Philpott

18 scans

4268. Stuart Wallace

18 scans

4269. Chris Bleach

18 scans

4270. Andy Ellis

18 scans

4271. Cora Leigh

18 scans

4272. Kay Clarke

18 scans

4273. George Taylor

18 scans

4274. Paul Peppiate

18 scans

4275. Chris Chapman

18 scans

4276. Richard Mckenzie

18 scans

4277. Stewart Langford

18 scans

4278. Stephen Purdie

18 scans

4279. Des Swan

18 scans

4280. Philip Crabtree

18 scans

4281. Catherine Lloyd

18 scans

4282. Christopher Hardman

18 scans

4283. Martin Harrison

18 scans

4284. Adrian Mitchell

18 scans

4285. Al Davies

18 scans

4286. Andy Evers

18 scans

4287. Billy Wilson

18 scans

4288. Bob Lee

18 scans

4289. Christopher Haywood

18 scans

4290. Daren Jackson

18 scans

4291. Gokul Suresh

18 scans

4292. Ian Spencer

18 scans

4293. Martin Hilton

18 scans

4294. Mike Andrews

18 scans

4295. Tony Boxall

18 scans

4296. Jim Cain

17 scans

4297. Jonathan Almond

17 scans

4298. Joe Webb

17 scans

4299. Anthony Allnutt

17 scans

4300. Chris Jepson

17 scans

4301. Sam Dowgill

17 scans

4302. Graham Gardner

17 scans

4303. Phill Wholton

17 scans

4304. Steve Lee

17 scans

4305. Sue James-Davies

17 scans

4306. James Allberry

17 scans

4307. Susan Skidmore

17 scans

4308. Rob Fairhead

17 scans

4309. Ellis Read

17 scans

4310. Silas Stephens

17 scans

4311. Mike Laishley

17 scans

4312. Beth Roberts

17 scans

4313. Thomas Rykatkin

17 scans

4314. Paul Fountain

17 scans

4315. Callum Bradshaw

17 scans

4316. Graham Tully

17 scans

4317. Chris Booth

17 scans

4318. Les Wood

17 scans

4319. Alan Docking

17 scans

4320. Brian Haywood

17 scans

4321. John Hurst

17 scans

4322. Michael Bonner

17 scans

4323. Aaron Whybra

17 scans

4324. Matthew Grace

17 scans

4325. Linda Broughan

17 scans

4326. Greg Laing

17 scans

4327. Bob Morgan

17 scans

4328. Geoff Street

17 scans

4329. Mark Bradley

17 scans

4330. Rob Penn

17 scans

4331. Daniel James

17 scans

4332. Annderator Hawkins

17 scans

4333. Paul Markham

17 scans

4334. Robert Lewis

17 scans

4335. Natasha Visser

17 scans

4336. Michael Newbold

17 scans

4337. Mark Kranich

17 scans

4338. Ian Broad

17 scans

4339. Will Grover

17 scans

4340. A Aspin

17 scans

4341. Bob Singleton

17 scans

4342. Carl Stoneley

17 scans

4343. Graham Lee

17 scans

4344. Jason Kennedy

17 scans

4345. Johnny Morris

17 scans

4346. John Smith

17 scans

4347. Katrena Peacock

17 scans

4348. Paul Williams

17 scans

4349. Peter Ayre

17 scans

4350. Robert Day

17 scans

4351. Robin Clapp

17 scans

4352. Ryan Smith

17 scans

4353. Sarah Drew

17 scans

4354. Tom Boxall

17 scans

4355. David Allen

16 scans

4356. John Conway

16 scans

4357. Diego M. Rull Escobar

16 scans

4358. Jonathan James

16 scans

4359. Chris Parr

16 scans

4360. Graeme Fisher

16 scans

4361. Stuart Bromley

16 scans

4362. Jan Posse

16 scans

4363. Colin Edwards

16 scans

4364. Jonathan Elliott

16 scans

4365. Matt Foster

16 scans

4366. Stefan King

16 scans

4367. Paolo Sacco

16 scans

4368. Andy Deamer

16 scans

4369. Natalie Haynes

16 scans

4370. Adam Doherty

16 scans

4371. Rebecca Williams

16 scans

4372. Juliane Ovenden

16 scans

4373. Dan Rostron

16 scans

4374. Woody Woodward

16 scans

4375. Craig Lewis

16 scans

4376. Jim Walker

16 scans

4377. Ashley Ibbitson

16 scans

4378. Carina Middleton

16 scans

4379. James Randall

16 scans

4380. Ken Morley

16 scans

4381. Simon Mayo

16 scans

4382. Stephen Spike

16 scans

4383. Derek Walker

16 scans

4384. Leon Rees

16 scans

4385. James Church

16 scans

4386. Paul Forrest

16 scans

4387. John Barnes

16 scans

4388. Mark Townley

16 scans

4389. Lucy Largent

16 scans

4390. Mark Green

16 scans

4391. And Po

16 scans

4392. Andrew Aitken

16 scans

4393. Gareth Davies

16 scans

4394. Alastair Simms

16 scans

4395. Zoe Brockbank

16 scans

4396. Andrew Perry

16 scans

4397. Trev Speakman

16 scans

4398. Brian Lowe

16 scans

4399. Anthony Brazier

16 scans

4400. Oliver Watts

16 scans

4401. Adam Clark

16 scans

4402. Devin Sametz

16 scans

4403. Graeme Kelly

16 scans

4404. Andrew Banks

16 scans

4405. Glenn Doig

16 scans

4406. Tom Sansam

16 scans

4407. Neil Bartholomey

16 scans

4408. Jim Lock

16 scans

4409. Sarah Brookes

16 scans

4410. Denis Secker

16 scans

4411. Stuart Mcdonald

16 scans

4412. Neil Cafferky

16 scans

4413. David Whitelam

16 scans

4414. Mark Wallington

16 scans

4415. Sam Codlin

16 scans

4416. Stephen Summers

16 scans

4417. Roger Harris

16 scans

4418. Kent Ilsley

16 scans

4419. Aidan Jepson

16 scans

4420. Barry Gibson

16 scans

4421. Chris Garrard

16 scans

4422. Chris Lawrence

16 scans

4423. Mark Kusionowicz

16 scans

4424. Mathew Crowder-Oxford

16 scans

4425. Peter Pangbourne

16 scans

4426. Rich Green

16 scans

4427. Dewi Thomas

15 scans

4428. Matt Taylor

15 scans

4429. Steve Belfield

15 scans

4430. Steve Griffiths

15 scans

4431. Mark Griffiths

15 scans

4432. Peter Ridge

15 scans

4433. Daniel Seddon

15 scans

4434. Nick Gallagher

15 scans

4435. Tony Davis

15 scans

4436. Chris Duggan

15 scans

4437. Steve Wood

15 scans

4438. Jon Bradley

15 scans

4439. Alison Wells

15 scans

4440. Mark Winter

15 scans

4441. Lisbeth Sjã¶Berg

15 scans

4442. Gemma Whitaker

15 scans

4443. Tom Payne

15 scans

4444. Alan Moulton

15 scans

4445. Ian Darby

15 scans

4446. Brenda Ball

15 scans

4447. Phil Seeley

15 scans

4448. Billy Kidd

15 scans

4449. Brian Gosling

15 scans

4450. Lynne Griffith

15 scans

4451. Lewis Jones

15 scans

4452. Ian Baillie

15 scans

4453. Mike Brosche

15 scans

4454. Gareth Small

15 scans

4455. David Atkinson

15 scans

4456. Beckie Martin

15 scans

4457. James Pratt

15 scans

4458. Ian Wigfall

15 scans

4459. Paul Barratt

15 scans

4460. Will Musgrave

15 scans

4461. Matthew Curtis

15 scans

4462. Gary Johnson

15 scans

4463. Hamish Stuart

15 scans

4464. Roger James

15 scans

4465. Sã¸Ren Clemmensen

15 scans

4466. Marcus Jellyman

15 scans

4467. Leanne Hope

15 scans

4468. Roger Lewinton

15 scans

4469. Dene Gentle

15 scans

4470. Chris Dawson

15 scans

4471. Gavin Benson

15 scans

4472. Adam Hughes

15 scans

4473. Mark Turner

15 scans

4474. Beverley Walker

15 scans

4475. Kjell Plomgren

15 scans

4476. Sarah Wivell

15 scans

4477. Mike Kilsby

15 scans

4478. Jordan Holdcroft

15 scans

4479. Mark Fox

15 scans

4480. Colin Draper

15 scans

4481. Steven Patterson

15 scans

4482. Antony Shaw

15 scans

4483. Ruth Jeffery

15 scans

4484. Rosemary Kilvington

15 scans

4485. Michael Bridger

15 scans

4486. Grant Pedersen

15 scans

4487. Ian Butterfield

15 scans

4488. Mark Boardman

15 scans

4489. Bill Tonge

15 scans

4490. Robert Carpenter

15 scans

4491. Kevin Boardman

15 scans

4492. Tom Wilde

15 scans

4493. Troy Emrey

15 scans

4494. Ryan Edwards

15 scans

4495. Alan Rogers

15 scans

4496. Jacob Ripley

15 scans

4497. Nick James

15 scans

4498. Andrew Jones

15 scans

4499. Will Cowper

15 scans

4500. Joanne Richards

15 scans
4501. Tony Howell

15 scans

4502. Paul Green

15 scans

4503. Jack Lyon

15 scans

4504. Andy Darby

15 scans

4505. Derek Gibson

15 scans

4506. Barney Brooks

15 scans

4507. Neil Caucutt

15 scans

4508. Sebastian Baldwin

15 scans

4509. Dukchang Hwang

15 scans

4510. Andrew Thetford

15 scans

4511. Andrew Fossati

15 scans

4512. Andrew Watson

15 scans

4513. Colin Duffy

15 scans

4514. David Rothwell

15 scans

4515. Hannah Stewart

15 scans

4516. Ian Holden

15 scans

4517. Iris Bullen

15 scans

4518. Jessica Kitsell

15 scans

4519. Martin Steger-Lewis

15 scans

4520. Neal Thorpe

15 scans

4521. Sammie Colmer

15 scans

4522. Simon Knox

15 scans

4523. Tim Haskell

15 scans

4524. Brian Clitherow

14 scans

4525. Francis Patton

14 scans

4526. Brindley Sellick

14 scans

4527. Daniel Roberts

14 scans

4528. David Sharpe

14 scans

4529. Stuart Pethurst

14 scans

4530. James Henderson

14 scans

4531. Mark Fishwick

14 scans

4532. Richard Glenn

14 scans

4533. Alan Roberts

14 scans

4534. Adam Lewis

14 scans

4535. Gwen Haywood

14 scans

4536. Martin Nordahl

14 scans

4537. Sarah Haigh

14 scans

4538. Darren Stocks

14 scans

4539. Layne Hudes

14 scans

4540. Denis Secker

14 scans

4541. Dom Hemming

14 scans

4542. Graham Halsey

14 scans

4543. David Althorpe

14 scans

4544. John Waygood

14 scans

4545. Chris Walker

14 scans

4546. Jamie Smith

14 scans

4547. Nathan Parfitt

14 scans

4548. Chris Robinson

14 scans

4549. Matt Siddall

14 scans

4550. Stuart Brawls

14 scans

4551. Kim Mcgivern

14 scans

4552. James Macglashan

14 scans

4553. Paul Freeman

14 scans

4554. Jessica Skuse

14 scans

4555. Kevin Bembridge

14 scans

4556. Neil Tinkler

14 scans

4557. Steve Crotchkey

14 scans

4558. Connor Nicoll

14 scans

4559. Hywel Lewis

14 scans

4560. Simon Turpin

14 scans

4561. Ali Nicol

14 scans

4562. Jackie Silvester

14 scans

4563. Josh Bright

14 scans

4564. Shaun Fox

14 scans

4565. Christopher Sach

14 scans

4566. Chris Gould

14 scans

4567. Harrison Price

14 scans

4568. Matt Cooper

14 scans

4569. Tim Graham

14 scans

4570. Martin Oakman

14 scans

4571. Richard Bulmer

14 scans

4572. Jayne Adams

14 scans

4573. Mark Booth

14 scans

4574. Ron Be

14 scans

4575. Brandon Ellis

14 scans

4576. James Risby

14 scans

4577. Mats Forsberg

14 scans

4578. Adrian Jarvis

14 scans

4579. Mark Hughes

14 scans

4580. Christopher Lyndon

14 scans

4581. Jez Brook

14 scans

4582. Nick Evison

14 scans

4583. Russ Strand

14 scans

4584. Mike Oakes

14 scans

4585. Rob Greenwood

14 scans

4586. Luis Moorhouse

14 scans

4587. Sean Williams

14 scans

4588. Hywel Jones

14 scans

4589. Mike Callan

14 scans

4590. Athol Jones

14 scans

4591. Conor Devine

14 scans

4592. Craig Pomfret

14 scans

4593. Graham Halsey

14 scans

4594. Jamie Evans

14 scans

4595. Joni Johnson

14 scans

4596. Julian Gough

14 scans

4597. Lillian Slater

14 scans

4598. Liz Jones

14 scans

4599. Martin Easton

14 scans

4600. Michael Anthonygarcia Langton

14 scans

4601. Nigel Barclay

14 scans

4602. Steve Lyus

14 scans

4603. Steven Wood

14 scans

4604. Craig Ball

13 scans

4605. John Burnett

13 scans

4606. Alan Taylor

13 scans

4607. Steffan Packer

13 scans

4608. Charlie Ayres

13 scans

4609. John Belcher

13 scans

4610. Simon Hamstead

13 scans

4611. Talsa Middleton

13 scans

4612. James Saul

13 scans

4613. Stuart Clift

13 scans

4614. Kevin Lindley

13 scans

4615. Kev Sealey

13 scans

4616. James Hartnett

13 scans

4617. Martyn Scott

13 scans

4618. Andrew Smith

13 scans

4619. Andy Wilkinson

13 scans

4620. Michelle Sidoli

13 scans

4621. Andy Braund

13 scans

4622. Dene Percival

13 scans

4623. James Holmes

13 scans

4624. Leanne Walker

13 scans

4625. Ryan Martin

13 scans

4626. Ben Loader

13 scans

4627. Laura Hill

13 scans

4628. David Burns

13 scans

4629. Ashley Marston

13 scans

4630. Salle Wroblewski

13 scans

4631. Rex Phillips

13 scans

4632. Paul Griffin

13 scans

4633. Nigel Faulkner

13 scans

4634. Lucas Ch

13 scans

4635. Tony Girling

13 scans

4636. Chris Spearman

13 scans

4637. Gary Davies

13 scans

4638. Patrick Walsh

13 scans

4639. Alan Hobbs

13 scans

4640. Martin Wain

13 scans

4641. Adrian Sugden

13 scans

4642. Fay Sake

13 scans

4643. Priya Curtis

13 scans

4644. James Coward

13 scans

4645. Phil Doyle

13 scans

4646. Darren Heald

13 scans

4647. Barry Wood

13 scans

4648. Dave Thomas

13 scans

4649. Mark Wayne Harrison

13 scans

4650. Derek Savage

13 scans

4651. Stuart Golding

13 scans

4652. Jason Cusack

13 scans

4653. Martyn Turle

13 scans

4654. Steve Chiplen

13 scans

4655. Matthew Allan

13 scans

4656. Chris Thompson

13 scans

4657. Darren Pope

13 scans

4658. Adam Land

13 scans

4659. Vince Mott

13 scans

4660. Jim Byrne

13 scans

4661. Tony Kirke

13 scans

4662. Indrek Ankur

13 scans

4663. James Haworth

13 scans

4664. Anthony Hill

13 scans

4665. Paul Starkey

13 scans

4666. Keith Pentecost

13 scans

4667. Duncan Roby

13 scans

4668. John Buse

13 scans

4669. Rob Sissons

13 scans

4670. Joe Preiser

13 scans

4671. James Suckley

13 scans

4672. Dan Potts

13 scans

4673. Andrew Kinson

13 scans

4674. Clive Crossman

13 scans

4675. Antony Moth

13 scans

4676. A Underwood

13 scans

4677. Ben Kellett

13 scans

4678. Duane Hunt

13 scans

4679. Gareth Lewis

13 scans

4680. Geoff Beaumont

13 scans

4681. Ian Ricketts

13 scans

4682. Ian Tillson

13 scans

4683. Paul Sikora

13 scans

4684. Mark Nunny

12 scans

4685. Russell Weld

12 scans

4686. Mark Dunham

12 scans

4687. Richard Marston

12 scans

4688. Helen Davies

12 scans

4689. Brian Fare

12 scans

4690. Linda Jacob

12 scans

4691. Mark Argent

12 scans

4692. Steve Flynn

12 scans

4693. Roger Etherington

12 scans

4694. Jon Bister

12 scans

4695. Chris Philpot

12 scans

4696. Martin O'Neill

12 scans

4697. Matthew Leach

12 scans

4698. Joshua Sykes

12 scans

4699. Andy Clay

12 scans

4700. Ashleigh Bartlett

12 scans

4701. Phill Poland

12 scans

4702. Darren Bennett

12 scans

4703. Mark Coates

12 scans

4704. Alex Fisher

12 scans

4705. Harry Stephenson

12 scans

4706. Simon Reeves

12 scans

4707. Marcus Harper

12 scans

4708. Malcolm Parker

12 scans

4709. Richard Haynes

12 scans

4710. Simon Bolton

12 scans

4711. Roger Saxon

12 scans

4712. Phil Mosley

12 scans

4713. Simon Austen

12 scans

4714. Steve Warne

12 scans

4715. Chris West

12 scans

4716. Pete Kimberley

12 scans

4717. Dave Robson

12 scans

4718. Anthony Rawlinson

12 scans

4719. Robert Newton

12 scans

4720. Daniel Smith

12 scans

4721. Bart Van Der Ploeg

12 scans

4722. Christine Robbins

12 scans

4723. Fabio Alberto Francese

12 scans

4724. Adrian Wood

12 scans

4725. Rob Scraggg

12 scans

4726. Jacqueline Cookson

12 scans

4727. Will Burton

12 scans

4728. Jack Mcguinness

12 scans

4729. Rosalynd Simcoe Anderson

12 scans

4730. Andrew Turner

12 scans

4731. Lee Morton

12 scans

4732. Dave Milnes

12 scans

4733. Rob Young

12 scans

4734. Jill Wattam

12 scans

4735. Robert Holden

12 scans

4736. Mark James

12 scans

4737. Matthew Surry

12 scans

4738. Kevin Maguire

12 scans

4739. David Appel

12 scans

4740. Ian Lindley

12 scans

4741. Lee Slatter

12 scans

4742. Ian Cm Smith

12 scans

4743. Nigel Pitt

12 scans

4744. Steve Holland

12 scans

4745. Geoff Collins

12 scans

4746. Richard Massey

12 scans

4747. Stuart Natkus

12 scans

4748. Paul Morgan

12 scans

4749. Dave Shepherd

12 scans

4750. Steven Vundum

12 scans

4751. Simon Harry

12 scans

4752. Jonathan Bowden

12 scans

4753. Daniel Peters

12 scans

4754. Yuriy Romanchuk

12 scans

4755. Nick Schofield

12 scans

4756. Jason Chandler

12 scans

4757. Christopher Nager

12 scans

4758. Sean Gunstead

12 scans

4759. Ainsley Walcroft

12 scans

4760. Stuart Bristow

12 scans

4761. Barrie Daniel

12 scans

4762. Richard Heath

12 scans

4763. Tony Dodds

12 scans

4764. Paul Davies

12 scans

4765. Russ Francombe

12 scans

4766. Lee Sheldon

12 scans

4767. Paul De Borde

12 scans

4768. Martin Thomas

12 scans

4769. Adrian Fall

12 scans

4770. Alastair Eggleshaw

12 scans

4771. Andrew Milligan

12 scans

4772. Ben Rogers

12 scans

4773. Chris West

12 scans

4774. Claire Henderson

12 scans

4775. Garry Marshall

12 scans

4776. Lee Edwards

12 scans

4777. Paul Cunningham

12 scans

4778. Pete Grist

12 scans

4779. Rob Gilreath

12 scans

4780. Rob Plummer

12 scans

4781. Ryan Burke

12 scans

4782. Simon Carter

12 scans

4783. Trevor George

12 scans

4784. Ron Wells

11 scans

4785. Paul Maddison

11 scans

4786. Stephen Moore

11 scans

4787. Lez Barker

11 scans

4788. K L

11 scans

4789. Nigel Ison

11 scans

4790. Andrew Moss

11 scans

4791. David Howton

11 scans

4792. Simon Harris

11 scans

4793. Matthew Laws

11 scans

4794. Andrew Emery

11 scans

4795. Dave Foster

11 scans

4796. Adrian Vachon

11 scans

4797. Mark Thura

11 scans

4798. Ian Perry

11 scans

4799. Peter Brewer

11 scans

4800. John Robinson

11 scans

4801. Barry Robert Andrews

11 scans

4802. Denis Matts

11 scans

4803. Hayley Czyher

11 scans

4804. Wayne Jones

11 scans

4805. Chris Reynolds

11 scans

4806. John Boughton

11 scans

4807. Adam Ravenscroft

11 scans

4808. David Grant

11 scans

4809. Ian Burrows

11 scans

4810. Joe Edwards

11 scans

4811. Lorry Shead

11 scans

4812. Csaba Attila Varga

11 scans

4813. David Roberts

11 scans

4814. Joseph Weston

11 scans

4815. John Todd

11 scans

4816. Geoff Larsen

11 scans

4817. Lynsey Smith

11 scans

4818. Edward Leach

11 scans

4819. Paul Andrews

11 scans

4820. Martin Ford

11 scans

4821. Jonathan Edgar

11 scans

4822. Mathew Petch

11 scans

4823. Alison Williams

11 scans

4824. Daniel Stoneley

11 scans

4825. Andrew Walker

11 scans

4826. Sean Burke

11 scans

4827. Robert Puddefoot

11 scans

4828. Olly Parker

11 scans

4829. Lynn Walsh

11 scans

4830. Geoff Smith

11 scans

4831. Stuart Mcnaughton

11 scans

4832. Andrew Wisker

11 scans

4833. Marcus Edwards

11 scans

4834. Declan Dexter

11 scans

4835. Richard Walters

11 scans

4836. Mark Hooker

11 scans

4837. Stuart Walker

11 scans

4838. William Sneddon

11 scans

4839. Joe Willians

11 scans

4840. Tim Owen

11 scans

4841. Anthony Blews

11 scans

4842. Geoff Wilson

11 scans

4843. Richie Higgins

11 scans

4844. Steve Gooch

11 scans

4845. Chris Ralph

11 scans

4846. Dave Livingstone

11 scans

4847. Andy Blacker

11 scans

4848. Gareth Crandon

11 scans

4849. William Easton

11 scans

4850. Steve Adams

11 scans

4851. S Vincent

11 scans

4852. Ian Hadridge

11 scans

4853. Emily Hanley

11 scans

4854. Richard Jephcote

11 scans

4855. Gary Smith

11 scans

4856. Adam Read

11 scans

4857. Simon Bell

11 scans

4858. Mark Bayliss

11 scans

4859. Andrew Reilly

11 scans

4860. John Wescombe

11 scans

4861. Alan Emerson

11 scans

4862. Iain Thomson

11 scans

4863. Jeff Tidy

11 scans

4864. John Newton

11 scans

4865. Mark Healey

11 scans

4866. Peter Colley

11 scans

4867. Richard Pacy

11 scans

4868. Rich Taylor-Worth

11 scans

4869. Steve Fawbert

11 scans

4870. Tim Wyles

11 scans

4871. Tony Jerome

11 scans

4872. Chris Gilbert

10 scans

4873. Jim Smith

10 scans

4874. Neill Ovenden

10 scans

4875. Joe Land

10 scans

4876. Eve Emery

10 scans

4877. Kevin Booth

10 scans

4878. Rob Marston

10 scans

4879. Anthony Warner

10 scans

4880. Matthew Spence

10 scans

4881. Sarah Dorman

10 scans

4882. Andrew Prior

10 scans

4883. Bruce Olpin

10 scans

4884. Simon Temperton

10 scans

4885. Craig Collins

10 scans

4886. Gareth Mckenna

10 scans

4887. Mike Finney

10 scans

4888. Tom Foster

10 scans

4889. Aaron Coates

10 scans

4890. Gareth Hunt

10 scans

4891. Jonathan Marwood

10 scans

4892. Greg Kane

10 scans

4893. Judith Smith

10 scans

4894. Steve Edwards

10 scans

4895. James Peard

10 scans

4896. Janelle Osborne-Newell

10 scans

4897. Sam Penry

10 scans

4898. Su Corcoran

10 scans

4899. Alex Moore

10 scans

4900. Kyle Carter

10 scans

4901. Ben Roberts

10 scans

4902. Cliff Collins

10 scans

4903. Michael R

10 scans

4904. Spam Boy

10 scans

4905. Hertha Hertha

10 scans

4906. L Briscoe

10 scans

4907. John Warwick

10 scans

4908. Phil T

10 scans

4909. Mark Birchall

10 scans

4910. Jason Clipston

10 scans

4911. Patrick Brocklehurst-Burton

10 scans

4912. Michael Wells

10 scans

4913. Rik Crook

10 scans

4914. Ben Scrivener

10 scans

4915. Nick James

10 scans

4916. Ian Johnson

10 scans

4917. Ham Rageb

10 scans

4918. James Puzey

10 scans

4919. Christy Brinham

10 scans

4920. Ben Foxall

10 scans

4921. Jack Buller

10 scans

4922. Ashley Williams

10 scans

4923. 10Parcelforce! Deane

10 scans

4924. Steve Jackson

10 scans

4925. James Williams

10 scans

4926. Richard Larby

10 scans

4927. Michael Logan

10 scans

4928. Peter Taylor

10 scans

4929. Matthew Rossanese

10 scans

4930. Anne Murphy

10 scans

4931. Paul Whitworth

10 scans

4932. Ryan Milburn

10 scans

4933. Joe Walton

10 scans

4934. Chris Keenan

10 scans

4935. Kris Davison

10 scans

4936. Joe Davies

10 scans

4937. Anthony Gates

10 scans

4938. Michael Krogsboll

10 scans

4939. William Sanderson

10 scans

4940. Nick Walton

10 scans

4941. Robbie Godfrey

10 scans

4942. Colin Huggett

10 scans

4943. Loui Daragos

10 scans

4944. Jack Warner

10 scans

4945. Mel Hicks

10 scans

4946. Ashley Ibbitson

10 scans

4947. Mick Waleboer

10 scans

4948. Henry Edwards

10 scans

4949. Stuart Clark

10 scans

4950. Anne Lomax

10 scans

4951. Christopher Raske

10 scans

4952. Ian Nelson

10 scans

4953. James Edmunds

10 scans

4954. Sam Mitchell

10 scans

4955. Ross Harris

10 scans

4956. Freya Greaves

10 scans

4957. Chris P

10 scans

4958. Liam Colston

10 scans

4959. Nigel Morris

10 scans

4960. Ian Tennant

10 scans

4961. Will Gallie

10 scans

4962. Eric Martinson

10 scans

4963. Matthew Wilkin

10 scans

4964. Tim Horner

10 scans

4965. Luke Irving

10 scans

4966. Alan Saul

10 scans

4967. Colin Mcq

10 scans

4968. David Evans

10 scans

4969. Grant Ramsay

10 scans

4970. James Lodge

10 scans

4971. Jc Webb

10 scans

4972. Joe Mudford

10 scans

4973. Lee Austin

10 scans

4974. Mark Jessop

10 scans

4975. Mark Johnson

10 scans

4976. Peter Hobson

10 scans

4977. Rory Thacker

10 scans

4978. Trevor Widdison

10 scans

4979. Tony Colclough

9 scans

4980. Paul King

9 scans

4981. Martin Carr

9 scans

4982. Joseph North

9 scans

4983. Trevor Barnwell

9 scans

4984. Mark Howarth

9 scans

4985. Eifion Pipe

9 scans

4986. Mark Blore

9 scans

4987. Chris Clarke

9 scans

4988. Chris Beck

9 scans

4989. Justin Brown

9 scans

4990. Jeff Green

9 scans

4991. Roger James

9 scans

4992. Dan Ainsworth

9 scans

4993. Robbie Mclauchlan

9 scans

4994. Robert Maldonado

9 scans

4995. Alan Mathieson

9 scans

4996. Sam Johnson

9 scans

4997. Chris Eccles

9 scans

4998. Martin Garside

9 scans

4999. Raymond Smithwhite

9 scans

5000. Aaron Dart

9 scans
Grain to Glass
SALSA plus Beer
Distributor Charter
Scores on the Doors
get the 
cask finder

 app

Find pubs near you, get to know your beers, join an ale trail & go to festivals.
Had a bad pint?
Please let us know of any problems you have experienced with beer quality in a Cask Marque accredited pub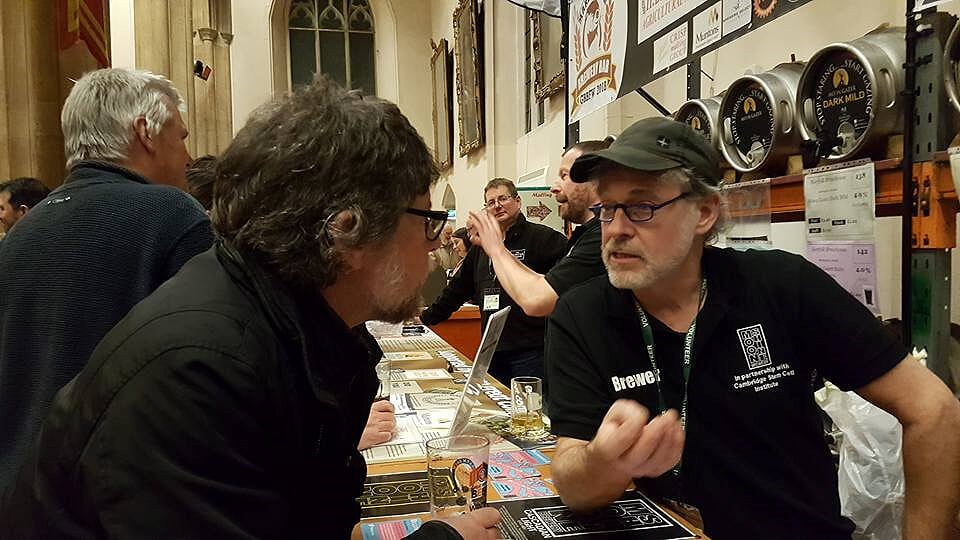 CAMRA invites festival lovers to enjoy ales-of-every-season at Norwich's final Great British Beer...
Read More